Serge Gagnon
Un mariage est l'occasion de dire à tout le monde « Je t'aime » devant des témoins et, si ce sont vos croyances, devant ce qui pourrait être divin. Je vis et je sers dans la région d'Embrun. Je suis gentil de nature, je sais bien écouter les gens et je parle couramment le français et l'anglais. Je suis très fier de mes origines métisses. Ensemble, nous pouvons personnaliser votre cérémonie de mariage et faciliter la réalisation de vos rêves. J'ai une longue expérience de transiger avec des personnes et je saurai comment rassurer tous ceux et celles qui participeront à la cérémonie. Je sais que ce sont les détails qui font qu'une cérémonie sera mémorable. Vous pouvez choisir le thème de votre choix et j'adopterai à peu près n'importe quelle tenue vestimentaire. J'espère pouvoir vous aider de quelque façon que ce soit.
Request Serge Gagnon
Secteurs desservis
Ottawa, Embrun, Russell, Metcalfe, Kenmore, Crysler, St. Albert, Limoges, Vars, Casselman, Cheney, Bourget, Hammond, Avonmore, Orléans, Ottawa East
Commentaires
Jacob & Katelyn
Serge Gagnon was amazing!! Thank you so much for everything. Our day was perfect ! October 2022
Michel and Saymom Aug 2021
Serge was amazing, friendly and professional. He made our moment special and answered all question we had. I would definitely recommend him!!! He interacted with our guests and everyone thought he did an amazing job.
Kim & Chris
We can't believe it's been almost a month since our wedding day. We wanted to thank Serge Gagnon again for being a part of this monumental moment in our lives. We couldn't have done it without him (literally)!! Serge has a calm presence and he is helpful, especially with my father, did not go unnoticed. Planning a wedding during a pandemic wasn't easy but we are very happy with how everything came together and grateful to have had you be a part of it. Kim & Chris July 2021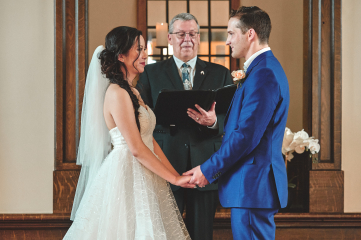 Michael & Angela
Serge Gagnon was lovely. He was friendly and courteous, and he made our special day that much more special. We loved how quickly we were able to book our ceremony and that there was a local officiant. Great work ! Michael & Angela January 2021
Shayne & Rachael
Serge Gagnon was so easy going and calming amongst the chaos of us getting ready. Our families also loved him and his humour. He was so personable and it felt like we've known him for awhile! Shayne & Rachael August 2020
Éric & Caroline
Very nice! Serge Gagnon did a very great job. With all the circumstance, he did it with serious but with a lot of joy! Including everyone like my parents who was on the computer because the rules for the covid-19!!! I will highly recommend him!!! Éric & Caroline March 2020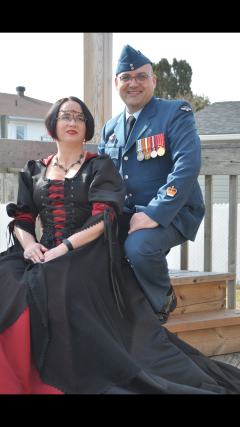 Chris & Mary
It was a pleasure working with Serge Gagnon ! He was ready to meet with us whenever we wanted, and gave us great insight to what makes a great ceremony. Thank you for making the day perfect! Chris & Mary July 2019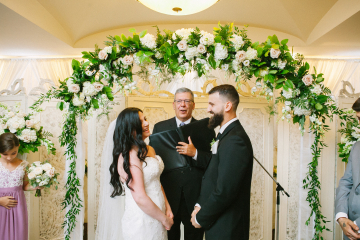 Brian & Renelle
Our wedding ceremony was everything we hoped it would be, and more. Our officiant Serge Gagnon was the absolute best. He was able to incorporate our French-Canadian and Métis heritage, our blended family sand ceremony, and our Hawaiian beach theme, into a beautiful, sweet, touching, fun, and memorable event. Definitely recommend All Seasons Weddings, and especially Serge! Brian & Renelle August 2019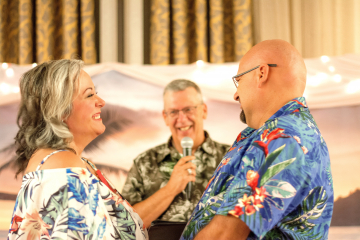 Kimberly & Brian
Serge Gagnon exceeded our expectations. He is a lovely, kind, generous man and listened to what our values and wishes were. He worked extremely well with others who participated in the ceremony. We were honoured to have met him and be part of this special day. Everything was clear and straight-forward.