Rose-Anne Partridge, BA (UofT)
Vos vœux de mariage à votre manière, voilà l'objectif de Rose-Anne Partridge pour votre journée spéciale. Auteure à succès canadienne et conférencière, Rose-Anne a beaucoup d'expérience devant un public de toute taille. Elle a grandi à Toronto et a obtenu un baccalauréat ès arts avec spécialisation en français de l'Université de Toronto. Rose-Anne adore y jouer au golf, faire des randonnées pédestres et explorer la nature. Elle a vécu, travaillé et voyagé dans de nombreux endroits où elle a été exposée à plusieurs cultures, langues, croyances et religions. Elle parle couramment le français et l'anglais, et peut converser en espagnol et en finlandais, si un couple veut tenir sa cérémonie de mariage spirituelle ou traditionnelle dans une autre langue.
Request Rose-Anne Partridge
Secteurs desservis
Bracebridge, Gravenhurst
Commentaires
Chad & Olivia
Rose-Anne Partridge was incredible! She arrived ready to snowshoe into the family cottage where the ceremony took place. She was so friendly and ready for an adventure. Covid changed our wedding plans quite drastically but Rose-Anne rolled with the changes. She helped make the day perfect! Chad & Olivia February 2021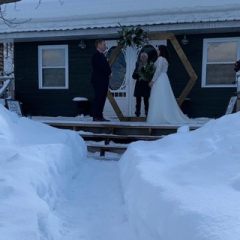 Raj & Emily
Rose-Anne Partridge was super lovely and helped to make our day extra special! Raj & Emily January 2021
Scott & Allison
Rose-Anne Partridge was so great to work with! She made us feel so at ease and was open to lots of changes and suggested some others we hadn't thought of that she thought would align with our personalities. We really appreciated that touch, especially during such a busy and confusing time with wedding regulations changing constantly. On the day of the wedding she was a calming force that kept us on track. We would highly suggest her for your ceremony! Scott & Allison Oct 2020
Jake & Veronica
Rose-Anne Partridge was so kind and easy going for our big day! She was great to work with and did a beautiful job performing our ceremony. Jake & Veronica June 2020
Wesley & Kirstin
Rose-Anne Partridge far surpassed our expectations! She was the perfect fit for our relaxed and low key ceremony, it was as if she fit right in with the family! She was impeccably organized before and during the ceremony, she did a wonderful job with her part as well as prompting my husband and I when we weren't quite sure what we were doing! If you are looking for a genuinely wonderful person to spearhead your day, Rose Anne is the best choice for you! Wesley & Kirstin August 2019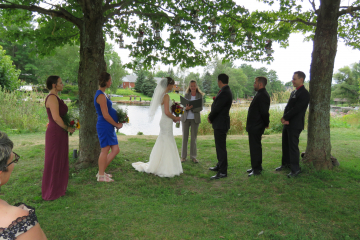 Jamie & Robin
Rose-Anne Partridge is a very nice person! She is easy to converse with, excellent planning powers, delivered a perfect ceremony and had no problems doing the ceremony on a pontoon boat! Thank you Rose-Anne for everything. Jamie & Robin August 2019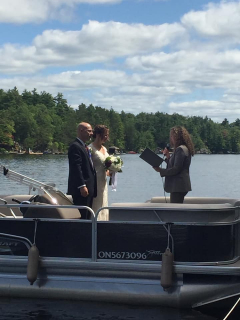 Kevin & Marilou
Rose-Anne Partridge was so great, friendly, professional and helpful during the whole process. She was prompt with her replies to any questions we had and adjusted the ceremony to our liking. Thank you for making the day special. Kevin & Marilou August 2019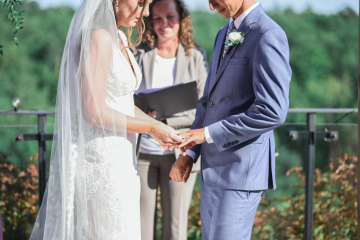 Nathan & Samantha
Rose-Anne Partridge to was wonderful! She is very well spoken and professional. Very understanding and considerate. We couldn't have been happier to have her marry us! Thank you! Nathan & Samantha August 2019
Jeremy & Kate
Rose-Anne Partridge was so helpful while planning the ceremony. She has a calm and kind demeanor and absolutely helped to make our wedding ceremony memorable. Jeremy & Kate July 2019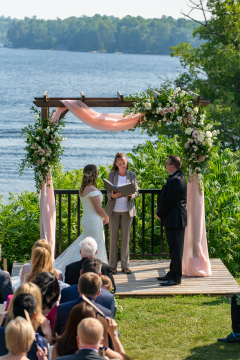 Jonathan & Kayla
From the planning meeting to our special day, Rose-Anne's adventurous spirit and professionalism did not go unnoticed. Rose-Anne was very helpful and personalized our ceremony as we requested to fit our nautical theme. My hubby and I planned a rather ambitious and unconventional wedding on the shores of Georgian Bay. She braved the boat ride out to our intimate location and was able to deliver a heartfelt ceremony in front of 100+ family and friends. We are very blessed that Rose-Anne officiated our wedding! Thank you Rose-Anne! Jonathan & Kayla July 2019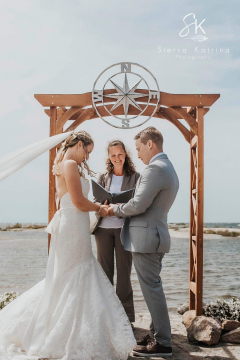 Christopher & Malissa
Rose-Anne was great! She was very helpful, professional and easy to work with. She made our wedding day very special and we would highly recommend her. Christopher & Malissa June 2019
Hayley & Christopher
Rose-Anne Partridge exceeded all of our expectations, and did a truly beautiful job. August 25th, 2018
Seb & Marc
Rose-Anne Partridgewas wonderful and crafted a beautiful ceremony with and for us. Thank you Rose-Anne!
Sydney & Lonnie
Rose Anne Partridge was amazing. Professional, kind, organized, pleasure to work with.
Ghislain & Alicia
Rose-Anne was wonderful to work with, she was very professional and spoke very well.
Danielle & Krandon
Rose-Anne Partridge was awesome! Super friendly and well spoken. She definitely made our day the best it could possibly be.
Brian and Heather
Hi Rose-Anne, Heather and i want to thank you for making it such a special day for us. The ceremony was beautiful, not that Heather remembers much of if it, her emotions had consumed her completely.We appreciate the fact that you took the time to listen and understand what we wanted and how it made the day more memorable. Brian and Heather
Katie and Jill
Thank you so much for yesterday! It was a perfect ceremony! So much love and tears! We couldn't be happier. Katie and Jill
Katie & Jillian
Rose-Anne Partridge was awesome! She was so helpful, she responded to emails and any questions I had Very quickly. She made us feel as relaxed and calm as possible in the moments when we needed it most! We were very happy with her and would definitely be recommending her to others!
Meagan & Jeffrey
Rose-Anne Partridge was incredibly kind and patient. Our service was running behind and she came to see that everything was alright, before resuming her position as officiant.