Robert Francis
Request Robert Francis
Secteurs desservis
Ottawa, Russell, Metcalfe, Winchester, Kenmore, Greely, Vars , North Gower Casselman, Osgoode, Kemptville, Stittsville, Carp, Gatineau Qc
Commentaires
Alannah & Greg
We were very pleased with Robert Francis. He was flexible with our needs and requests, included our children and a special surprise for my spouse. He was a very important part in making our day perfect
Maria & Thomas
Robert Francis was outstanding, we could not have had a better officiant, we loved him. He has got to be the best man in your company network!
Laura & James
Mr Francis was a delight to work with. His sense of humor & patience made me & my wife comfortable as we were a little nervous about the ceremony. The guests at the party had a good laugh & a good time during the ceremony. My wife was very impressed & enjoyed the quality of the words used to express during this ceremony. Long life to your company & million thanks to Mr. Francis for his excellent & knowledgeable service.
Robert Francis did an amazing job and we received nothing but compliments from our guests about how great the ceremony was and how much they liked his professional yet laid back and funny personality. He really went above and beyond to make sure everything was going to run smoothly the day of and he was very prepared!
Charles & Najla
We want to thank Robert Francis for being a wonderful officiant! He was funny and pleasant and helped put everyone at ease. All of our friends and families said that our wedding ceremony was beautiful, loving and memorable and Robert was a part of the reason why it was so lovely. Here are some pictures of us with Robert. Thank you All Seasons Weddings for connecting us with Robert to perform our service!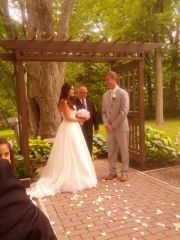 Stephanie & Matthew
Robert Francis was an excellent officiant. He was very helpful in offering suggestions, and listening to what we wanted for our ceremony. His sense of humour also put us at ease, and made the ceremony fun and memorable. He was great to work with!
Carrie-lynn & Eric
Robert Francis was perfect for us! His personality and humour made everyone laugh. He made sure to include our 11month old in our ceremony...he was wonderful! Thanks Robert!
John and Cathy
Robert Francis I'm sorry if this seems a bit long but, again, we find it hard to express how extremely happy we are with our entire experience with you, Robert, and with All Seasons. We can't thank you enough for helping to make our dream day a reality. The ceremony was better than even we could imagine. The rain stopped just in time but even before that, your positive attitude and willingness to proceed no matter what the weather, as long as that is what we wanted, helped bring things together. Again, your willingness to embrace our dream of a hockey-themed wedding, inject the proper amount of humor and your warm personality made our dream wedding a reality. Every member of our families and friends who made the trip remarked how lucky we were to find such a perfect person to perform our wedding ceremony.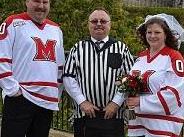 Salina and Troy
Hi Robert! Troy and I are finally settled in after returning from our honeymoon, and are catching up on emails. We really wanted to thank you for doing such a great job officiating at our wedding. We are still receiving many compliments on the ceremony - looks like everyone really enjoyed it. We'd also like to thank you for taking the time to join us at the rehearsal - you really helped get rid of some of the jitters by giving us a clear understanding of how the ceremony would proceed. Your mix of professionalism and humour was absolutely perfect! We clearly made the right choice in having you taking part in our special day. Thanks again Robert, and we hope you enjoy the upcoming summer. Salina and Troy