Richard Moore
Request Richard Moore
Secteurs desservis
Aurora, Bradford, Goodwood, Holland Landing, Keswick, King City, Mount Albert, Newmarket, Oak Ridges, Queensville, Richmond Hill, Schomberg, Sharon, Stouffville, Sutton, Uxbridge, Kettleby
Commentaires
Laura & David
Richard Moore was absolutely perfect from beginning to end! He is so friendly and personable and we were so thrilled to have him be a part of our special day! With his guidance, the entire process was seamless and he made us feel so comfortable. Couldn't have asked for anyone better to marry us! [August 2018]
Carley & Jason
Richard Moore went above & beyond! We would highly recommend him to anyone!
Laura & Jeff
Richard Moore was AMAZING! We wanted a simple ceremony and he exceeded our expectations for our big day. He put us at ease and brought laughter to our day. All of our guests commented on how fantastic he was and how he was perfect for our day!!!
Jason and Amy
Richard Moore was our officiant last fall at our wedding. There is nobody else I would trust or recommend more than Richard. From the moment we first met him we felt very comfortable with him, it was like we knew him our whole lives. He was incredibly caring and accommodating to our requests. The ceremony was light, fun and enjoyable for all of our guests. We received so many compliments, and almost a year later our guests still ask us who our officiant was to recommend to their friends. You will not regret calling Richard!
Tricia & Mike
Hi Richard (Moore), Thank you SO much!! We are so happy with how the day went and were ecstatic to have you as our officiant! We can't thank you enough and just want you to know that we thought you were the perfect officiant in every way! Your sense of humour, kindness and down to earth demeanor truly made us feel at home and super comfortable! It was quite simply a joy to Thank you again and all the best! Warmest regards, Tricia and Mike
Kari
Richard officiated our wedding in June 2016 and we couldn't be happier with his services. From the beginning, we knew Richard was what we were looking for in an officiant. Richard is flexible, intelligent, and has a great sense of humour. It was clear that Richard was up for anything and that is exactly what we wanted. Richard helped us officiate our wedding and was open to adding our suggestions into the vows, along with making recommendations of his own. We are so happy with the way everything turned out and would highly recommend his services!! Thank you Richard.
Sue & Greg
Richard Moore surpassed our expectations, was completely engaged in the service and added to the positivity of all those present. We laugh every day and this day was no different - all our family and friends commented on Richard's professional yet relaxed and humorous demeanour. The reservations staff were very helpful, courteous and prompt in all correspondence. I have fun sharing the story of how I met my husband on the GO Train and how I met Richard, our wedding officiant on the GO Train as well. We will surely recommend you to our friends. Thanks again for your assistance/participation in making our wedding day so memorable.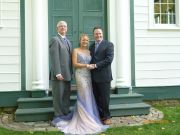 Kayla & Tyler
Richard Moore was our officiant. He was not only wonderful at officiating but he went out of his way to make sure we had everything we needed to make our wedding day perfect. My new husband and I are very happy to have worked with him.