Randy Box
Request Randy Box
Secteurs desservis
Acton, Aberfoyle, Ballinfad, Brampton, Caledon, Cambridge, Eden Mills, Elora, Erin, Fergus, Georgetown, Glen Williams, Guelph, Halton Hills, Hillsburgh, Milton, Morriston, Norval, Oakville, Orangeville, Puslinch, Rockwood, Waterdown
Commentaires
Elizabeth & Colin
Randy Box's communication with us was pleasant. The uncertainty of the weather for an outdoor ceremony, and the restrictions due to Covid put undue stress on the situation but Randy was a rock right through. On the glorious, sunny day that was our wedding day, Randy arrived early, fully prepared. We had set the site up with an arbour and a signing table, which made life easier. Randy was very pleasant and professional. He joked with us, performed a perfect ceremony, then stuck around for a bit to be included in photos. We're so very pleased we chose All Seasons and highly recommend them, and in particular, Randy, if you're looking for a wonderful officiant for your future wedding. Elizabeth & Colin September 2021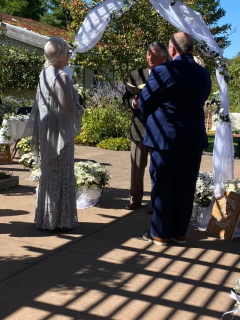 Shawna & Jason
Randy Box was super helpful and very professional! He always answered our many questions and even sent a follow up email after the ceremony. We would highly recommend Randy to family and friends in the future! Shawna & Jason July 2021
Jason & Shawna
Randy Box was the perfect officiant for our wedding!! He is very professional, helpful, and easy going. He was always willing to answer our many questions and provided us with a timeline for the ceremony to ensure we approved of it. He even sent out an email after the ceremony letting us know our next steps for our marriage certificate. Randy helped us feel relaxed through the whole process. We would highly recommend Randy, you will not be disappointed!! Jason & Shawna July 2021
Kenzie & Aaron
Randy Box officiated our wedding. He was so helpful for months leading up to the date, walking us step-by-step through everything we needed to know. He sent us the ceremony timeline and everything that he would say . Randy really eased our minds about everything. He is very organized, modern, kind, and made us feel very comfortable. We Highly recommend him. Thank you for everything. Kenzie & Aaron January 2020
Mark & Robin
Randy Box was fantastic, from our official meeting and changing some things around, right up to sending out an email to let us know our next steps after the wedding, I would highly recommend him !! Mark & Robin October 2019
Josh & Michelle
Randy Box was awesome from start to finish! Josh and I weren't really familiar with how the marriage process worked but Randy was super informative and organized. He let us personalize our ceremony and make it everything we wanted it to be. Randy never failed to give us constant confidence and reassurance leading up to our big day. We highly recommend! Josh & Michelle September 2019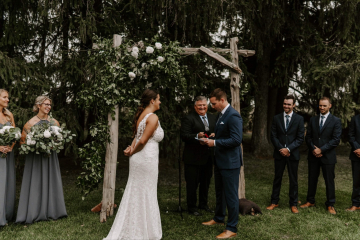 Steph & Matt
Me and my new wife could not be more pleased with Randy Box. We booked with him very last minute and he could not have made it any easier for us, he did everything he said he was going to do, he was on time, and was very professional about it. I would highly recommend people to use him in the future! Steph & Matt September 2019
Gregory & Margot
Randy Box was fantastic and worked with us to make our day perfect. Thank you Randy for everything ! Gregory & Margot September 2019
Adem & Kelli
We used Randy Box as our officiant. He was very Friendly and easy going.We really liked how he made us feel very comfortable. We would highly recommended Randy to other couples. Thank you Randy! Adem & Kelli September 2019
Thomas & Andrea
Randy Box was great! He worked with us to give us the wedding we wanted, while giving some very helpful suggestions. Randy was personable, yet professional. If you're planning a wedding, we would recommend meeting with Randy. We will always remember the beautiful day we had. Thank you Randy! Thomas & Andrea December 2018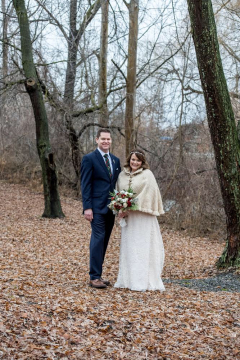 Craig & Alana
Randy box is an amazing man and super friendly. He preformed our Ceremony exactly how we had wanted it and on the hottest day of the year outside! Cannot thank him enough. Craig & Alana July 2019
Cory & Chantel
Randy Box was the perfect officiant for our wedding. Randy was very professional, but also easy going which made planning and execution a breeze. Randy was able to keep with our wedding theme and contribute to the spirit of our special day. Randy will forever be a part of our family and in our memories as we move forward in the next phase of our lives. We highly recommend Randy as your wedding officiant Thanks for everything you've done. February, 2019.
Mark and Tammy
Tammy and I were very happy with the help and ceremony provided by All Seasons Weddings and our officiant Randy Box. He was very helpful with our vows and made us feel relaxed and confident for the upcoming event. The day of our wedding was very exciting and Randy was great. He kept things light and threw in some laughs with us as requested. We highly recommend Randy for anyone looking for an officiant! Thank you so much for everything! Mark and Tammy Oct 2018
Colin & Cali
Randy Box performed our ceremony in Sept 2018. He was very helpful beforehand and helped us write a ceremony that suited us perfectly. He offered suggestions for readings that were beautiful and helped add touches to make our script flow beautifully! The day of he explained everything to us so we knew what to do and when. He also kept our vows to each other private so when we said them to each other it was the first time we'd heard them! He's a great public speaker and he really complimented our ceremony! We highly recommend anyone looking for an officiant to choose Randy!
Chantelle & Mike
Randy (Box) was excellent! He had been in contact with us throughout the process, keeping all things/decisions clear, easy to understand and stress free. We had an impromptu situation occur and Randy rolled with the punches as the say and kept us focused and on time as he incorporated our special guest attendant. **My 2 year old granddaughter did NOT want to leave my side throughout the ceremony** I highly recommend Randy, his kindness and easy going manner makes a day, that can be stressful, very relaxing. Chantelle & Mike
Carling & Ryan
Randy Box was a great wedding officiant to work with. He listened to what we were looking for and provided us with fantastic outlines of vows, readings and opening/closing remarks. It made planning our ceremony a breeze! He had some great thoughts and ideas, and answered and asked plenty of questions to make sure we got exactly what we wanted. I would highly recommend Randy to be your officiant, from start to finish he was there for us. Carling & Ryan, May 2018
Kendell & Bryan
Randy (Box) was very professional, organized, and friendly. He made my husband and I feel very comfortable during this exciting time in our lives! We did not know a whole lot about the process of getting married, so Randy went through each step with us advising us along the way. The ceremony itself we were set on being short and sweet, and Randy had an exceptional way of still making it feel romantic. He sat with us to go over our options (what we were going to say to each other, etc) he recommended poems and beautiful words to add to the ceremony, and that made the day that much more special. Randy was flexible with his availability, had the paperwork completed before we arrived so my husband and I were not waiting around which was very helpful as we had plans right after the ceremony. We received a lovely package filled with the vows we said to one another as a keepsake, Randy had that ready for us as well! I absolutely recommend him to facilitate and share your special day with! We left very happy, and best of all LEGALLY MARRIED! Thank you Randy!