Rev Norm Thomas
Request Norm Thomas
Secteurs desservis
Haliburton, Minden, Bobcaygeon, Coboconk, Norland, Harcourt, Eagle Lake, Kinmount, Rosedale, Carnarvon, Norland, Miner's Bay, Moore Falls, Apsley, West Guildford
Commentaires
Arpad & Chantal
Norm Thomas was so sweet he knew what to do he knew what to say! The ceremony was amazing. We are so happy we choose all season and norm ❤️ Arpad & Chantal June 2020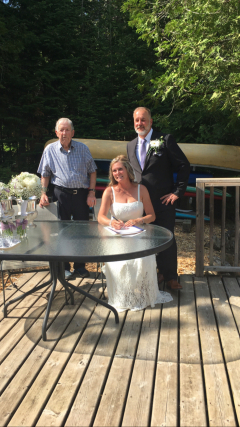 Erin & Martin
Norm was fantastic and exceeded our expectations for the ceremony! We met with him in advance (twice, once on my own and once with both my now husband and me) and prepared us on what to expect. During the ceremony he made everyone feel comfortable, and kept the ceremony on point. Great job Norm! We had comments from the guests that they really liked how the ceremony went.
Diane & Jose
Norm Thomas was amazing. He accommodated us when we changed our venue. I would definitely recommend him and you for anyone who is planning their wedding. Thank you so much for making our special day go so smoothly even with the rain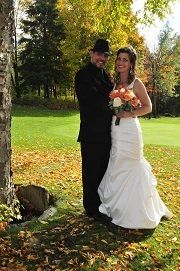 Sylvia
I just wanted to let you know that we were absolutely thrilled with both Rev Norm Thomas and the service he provided on our wedding day! He's a real gem and you are truly blessed to have him on your roster of officiants. Norm's sensitivity, compassion and gentle humour both during our planning meeting and our ceremony were greatly appreciated. His sermon touched our guests so deeply that my brother-in-law actually wept! (unheard of for him!). Thanks again for providing such a unique and wonderful service to those of us who like to have something other than the traditional church wedding!