Marlene Thake
Request Marlene Thake
Secteurs desservis
Westport, Township of Rideau Lakes, Newboro, Portland, Elgin, Morton, Perth Road Village, Inverary, Maberly, Perth, Delta Phillipsville, Lombardy, Rideau Ferry
Commentaires
Alessandro & Clare
Marlene Thake was wonderful. She has a charismatic and powerful presence. I really felt the vows and their importance thanks to how she looked at me. I was so nervous and her presence brought me back down to Earth. I couldn't have asked for a better experience. Alessandro & Clare September 2019
Chris & Catherine
Marlene Thake was lovely and everything went smoothly. She was very thorough and knowledgeable. Our guests enjoyed talking with her before the ceremony immensely. Thank you for everything! Chris & Catherine August 2019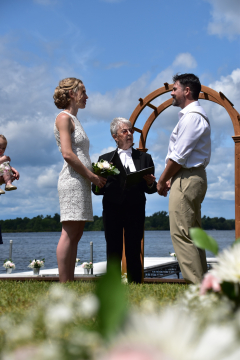 Chris & Jill
Marlene Thake was awesome and very accommodating as we had an unconventional wedding and she was just perfect!!! Thank you for everything ! Chris & Jill July 2019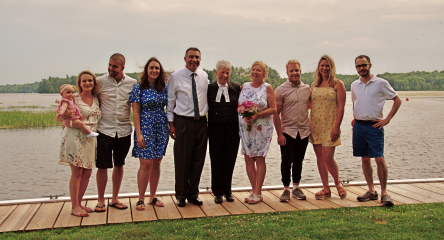 Imogen & Shaun
Marlene (Thake) was a wonderful officiant. She worked with us to make our ceremony just as we wanted and was a friendly, kind and calming presence on the day. Imogen & Shaun, July 2018
Karli & Matthew
Marlene Thake did a superb job and looked the part perfectly. Thanks to one and all for helping make the wedding a success.
Kendell & Chris
Marlene Thake was wonderful. She was more than happy to work with us to create a unique experience that encompassed our wedding vision.
Lena & Kevin
Marlene Thake was great! Thank you so much for being apart of our day. We felt a personal connection with her, which made the Ceremony that much memorable.