Lynne Hodgins
Request Lynne Hodgins
Secteurs desservis
Gravenhurst, Bracebridge, Port Carling, Bala, Huntsville, Orillia
Commentaires
Grace & Manuel
Lynne Hodgins was amazing! From the communication exchanges, planning meeting and the ceremony, Lynne really exceeded our expectations and made our special day that much more spectacular. Thank you Lynne for allowing us to have an unforgettable wedding! Grace & Manuel September 2019 *Photo by Vaughn Barry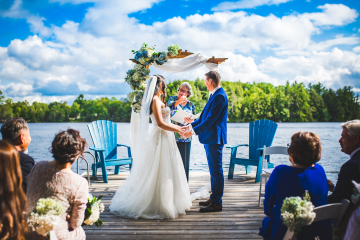 Raili & Alexander
Lynne Hodgins was both very professional and very warm - a great combination for a wedding officiant!
Sumitra & Rob
Lynne Hodgins was incredible!! She is such a warm and wonderful lady, she made our special day even more delightful.
Ashley & Chris
Lynne Hodgins exceeded our expectations. She was so easy to work with and welcoming. She also was very accommodating since we lived 3 hours away and communication could have been difficult. Thank you to Lynne - she did a wonderful job!!!
Stephanie & Kyle
Lynne Hodgins was lovely! She was happy and upbeat and did a great job performing her portion of the ceremony! All Season's was amazing to deal with! They were kind and answered any questions we had. They also accommodated whatever we wanted in an officiant for our ceremony. I would highly recommend them to anyone getting married!
Ann & Scott
Lynne Hodgins was very personable, and she provided some great info and suggestions for our ceremony during our pre-wedding meeting. Very nice lady! The office staff were very informative and helpfulto guide us through the process. Thankful for your service, and the options.
Jeannie
Booking through All Seasons was seemless. The contract was very eligible yet professional and the payment process was absolutely fair! Lynne (Hodgins) was there every step of the way. The verbiage we chose was exactly what we were looking for and Lynne allowed us to customize anything else we wanted. She was also able to offer suggestions whenever we needed some guidance. We were marrying with a stepchild in the mix and she included him through the entire ceremony which was so important to us. She spoke loud and clear and was upbeat amongst all of our guests. She was on time and organized with all documents and she never rushed us. I recommend this company and this officiant without a doubt! Jeannie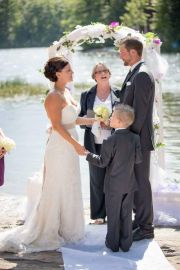 Nikki & Steve
Lynne Hodgins was absolutely wonderful . I appreciated all her input and very upbeat attitude :) I have and will continue to recommend her and All Seasons services :)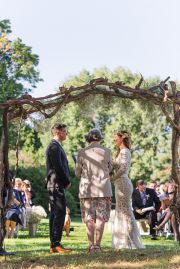 Donelda & David
Lynne Hodgins was great. She keep it light and short, just like we requested.