Libby Harmer
Request Libby Harmer
Secteurs desservis
Courtland, Drumbo, Embro, Hickson, Ingersoll, Innerkip, London, Mount Elgin, New Hamburg, Norwich, Paris, Plattsville, Princeton, Salford, Sebringville, Shakespeare, Stratford, Tavistock, Thamsford, Tillsonburg, Woodstock
Commentaires
Jordan & Liam
Libby Harmer was fantastic. She was accommodating, understanding and very comforting during a time that was very difficult for us. September 2022
Kross & Stephanie
Libby Harmer was awesome!! We couldn't have asked for a better officiant ! Highly recommend her ! July 2022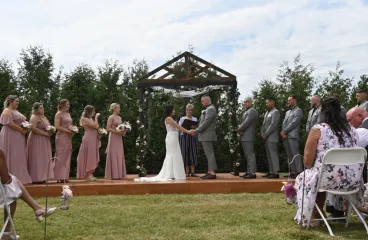 Camilla & Trevor
Libby Harmer was good with us. It was an amazing experience and a day we will both remember forever. September 2022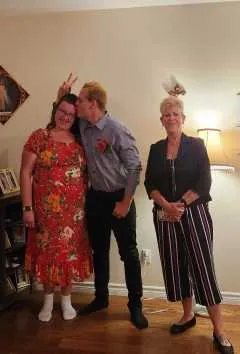 Kyle & Kayla
Libby Harmer was awesome! Very kind, caring, and you could tell she was genuinely excited for us a a couple. She made us feel beyond comfortable and was willing to accommodate anything we wanted regarding the ceremony. We could go on forever about how much we liked Libby! July 2022
Tyler & Jessica
Libby Harmer went above and beyond our expectations! She was fun and accommodating, the absolute perfect choice! October 2021
Jessica & Tyler
Libby Harmer went above and beyond our expectations! She was fun and accommodating, the absolute perfect choice! October 2021
Ryan and Kasia Aug 2021
Libby was above & beyond our expectations!!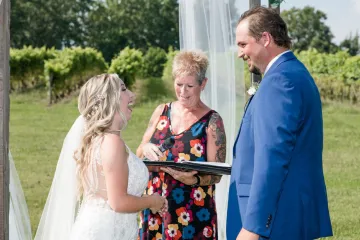 Mike & Tracy
Libby Harmer was amazing. I felt like I'd known her for years. We wanted a relaxed wedding, with lots of laughter and she delivered. It was perfect. Mike & Tracy May 2021
Brandon & Metta
What a beautiful ceremony from our special officiant Libby Harmer.. This year has been anything but normal but what a perfect day with our immediate family to celebrate 2 family's coming together. Libby made everything so laid back. Thank you Libby we have gained a wonderful friend during this and for that were so very thankful. Brandon & Metta October 2020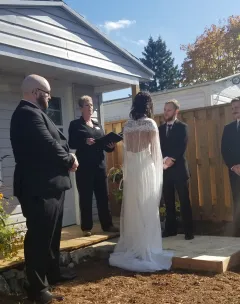 Nicole & James
Libby (Harmer) was the officiant for our wedding. Having a wedding during COVID made everything an uncertainty for quite a while. Libby was wonderful and made sure that we didn't have to worry about anything involving our ceremony! She led the ceremony beautifully and I couldn't be happier! Thank you so much Libby!! Nicole & James, August 2020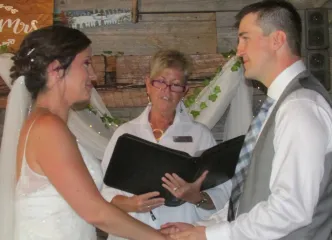 Byron & Jen
We absolutely love Libby Harmer, she is so kind and helpful and made us feel totally comfortable before, during and after our ceremony. 11/10 would definitely recommend!!! Byron & Jen July 2020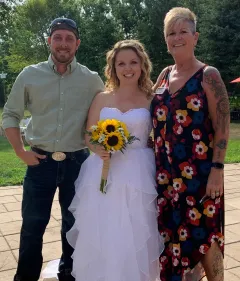 Brad & Terri
Libby Harmer was amazing, With getting married during COVID-19 our wedding plans changed constantly and having Libby on board for whatever came our way was a huge relief!! Libby was amazing and we would recommend her to anyone!! Brad & Terri June 2020
Chris & Amanda
Libby Harmer was a wonderful presence at our service. She laughed with us and led our service beautifully. Thank you Libby. Chris & Amanda August 2019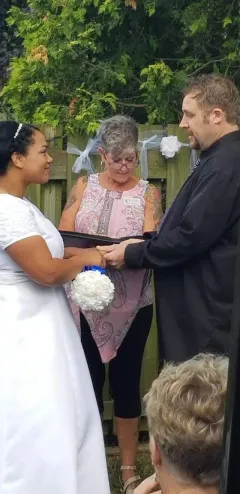 Chad & Jaclyn
Libby Harmer exceeded our expectations! She was so well organized, checked in with us, and was well prepared for the rehearsal and wedding. She made us feel at ease and delivered an exception and unique ceremony that was commented on by many guests. You wont go wrong with including her in your special day! Thanks so much Libby the day was a dream come true! Chad & Jaclyn June 2019
Andrea & Oleksa
It was great to meet Libby Harmer and we were incredibly happy that she was our officiant. She was quick to respond, very accommodating, and helped ensure that our special day was indeed special. Andrea & Oleksa April 2019
Nathan & Jaime
Libby exceeded our expectations, and did an exceptionally great job. August 25th, 2018
Mary & Don
Libby Harmer was absolutely amazing both in preparation and the day of the wedding. She was very thoughtful in every detail and truly made the ceremony a memorable one.