Kathy Deguara
Request Kathy Deguara
Secteurs desservis
Mississauga, Caledon, Bolton, Orangeville, Hockley Valley, Hillsburgh, Erin, Palgrave, Nobleton, Schomberg, Vaughan, Woodbridge, Brampton, Etobicoke, GTA, Oakville, Parry Sound, McKellar, Dunchurch, Magnetawan, Whitestone, Nobel, Rosseau, Parry Sound
Commentaires
Braedon & Laura
Kathy Deguara was beautiful and spoke with genuine compassion. Her service was beautiful. Loved having her perform the wedding ❤
Brianne & Cameron
Kathy Deguara seamlessly acclimated to our laid-back and simplistic style. She provided support, encouragement and abided by our wishes to have a unique spiritually Aboriginal ceremony integrated with our Christian values. She respected our boundaries and handled a half an hour start delay due to a traffic accident, with great patience and grace which helped to keep us calm. All of our friends and family were impressed with the beauty and delivery of the ceremony. Thank you Kathy--you were the perfect fit for us 💜
Cara & Nick
Kathy Deguara was nothing but spectacular. She was helpful, flexible, warm, caring and such an excellent presence to our special day. I wouldn't have had our day any other way. I highly recommend Kathy to any other couple seeking an excellent officiant. We love you Kathy. Always.
Alexis & Andrew
Kathy Deguara did such an amazing job the day of and prior to our wedding. I had ideas of what I wanted but she really took the time to show me ideas and in the end bring it all together. The day of the ceremony was exactly what I had pictured.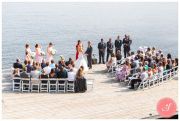 Melissa & Jesse
Kathy Deguara made the process run smoothly! She was so friendly and helpful throughout the entirety of our wedding planning experience! I highly recommend her and AllSeasons!
Jordy & Elissa
Kathy Deguara was organized, thoughtful and had wonderful suggestions that made the ceremony very personal. When the threat of rain did not allow us to use microphones, Kathy was able to project her voice so that everybody could hear her.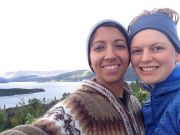 Luc and Paul
Kathy Your beautiful energy was the most precious gift you could give us. We can't thank you enough for all that you have done to make our wedding day so special. All our love
Lisa & Chris
Kathy Deguara was great, very helpful and worked with us to customize a ceremony that was just what we were looking for!