Karen Bass
Request Karen Bass
Secteurs desservis
Azilda, Blezard Valley, Capreol, Chelmsford , Coniston, Copper Cliff, Dowling, Estaire, Falconbridge, Garson, Hanmer, Levack, Lively, Naughton, Onaping, Skead, Sudbury, Val Caron, Val Therese, Valley East, Wahnapitae, Whitefish
Commentaires
Kevin & Beth
Our little ceremony was perfect for us! Karen Bass was an absolute delight! Karen was punctual, friendly and caring! Thank you so much again! Kevin & Beth December 2020
Gary & Lynn
Karen Bass was amazing , she exceeded our expectations. Thank you ! Gary & Lynn October 2020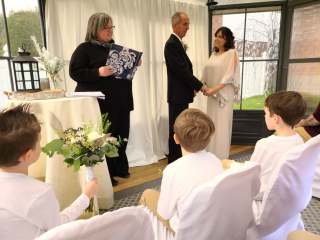 Todd & Morgan
Karen Bass was amazing, she arrived early, was very pleasant and friendly. Thank you Karen for making the day Beautiful. Todd & Morgan August 2020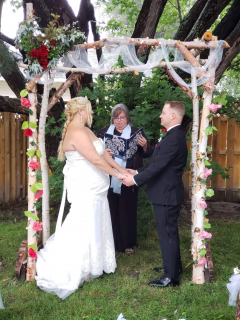 Mathew & Jillian
Karen Bass was so much fun. We clicked right away when we met with her. We wanted a light hearted ceremony and she had the whole group cracking up. Couldn't have had a better fit for our officiant. Mathew & Jillian July 2020
Deanne & Nelson
Karen (Bass) was a delight, I would definitely recommend her to anyone who asks. She led a beautiful, touching ceremony and was helpful and informative with the forms afterward. Deanne & Nelson, July 2020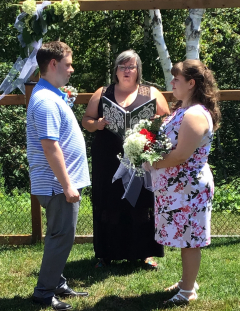 Richard & Jenna
Karen Bass went above and beyond our expectations! Even during a pandemic, we felt our day was very special. Richard & Jenna April 2020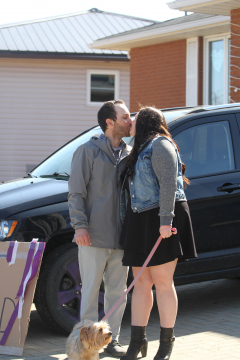 Shane and Melanie
Karen Bass went above and beyond for our ceremony- she was very friendly, and we would recommend her to other couples without a doubt! Shane & Melanie February 2020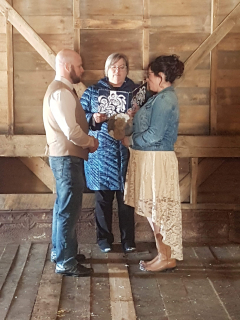 Gaelen and Santana
Karen Bass was great! Her speaking skills and ability to read the crowd was wonderful! She worked with us and provided us with a ceremony we both loved and complimented us as a couple. Gaelen & Santana December 2019
Lisa & Dan
Karen Bass was Fantastic! Thank you Karen for providing excellent service, we loved having you officiant our wedding. It was very memorable. Thank you for everything! Lisa & Dan October 2019
Anthony & Angele
Karen Bass was amazing, helpful and made us feel super comfortable and helped ease the anxiety we were having!! We would highly recommend her to anyone!! She's easy going and down to earth, she made the whole process of getting married that much easier!! Anthony & Angele September 2019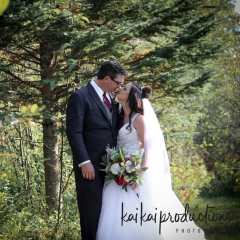 Alain & Carmel
Karen Bass was everything we'd hoped for in an officiant. She asked us what we wanted and delivered! She is professional, yet easy-going. It was a pleasure having her marry us! Thank you for everything. Alain & Carmel September 2019
Eric & Desiree
Karen Bass is so cool and fun, she's exactly what we wanted for our wedding. Thank you for everything ! Eric & Desiree August 2019
Andre & Nicole
Karen Bass was simply amazing! She performed our ceremony just the way we intended it to be. She is kind, loving and understanding. Simply the best! Thank you Karen. Andre & Nicole August 2019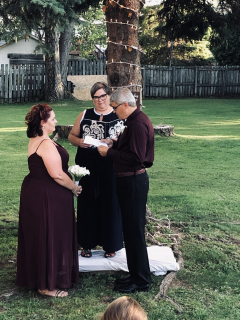 Serge & Theresa
Karen (Bass) was friendly, fun and outgoing We loved having her officiate our wedding. Serge & Theresa. August 2018.
Terry & Sylvie
Karen Bass was absolutely original, funny and everything we were looking for. She understood our need for humor and made our day very special. Terry & Sylvie June 2019
Theophilus & Christine
Karen Bass did an absolutely magnificent job. We both were completely satisfied with the ceremony. Thank you so much for not only sharing in our special day but making it as memorable as it was. Theophilus & Christine May 2019
Jessica & Craig
Karen Bass succeeded and completed all of our expectations. August 25th, 2018
Stefanie & Robert
YES! Karen Bass was awesome! She is super friendly and upbeat, with a great sense of humor. She made us feel comfortable from our first meeting, and our guests thought she did an amazing job at our ceremony. We highly recommend Karen :) Highly recommend this service to others. The entire process was effortless, and our special day was everything we hoped it would be! Thank you! [August, 2018]
Anne & Sly
Karen Bass was absolutely fantastic at our wedding ! She definitely took the edge off before and during the ceremony which was great! Our guests were very impressed at how quick and simple the ceremony was. My only regret is not being able to say goodbye to Karen and thank her for everything, after the ceremony, as we went to take pictures. Regards,
Mary & Don
We were more than thankful for the wonderful service from you All Season Weddings. Our officiant, Karen Bass, was a pleasure to have. She made us comfortable from the beginning to the end of the wedding, even made us laugh (under the emotional circumstances of the wedding). Thank you, Karen, for your delightful personality we are grateful to had you in this special occasion. xox
Krista & Dino
Karen BAss was absolutely amazing and I would recommend her in a second to anyone who was looking for an officiant! We loved having her :)
Eric & Suzanne
Thank you Karen for making this special day extra special and personal. We were blessed to have you officiate our wedding with humour, warmth and care.
Amanda & Jamie
Karen Bass did an amazing job. She was on time she made me and my husband comfortable and the guests laugh. She was professional and fun.
Craig & Mitchell
Karen Bass was amazing! Her ceremony was short but sweet. Exactly what we wanted! She had us laughing and smiling the whole way through! Absolutely. The service as a whole was amazing! Took all the stress away by making everything clear and personable! We would like to thank Karen for making our day a little more special! Her personality shines through! We will always remember our special day!
Peter & Stephanie
Karen Bass was great! Very comfortable and light-hearted ceremony - just what we wanted! :)
Catherine & Dwayne
Karen Bass exceeded our expectations. We were very pleased with Karen presiding over our wedding
Laurel & Richard
Karen Bass was a breath of fresh air, we truly enjoyed her sense of humour and her perfect words, Thank you Karen... you made a special day a lttle more special.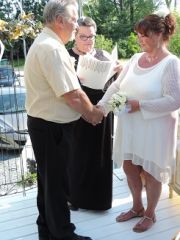 Arlene & Mike
Karen Basswas absolutely fantastic. She was there before we arrived and explained everything thoroughly. What a wonderful person with a personality that meshed with ours
Stacey & Glen
Karen Bass was fantastic. We couldn't have asked for anyone better! She was very helpful and made us less nervous when we got up to the altar! Couldn't have asked for a better day!
Brennen and Stacey
Hey Karen (Bass)! I wanted to thank you again for the awesome ceremony. You really were a big part of what made the night awesome. And for that, we will always be grateful. Brennen and Stacey 01/30/2016
Paul & Carole
The new hubby and I would like to thank you again. What a great wedding day we had and it was a big thanks to you performing our beautiful ceremony. This memory will last a life time and we are going to a happy couple for 60 more years to come. Just writing this us making me cry. We couldn't have asked for a better wedding officiant. With all our happiness
Chelsea & Denis
Karen Bass was kind and warm and wonderful. This whole process has been easy and worry free. Karen was so wonderful!