Julie Desrosiers
Request Julie Desrosiers
Secteurs desservis
Ottawa, Manotick, Barrhaven, Kanata, North Gower, Kemptville, Merickville, Oxford Station, Oxford Mills, Osgoode, Metcalfe, Greely, Reids Mills, Mountain, Halville, Winchester, Chesterville, Avonmore, Iroquois, Morrisburg, Williamsburg, Glen Becker, Johnstown, Prescott, Bishop's Mills, Vernon, Morewood, Embrun, Finch, Monkland
Commentaires
Jennifer & Justus
Julie Desrosiers was perfect! She worked with us to develop a perfect tailored ceremony! She was kind and composed and lovely during as well! Highly recommend her ! Jennifer & Justus August 2019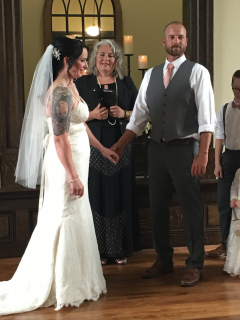 Cody & Bridget
Julie Desrosiers was amazing, we could not have asked for more in an officiant! From start to finish she made the whole process so easy. She came to our home to meet us and get a feel for exactly what we wanted out of the ceremony. We wanted a blend of traditional and custom vows, and she created the perfect script based on our feedback. The day of she was punctual, professional, and warm. She was very eloquent and comfortable speaking before our guests, and put myself and the groom at ease. Our friends and family have continued to tell me how lovely the ceremony was and praise the officiant. It would not have been the same without her and I am eternally grateful! I would recommend her to everyone!! Cody & Bridget August 2019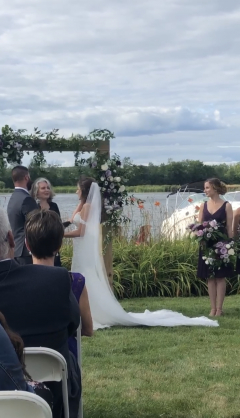 Hannah & Michael
Julie Desrosiers was perfect. Even with 150 guests, she made our ceremony intimate and so special. Her grace and elegance set the stage for an incredible day. We would recommend Julie in a heartbeat!
Virginia & Lynn
Julie Desrosiers really worked hard to make sure our wedding ceremony was exactly how we wanted it. She had a perfect mix of funny and touching in her script. She was an excellent speaker and helped to assure us both before and during the ceremony that it would go exactly how we wanted it to. I couldn't be happier with our choice in Julie as an officiant. Even our guests commented on how well she ran the ceremony. The Office staff made it very easy to keep track of all of the booking and payments we had to make, which is a life-saver when you have 100 other things to worry about. I give Julie Desrosiers my highest recommendation.
Patricia & Boris
Julie Desrosiers was Amazing!!! She went above and beyond to make our ceremony special and beautiful. She really understood what was important to us and took the time to come to the wedding site to meet with us and get to know a little about eachother ! She was great at corresponding with all my email and questions and I couldn't be happier with her patience and dedication to making our day perfect and the process a calm one. Everyone was great at responding and all the information was very clear always. The service you provide is outstanding and the ability to make your ceremony the way you like it is the absolute best part. Julie was outstanding ! Truly loves doing this and we loved our experience with her!
Kelly & Guy
Thanks Julie for the absolute best ceremony anyone could have come up with and performed. I can't wait to see the video to hear your Hawaiian chant! Mahalo, Kelly and Guy
Teresa & Jared
Thank you Julie so very much for agreeing to perform our ceremony. You were amazing! Better than I ever could have asked for. I will recommend you over and over! Thank you a million times!
Chantelle & Paul
Julie Desrosiers was absolutely amazing, calm, caring and went above and beyond to ensure everyone was comfortable. The ceremony format was exactly what we were looking for and she was incredible flexible in allowing us to make modifications to suit our situation. THANK YOU!!!!!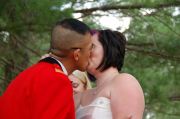 Christine & Bernard
Julie Desrosiers was fantastic. She understood what kind of couple we were and did everything she could to make our ceremony special. I was extremely surprised with how quickly the office got back to me. Even more importantly because our wedding had a short prep time.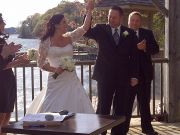 Lisa & Robert
Julie Desrosiers was wonderful! She was professional, warm and just made our day so special. We received many compliments about her from our guests. Thank you Julie for being part of our day!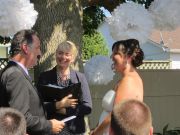 Aly & Sebastien
Julie (Desrosiers), Thank you so very much for performing a beautiful ceremony. One of the things our guests truly loved was your officiating, the ease of the ceremony and the lovely words. It was wonderful. Thank you again and all the best to you!!
Lindsay and Mitchell
Hi Julie, Thank you so much for everything this past weekend! The ceremony was so beautiful, I couldn't have asked for anything better. Tons of the guests mentioned how lovely the ceremony was, and they all adored that there was so much emotion and love in both the words and the delivery of the ceremony. You did an amazing job! I feel so blessed to have met you. You are such a wonderful and loving person and I am so glad it was you up there with us on our special day. You brought calm and peace to my mind when I didn't think it was possible. The ceremony truly was a dream come true and was definitely my favourite part of the wedding. Thank you for being you. We will be in touch soon. Best wishes,
Louise and Samuel
Julie Desrosiers made sure that our ceremony was perfect in every way! She made our day one to remember. Thank you to Julie for her great heart and spirit! Definitely would refer to anyone!
Kristina & Marc
Julie Desrosiers went the extra mile to make sure our ceremony was exactly what we wanted. She co-officiated with my sister-in-law and together they did an amazing job. Julie was very helpful with answering all of our questions and many of our guests said that our cermony was beautiful and unique. That is was, and I would no doubt recommend Julie Desrosiers to anyone!
Mya & Jason
The moment we met Julie Desrosiers, we knew that we made the right choice. Julie was professional, warm and so friendly! Having her officiate our ceremony made it that much better! It was lovely meeting her!