Julia Foley
Request Julia Foley
Secteurs desservis
Carleton Place
Commentaires
Aaron & Sara
We were so grateful that Julia Foley was able to perform our ceremony for us, especially with covid . She was awesome! Super friendly ! Aaron & Sara May 2020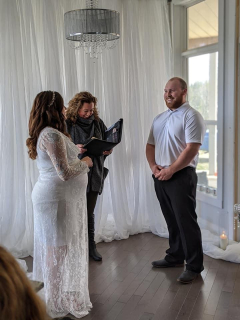 Scott & Abby
Julia Foley was fantastic at providing exactly the kind of wedding experience we wanted. Thank you to Julie an All Seasons Weddings for making the day perfect! Scott & Abby December 2019
Melissa & Kevin
Julia Foley was exactly what we were looking for! She was a perfect fit for our day! Friendly on time and has no problem keeping the ceremony short and sweet! She worked with us as we lived out of province and couldn't get our marriage license until the day before! She made sure to show up early to fill out all the paper work she needed to have done! Julia is absolutely fabulous to work with! Thanks for everything!
Kevin & Tamara
Julia Foley was both fun and professional. A true pleasure to have at our ceremony.
Bonnie & Peter
Julia Foley was awesome we had a great day!
Shawn & Melissa
Awesome job, Julia. You did such a great ceremony. Melissa and I couldn't be happier and will definitely recommend you!
Meghan & Douglas
Julia Foley was excellent! She was incredibly helpful and helped make our wedding day the perfect day that it was.
Francesca & Broderick
Julia Foley was an excellent officiant and made our ceremony fun.
Courtney & Campbell
We booked our officiant, Julia (Foley), through All Seasons Weddings, and she was wonderful. She answered our emails promptly and was extremely accommodating. Julia was willing to do whatever we wanted for our ceremony and allowed us to craft the ceremony exactly how we wanted. She was very friendly and did a great job on the wedding day!
Kevin + Tamara
Hi Julia (Foley), Thank-you for being a big part on our big day! It was truly a pleasure working with you. Your professionalism, easy-going-ness and charisma made us relaxed and better able to enjoy our "I do's". We'd refer you to anyone in a heartbeat!! Thanks again so, so much for everything! All the very best, Kevin + Tamara
Jessica and Simon
Hi Julia (Foley), Thank you so much for being so wonderful! Numerous members of my family commented on how incredible you were and how you gave off such a great "vibe." You helped make our day very special. Jessica and Simon Xoxo
Vanessa & Joe
You were amazing and we are so happy you were a part of our big day! Everyone loved you and thought you knew so much about us. We are going to be having a bbq in the next couple weeks for our wedding party if you'd like to stop by.