Joyce Philp
Request Joyce Philp
Secteurs desservis
Sarnia, Point Edward, Camlachie, Brights Grove, Corunna, Mooretown, Courtright, Sombra, Port Lambton, Wallaceburg, Lambton Shores, Forest, Petrolia, Brigden, Watford, Wyoming.
Commentaires
Cody & Samantha
Joyce Philp was a wonderful officiant and more than helpful when we had to change our plans because of what has been happening. It was wonderful having her be a part of our day. Thank you so much Joyce! Cody and Samantha October 2020
Devon & Erica
Joyce Philp met our expectations and some! She was so wonderful! She made our special day even more special just being part of it. Her aura was so welcoming and comfortable that it helped with my nerves. I get high anxiety in front of crowds even if they are my closest friends and family, but Joyce's voice and tone made me very calm. We were unsure of our vows and she pretty much held both our hands through it all haha. She also stayed a little while after and was a hit with our parents. Devon & Erica September 2020
Gary & Anita
Joyce Philp did a great job and everything was perfect. Thanks again Gary & Anita June 2019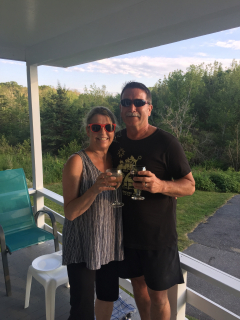 Lisa & Jason
Joyce Philp was lovely! She fit in well with our family, was sweet and kind the day of our ceremony and extremely helpful and accommodating in the preparation leading up to it. Joyce has a gift with children and was able to get our spirited 3 year old to cooperate in participating in his little brother's dedication. We had a truly memorable day thanks to Joyce.