John Twist
Request John Twist
Secteurs desservis
Gravenhurst, Bracebridge, Bala, Milford Bay, Port Sydney, Washago.
Commentaires
Alex & Janna
John Twist was fantastic! He was always very responsive, and helped explain what was needed for us to have our ceremony and be legally wed. He helped us build the ceremony that felt right to us. He did a great job on our wedding day - was very personable and great with our small crowd. We're very happy to have worked with him and to have used him as our officiant! Alex & Janna October 2020
Brian & Laura
John Twist was very professional and made us feel so comfortable. Our families commented on how great he was... warm, kind, funny-put a smile on everyone's faces. We would recommend John to our friends/family for sure! Brian & Laura October 2020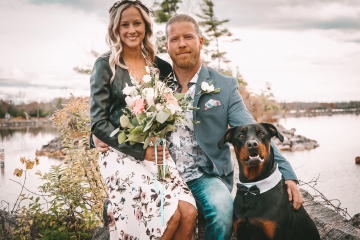 Joanna and Alex
Thank you so much John for being so wonderful and being on this crazy Journey towards out wedding day with us. It has been a unbelievable year and we are so thankful for how helpful, understanding and flexible you where with us. We could not have chosen a better officiant for our day. Thank you again! Joanna and Alex October 2020
Brandon & Abbey
John Twist was phenomenal. We couldn't have asked for anyone better. Our ceremony was just what we had hoped for. He was serious in the right parts and comical in others. It was perfect. Our guests also all complimented how great John was as well. Thank you again!! Also, thank you for being so accommodating. Planning a wedding during a pandemic has been challenging; and with having to change our ceremony location literally a week before the wedding was stressful. We will definitely be referring your services. Thank you again. Brandon & Abbey September 2020
Kanishak & Kritika
We had an amazing experience with Mr John Twist. He also had to wait for us a little and he didn't mind at all. He was really sweet and made our day memorable. Thank you All season wedding and Mr John :) Kanishak & Kritika June 2020
Angela and Sean
Hi John (Twist), We just wanted to send a thank you from the bottom of our hearts for a really beautiful ceremony. We loved it. You braved extreme heat, our interrupting children and some ring finding adventures! Haha. You worked through it all and you helped make our day so special. You're a true professional. Angela and Sean. July 2019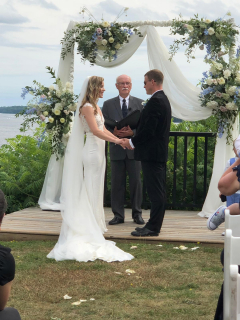 Kyle & Jessica
John Twist was amazing,he is organized and friendly. John exceeded our expectations. Kyle & Jessica June 2019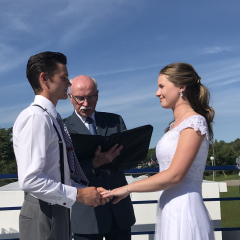 David and Heidi
Good afternoon John, thank you once again for officiating our wedding yesterday. Heidi commented on how well you adapted to our families and the occasion. You were the perfect choice. Thank you David and Heidi
Tiffany and D'Arcy
Thank you so much for attending the day and performing the wedding ceremony. You were easy to work with and gave us creative options for our inquiries. We appreciate your time spent. Thanks again.
Rhonda and Craig
Right from the first conversation, to the meeting in person (before our big day) and on our wedding day, it has been a pleasure to have John Twist involved. Both my husband and I felt very much at ease with how the ceremony was going to be done. We had a small, quaint, casual gathering at a local park with a few chairs and a table decorated for the signing of the registry. A family friend took our photos and John directed us through our vows. Short and Sweet and to the point with so much compassion and care guiding us along. We sincerely want to thank John for what he does and how he kept us calm during the ceremony, when needed. Anyone who is looking to have an officiant to perform their ceremony would do well to call upon John for his services. Again, thank you very much as it made our day even that much more special. Sincerely Rhonda and Craig
Stephanie & Jeffrey
John Twist is a very kind soul. He is an absolute natural and made everyone at our tiny ceremony feel at ease. He brings along a gentle sense of humour that everyone enjoyed. Our entire ceremony from top to bottom went without a hitch and we owe it to John. I highly recommend him for any ceremony or service. If I had to do it all over again ... I wouldn't change a thing. Thank you so much John!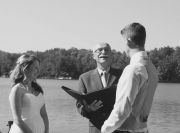 Katie and Mark
Hi John, I just wanted to send a quick note to say thank you so much for officiating our wedding! We were absolutely thrilled with the service and had many compliments on how wonderful you were after the ceremony! Hope you have a great summer. Katie
Hi John: Hope you are well and enjoying summer so far. Cory and I both wanted to thank you for being part of our day. We had the best time overall and the ceremony was just what we'd hoped for. Thank you for delivering the ceremony is such a fun way - all of our guests really enjoyed it. Sarah and Cory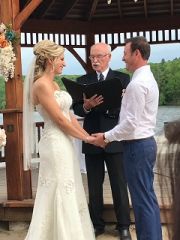 Sarah and Al
Hi John! We hope all is well with you and that you are having a great 2017 so far. We've been looking through pictures and reminiscing about our wedding one year ago today at Trillium and thought of you. We wanted to thank you again for helping to make our day so special, we can't imagine having anyone else as our officiant that day!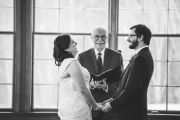 Paige and Jesse
"We can't thank you enough for officiating our wedding. You took the time to get to know us, listened to what we wanted our ceremony to be like, and gave us exactly that. Our ceremony was truly perfect and we have received an enormous amout of compliments on how personal and relaxed it was. ;So thank you for that!"
Shannon and Jake
Thank you so much for officiating our special day. You were so professional and great to work with. Our ceremony was exactly what we wanted. Great job!" Shannon and Jake.
Holly and Joseph
John (Twist) was amazing! He was so easy to work with and very flexible with being able to meet up to discuss details and answer my many questions. John performed the ceremony perfectly and everyone loved it! We also loved his choice of outfit, it fit in perfectly! Thank you so much for everything!!!
Alex and Christine
"Thank you so much for the absolutely terrific job you did last night in officiating our wedding. You set the perfect tone and it all went exactly as Christine and I had hoped. And we certainly had wonderful feedback from our guests about how beautiful and intimate the ceremony was and about what a lovely job you did. Many thanks, and enjoy the rest of your summer! With sincere gratitude, Alex & Christine"
Sarah and Davis
Hi John, Thank you so much for your services on Thursday August 18th. Your professionalism and demeanour gave our ceremony the meaning and warmth we were hoping for. We also appreciated you walking us through the process prior to and during the ceremony. Everyone thought you, Davis and I were a perfect match! We can't thank you enough. Thank you so much again for being the liaison to what we expect to be a long and happy marriage. Kind regards, Sarah and Davis
Callan & Trevor
John Twist far exceeded our expectations. We looked at all the profiles of each officiant and had a "good feeling" about John. He called us and while we talked he was very patient, genuine and enthusiastic. He didn't make us feel like just another couple getting married. I met with him to go over the ceremony about a month beforehand and he sat down patiently and asked questions and made me think of ceremony layout that I had not thought of before. Lastly, the day of the ceremony. We had decided to to do the ceremony outside in winter hoping for temperatures hovering over 0. Instead we had the coldest day of the year with -30 temperatures. When John came in to meet with us before the ceremony, we asked him to shorten the length and he did it without a blink. Despite the temperature, John warmed the ceremony with his demeanour, humour and enthusiasm. I had numerous people come up to me to ask how I had "found" John Twist. Thank you so much to John Twist and the All Seasons staff for exceeding our expectations and making it a day we will NEVER forget!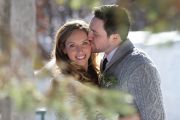 Matt & Susan
John Twist was wonderful to work with throughout the process. We felt like he really listened to what we had to say, and did his part in bringing the ceremony to life. Everyone at the wedding was commenting on how great John was. The humour he brought to the proceedings and the lovely things he had to say, really added to the day. He was great.
Melissa and Roland
Hi John Thank you again for being our officiant. We heard nothing but rave reviews about how great you were from our family and guests. Thanks Again
Rob & Kristin
John Twist was amazing. Great sense of humour. He knew we wanted it to be casual and fun, and he made it exactly that. We got lots of compliments on our choice of officiant. The sample ceremony that we received from All Seasons was a great starting point for us. We used it as a base and adapted it as desired.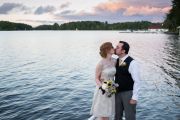 Sarah & David
I have already had 2 couples ask for John Twist's contact information because he left such an impression on them. He did a fantastic job on our wedding ceremony, he made our ceremony very personable and relatable, and took the effort to track us down afterwards to congratulate us again. I would recommend him to anyone.
Carri- Lee and Joe
Hi John Just wanted to thank you for such a wonderful ceremony, we have had so many compliments and you played the most important role of our day! Thanks Again,
Michelle & Steve
John Twist did an incredible job at our ceremony! We really appreciated his warmth, friendliness and humour. A number of our guests commented on how wonderful they thought John was, saying that our ceremony was one of the best they had attended. We couldn't have been happier!
Annie & Jeff
John Twist surpassed our expectations. From the very first meeting, he made us feel comfortable and we just 'clicked' with him. John was super friendly. It felt like a long time friend was apart of our special day. He provided u with great advice when it came to making decisions about the flow of our ceremony.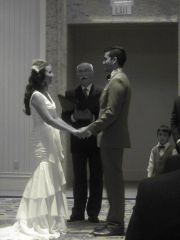 Shannon & Erik
John Twist was amazing!! He allowed us to personalize our ceremony to our liking and was very accommodating. I would recommend him to anyone looking for an officiant. Thank you John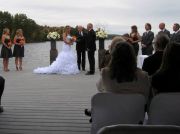 Lee-Ann and Cory
Hi John I wanted to take this opportunity to informally thank you for your amazing presence and conducting our wedding ceremony last Saturday at Hidden Valley. It was so reassuring that we working with someone we could relate to and found a sense of comfort. Thought we could share some early pictures from our photographer;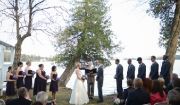 Adrian and George
Thanks to John Twist everyone had wonderful things to say about the ceremony he performed. We are very happy that John was willing to conduct it.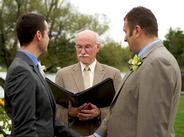 Kristin and Rob
You did a ceremony for us on Sept 13, and Kristin and I just wanted to say that you did an amazing job. Loved the laid-back humour – making the best of a chilly situation down by the waterfront. A lot of our guests complemented us on our choice of officiant. Keep it up!