John Hyland
Request John Hyland
Secteurs desservis
Arnprior, Braeside, Horton, Renfrew, Haley Station, Beachburg, Burnstown, Dacre, Calabogie, White Lake, Douglas, Eganville, Perth, Balderson, Carleton Place, Ashton, Almonte, Corkey Woods, Mississipi Mills, Drummond North, Smiths Falls, Merrickville, Richmond, Stittsville, Constance Bay, Marshalls Bay, Buckhams Bay,Torbolton, Fitzroy Harbour, Huntley, West Carleton, Galetta, Ottawa West, Kanata, South March, Barrhaven, Portage du Fort, Shawville, Quyon
Commentaires
Shan & Kim
John Hyland was great. Very friendly, personable and performed our ceremony in a friendly and easygoing way. He was dressed very nicely (and looked very handsome!) Thank you John! Shan & Kim August 2019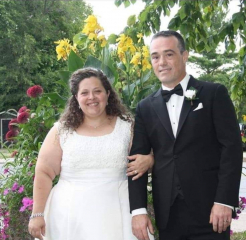 Claudia and Justin
All Seasons and their officiants are nothing but professional and great! We had John Hyland and even at our first meeting he was very welcoming and funny. We chatted for a few hours and we really got to know him. On our wedding day he arrived early and directed the men on what to do. During the ceremony I had a hard time repeating him due to tears and he just joked and laughed it off. Overall great experience !
Dylan & Kaitlin
John Hyland is an incredible officiant. He is very thoughtful and accomodating with your ceremony wishes. He is passionate, kind and knowledgeable. He was very helpful throughout the whole process, allowing it to be a stress free day. John was above and beyond what I was expecting.
Jessica & Allan
John Hyland far exceeded our expectations! He was very friendly, outgoing and had a great personality on him that made him easy to talk to, easy to approach and a great officiant. From our first consultation to the big day he made sure all our questions were answered, the we had a good time, enjoyed ourself and were able to relax. He was able to walk us through every step, sent us documents and the ceremony well before so we could play with the wording and was just over-all extremely friendly and always had a smile on his face. Couldn't have asked for a better officiant! In a heartbeat! We were referred to All Seasons from a friend who used your services the year before for her wedding and would gladly pass on your name to others (already have!). Keep John around for as long as you can! I know you will get glowing reviews whenever her officiates a wedding!
Shannon & Brad
John Hyland and Donna were wonderful! They were organized and accommodating, allowing us to customize our ceremony to suit our personalities. They went out of their way to make sure we were comfortable with the layout of the service. Despite the rain and chilly weather, our wedding day was exactly what we wanted.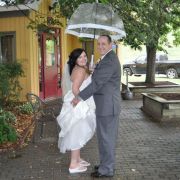 Ethan and Anouck
John Hyland was an absolute pleasure to work with, kind, enthusiastic, always helpful.....and most importantly did not run when we told him we'd be having the ceremony outdoors in the middle of a Canadian winter!!! He and his wife Donna truly helped to make the ceremony a beautiful, unique (how many people use Tiki torches as unity candles - one of John's great ideas!) and memorable occasion!!!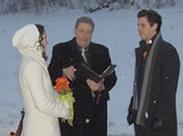 Dan and Sarah
Our wedding at Code's Mill in Perth was very special. Thanks to Rev Dr John Hyland for this wonderful wedding ceremony. Families friends, near and far joined with us to celebrate our Special Day.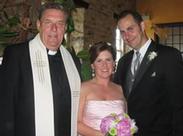 Andre and Michelle
From the tips of our boots, to the tops of our hats, we thank you John Hyland for your awesome service.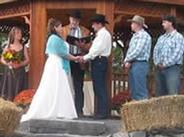 Brigitte and Tony
To john Hyland. More than anything else, thank you for a lovely ceremony and for sharing the day with us. You added that special touch which made our guests feel especially welcome and appreciated. Your gift of a beautiful Wedding certificate was immediately mounted to our bedroom wall where we will see it every night as we go to sleep and every morning as we wake up together.Your words of wisdom and your example are an inspiration and will undoubtedly continue to guide us during those times (inevitable as they are) when it isn't as easy to be in love as it is now.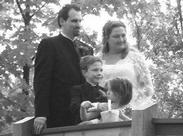 Andrea & Rob
I cannot express enough our happiness and excitement after our first meeting with John Hyland . We knew that we had chosen the right wedding officiate to conduct our wedding. From the first meeting to our subsequent meeting at your wonderful home in Arnprior, we knew that you were a special giving person individuals. John took the time to help us create a magical evening for ourselve, our families and guests. He even took the time to decorate a lovely candelabra for us to use in the wedding. Without their expertise, guidance and sheer ability to make everyone feel like they are part of the family, our wedding would not have been the magical evening that it was. Thank you so much again for assisting us find the perfect officiate for our wedding and introducing us to a wonderful couple!