Rev. Jim Moffatt
Request Jim Moffatt
Secteurs desservis
Sault Ste. Marie, Garden River, Echo Bay, Desbarats, Heyden, Goulais River, Searchmont
Commentaires
Mark & Melinda
Jim Moffatt was perfect and brought tears to our eyes. Jim Moffat did an excellent job. We wish the best to him on his future endeavors! Mark & Melinda October 2020
Jason & Sherrie
Jim Moffatt did an amazing job, we honestly couldn't have picked a better fit for us !! he was great, friendly, professional and very reassuring to us during these covid and restriction times that had me worried. cant possibly thank him enough ! Jason & Sherrie September 2020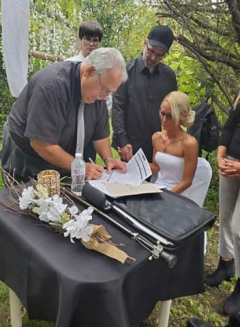 John & Karlie
Jim Moffatt was excellent to deal with. He made our ceremony a priority and was a blessing for our special day. John & Karlie September 2019
Cory & Tiffany
Jim Moffatt went above and beyond!! Jim was so sweet and helpful and everyone said our service was the best they have ever attended. Thank you Jim! Cory & Tiffany August 2019
Tim & Connie
Mr. Moffatt was gracious, professional & friendly. He was extremely accommodating for our simple ceremony. All of our emails were answered professionally & swiftly. We received excellent service!! Thank you Jim Moffatt! Tim & Connie June 2019
Jennifer & Brian
Our officiant Jim Moffatt did an amazing job & our guests commented to us after the ceremony on how wonderful he was. Amazing experience! I will tell everyone! Thank you for making "Our" day the best day ever!
Summer & Stirling
Jim Moffatt went above and beyond! Was exceptionally helpful with the whole process! Very kind and warm!! He wrote us beautiful personalized vows and really took the time to get to know us. Jim was fantastic! Prompt, professional and very kind. You can truely tell he loves his role and puts his whole heart into it!
Sarah & Ryan
Jim Moffatt was excellent. We received positive feedback from numerous guests of how much they enjoyed his service. He made our day enjoyable and stress free.
Paula & Sam
Jim Moffatt was extremely efficient and professional. He ensured the ceremony was relaxed and put all of my anxieties at ease. It was more than I could ask for. Everything was beautiful!
Maggie & Nicholas
Jim Moffatt did a FANTASTIC JOB. I will be recommending All Seasons weddings to every bride I know. It was great to be able to customize our ceremony to what we felt was best for us. Jim was a pleasure to work with, and is truly an expert at what he does, we couldn't be happier!
Amanda & Chris
Jim Moffatt was really great. He was very happy, polite, helpful, explained everything to us, friendly. We had a great experience with him and he make our wedding ceremony wonderful.
Victoria & Adam
Jim Moffatt was very friendly and very thorough. We knew exactly what was going to happen on our wedding day, despite not having a rehearsal. We knew that he would be on top of everything so that the ceremony would go smoothly. I would definitely recommend Jim to anyone I know who would like a non-denominational wedding. He was great!
Chris & Margaret
Jim Moffatt was excellent !!! Such a kind man. His words of wisdom in his speech were great. It was nice that both couples felt no stress/pressure during the ceremony... thanks to Jim. Jim met our expectations and beyond. Any questions I had were answered. The back up emergency plan is a great service also. Great service all the way through the process. It was a beautiful wedding for both couples
Heather & Mark
Jim Moffatt went beyond our expectations! He was amazing and I would recommend him to anyone. We had no complaints from beginning to end. Thank you very much.
Kerrin & Robert
Jim Moffatt was wonderful!! Very kind man who accommodated our request, and incorporated what was important to us in our wedding. A beautiful wedding that exceeded our expectations. It was perfect! Thanks Jim!
Julie and Tim
We wanted to send our sincere appreciation for how absolutely impressed we were with Rev. Jim Moffatt of All Seasons Weddings We are so grateful that we chose Rev. Moffatt to officiate. It is remarkable how he was able to design the perfect ceremony for our unique situation based on one meeting and communication prior to our wedding day. The ceremony was so meaningful to us and even better than we could have ever imagined! He was humorous, professional, organized, and a highly effective speaker. His calm, gentle, yet confident demeanor kept us on track through the highly emotional day and service! We were so comfortable with him as if we had known him for years. We cannot thank Jim enough for the effort that he put into making our day so special and unique to us. We received numerous comments from our family and friends that his ceremony was the best they had ever witnessed!