George Potton
Request George Potton
Secteurs desservis
Burlington, Grimsby, Jordan, St. Catharines, Niagara, NOTL, Welland, Thorold, Port Colborne
Commentaires
Julia & Adam
George Potton was kind friendly punctual and performed an amazing ceremony for us :) September 2022
Marie & Adam
We are very satisfied with George Potton's services. He was professional and funny and his speech was very romantic. We also loved the witnesses he provided. Overall, thanks to George, his wife, and his friend, the ceremony was beyond our expectations. Thank you, George! June 2022
Peter and Julia Aug 2021
George was fantastic. He was funny (just the right amount), warm and welcoming, and I loved his bow tie and great presence in the big day. What a great man, I would've picked him 10/10 times. He took time to meet all my family and wedding party too.
Matt and Julia
Thank you George for being an amazing wedding officiant! George was very friendly and even gave us great advice on how to conduct our ceremony. We really appreciated his sense of humour which helped calm our nerves. Our guests also commented on his great sense of style! Thanks again George! Matt and Julia September 2020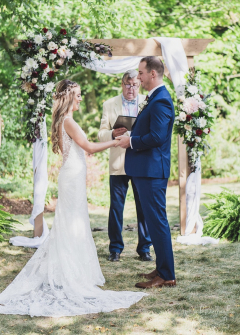 Trish and Carl
Thank you so much George Potton for your service on our special day. We had such a wonderful day and happy we decided to do it in our backyard with close friends. You were so helpful throughout this entire process. Trish and Carl, August 2019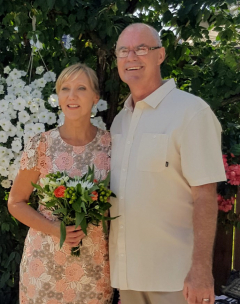 Andrew & Vanessa
George Potton was wonderful. He went above and beyond for us to see us happy, he set the tone to our ceremony. Thank you for everything! Andrew & Vanessa May 2019
Janvi and Jitendras
Hi George, Thank you for the wonderful service for our wedding. Kind Regards Janvi and Jitendras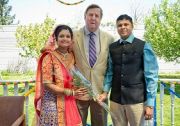 Shawn & Melissa
George Potton was great. He was friendly, helpful and made the ceremony what we were looking for.
Valerie & Richard
George Potton was more than I expected. The day was complete in every way. Everything right on time. I will recommend you in every way. It's the only way. Thank You,
Cheryl & Chad
Working with All Seasons Weddings and George Potton was a wonderful experience. George made us feel like he was supposed to be a part of our wedding day from the beginning – he was approachable, friendly and professional. He made the experience easy and extremely special! We would highly recommend him and using their services any day!
Crystal and Glenn
Hi George, We just want to thank you once again for performing our ceremony on Jan. 7/12. You were wonderful and the ceremony was more than we could have hoped for. You are so warm, lovely and friendly and we are so happy that you were part of our day. I have sent along a link to our wedding video that Paul & Melanie Darlington did. You make an appearance so I thought you might be interested to see it.
Carrie & Gabe
George Potton was amazing! We loved how patient he was with all of us as we are pretty laid back. Our guests commented on his humour.Thank you so much for being part of our day!