Evelyne Reid
Request Evelyne Reid
Commentaires
Michael & Krista
Evelyne Reid was our officiant for our 2020 Covid Wedding this past June and she was absolutely phenomenal!!! So professional yet so beautifully personal at all the perfect times!! She was genuinely happy for us and was so amazing at understanding exactly what we wanted and/or needed. Evelyne made our day extra special!! She is truly a wonderful lady :) THANK YOU SOOOOOOOO MUCH EVELYNE!! xoxox Michael & Krista June 2020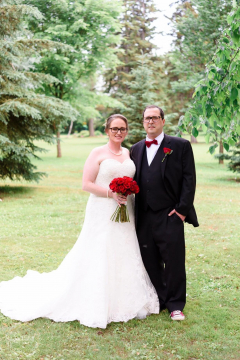 Jessica & Jamey
Dear Evelyne (Reid), Thank you so much for performing a wonderful marriage ceremony for us! We also really appreciated the rehearsal you did with us on the Friday. It helped to calm everyone's nerves and made the day of a breeze. We will remember the day very fondly forever!
Fengyi & Shun
The wedding ceremony was just what we wanted, simple and ease of pressure but fun and romantic. We were thankful that we hired All Seasons for the ceremony. Our wedding ceremony could not have gone so smoothly without the experience and thorough preparation of our wedding officiant Evelyne Reid. Even though she lives outside of town, she was able to accommodate my work schedule and drive all the way to meet with us in town. We went over a few critical details for the ceremony at the planning meeting. After the meeting, we got to know each other and felt more comfortable for the wedding. I didn't feel the panic at all on the day of the ceremony. We would highly recommend that you choose Evelyne for your special event, Thank you Evelyne from the bottom of our heart. We appreciate everything you did to make our day perfect.
Chelsey & Kevin
Evelyne Reid was great! Made us feel comfortable and helped with any questions we had along the way!
Stephanie & Tom
Evelyne Reid was wonderful. Very caring perfect. From the first email onward, we had excellent service and understanding.
Jane & Joanne
Evelyne Reid is lovely!!! Friends of ours are getting married and they will be wanting to book Evelyne the same way. Thank you.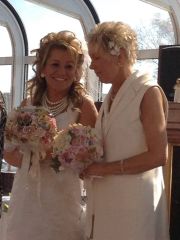 Rachel & Kelly
Evelyne Reid was amazing. She was warm, and genuine, and really embraced our ideas for a unique ceremony. I was also impressed with the communication I received from both my chosen officiant, and All Seasons staff throughout the planning process.