Dr. Joanna Sheppard, PhD. (U of T)
Request Joanna Sheppard
Secteurs desservis
Abbotsford, Coquitlam, Langley, Maple Ridge, Mission, Port Coquitlam, Surrey, Vancouver Central
Commentaires
Austin & Erica
Joanna Sheppard was lovely, engaged, and pleasant. I enjoyed meeting her and have no complaints about her assistance. December 2022
Chris & Darby
Joanna Sheppard was the life of the party and made every moment exceptionally special. We will absolutely recommend her to others . Thank you again Joanna . December 2022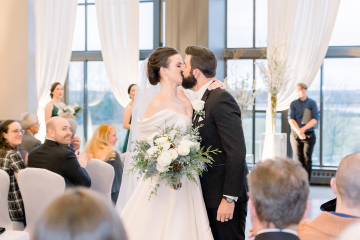 Alice & Ilona
Joanne Sheppard was a pleasure to work with and she contributed to our fantastic wedding day! I would definitely recommend her to anyone who is looking for a fun, easy going and pleasant officiant! Aug 2022
Ashley & Megann
Joanna Sheppard was the best officiant we could've asked for. She was kind, caring, hilarious, a good communicator, and extremely professional. We would recommend Jo to anyone getting married! July 2022
Daniel & Katie
Joanna Sheppard was extremely helpful in all aspects. She was beyond our expectations. She made us feel at ease, gave us pointers, and answered any silly questions we had. Joanna made us feel like we were old friends! She has the ability to make everyone feel special and heard. March 2022
Vic & Liz
Joanna Sheppard EXCEEDED our expectations! She was AWESOME! Jo brought so much energy and humour to the ceremony. I can speak for myself as the groom, Jo kept me calm and at ease especially when my bride began walking down the isle. We're so glad that Jo was our Officiant and would never hesitate to recommend her to anyone. October 2021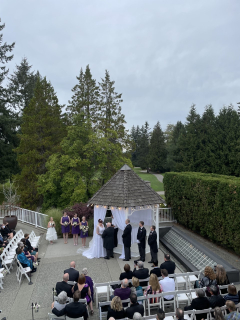 Laken & Daniel
Joanna Sheppard was very communicative leading up to the wedding and day of. Answering all my questions helping me feel prepared for the ceremony. We told our friends about her already. Laken & Daniel August 2021
Mike & Rondi
Joanna Sheppard was absolutely the best!!! Thank you for everything Joanna. Mike & Rondi August 2020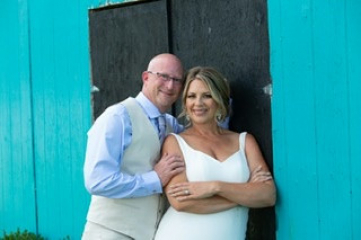 Madison & Meagan
Joanna Sheppard exceeded our expectations! She brought so much joy to our day and was so organized and prepared! Madison & Meagan July 2020
Glen & Justyna
Joanna Sheppard was wonderful. Polite, kind... We honestly would have chosen her ourselves. Joanna helped make this day less stressful and just beautiful Glen & Justyna July 2020
Shiloh & Melissa
Joanna Sheppard was absolutely fantastic! Professional and a great sense of humour, she made us feel at ease right away. We would highly recommend her, she was far above our expectations. Shiloh & Melissa June 2020
Mike & Brittany
Joanna Sheppard was wonderful and we were so thankful to have her as our officiant on our wedding day. Her response time when communicating back and forth with us regarding the details of the day was quick, which helped during the planning process. Joanna was very flexible as we had changed locations and start times, and each time she was very receptive. I would highly recommend Joanna to other couples planning to get married. Thank you Joanna! Mike & Brittany October 2019
Jeff & Shauna
Joanna Sheppard was absolutely amazing and made our day that much more special. We honestly couldn't have found anyone better to officiate our wedding. She was so professional and awesome all at the same time. Jeff & Shauna September 2019
Cameron & Emma
Joanna Sheppard went above and beyond to organize our ceremony with us, her warm approach made it all so comfortable and easy. Everyone enjoyed. Thank you Joanna ! Cameron & Emma July 2019
Daniel & Kaitlyn
Joanna Sheppard was incredibly helpful and easy to communicate with. She made our day effortless and was incredibly funny. We are so happy to have had her as our officiant. Daniel & Kaitlyn July 2019
Jim & John
Joanna Sheppard was pivotal to our entire day. Our ceremony was beautiful having Dr. Sheppard officiate. She created meaningful connections with our guests and wedding party making for a memorable event. We feel privileged and honored to have had her officiate and share our day. Jim & John June 2019
Theo & Alicia
Joanna was wonderful. She was so friendly and personable. She exceeded all expectations and I couldn't be happier with our decision to choose her. February, 2019.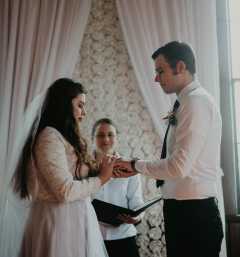 Jennifer & Sean
Joanna Sheppard was great! Everything for the ceremony went really well. She was very friendly and a few of our guests commented that she seemed to know us well. I liked that she gave us suggestions for the ceremony but that she was also open to personalizing it in any way that we wanted. October, 2018.
Natasha & Nick
Joanna Sheppard was very pleasant and fun to sit down with prior to our wedding day. She went through everything we needed to consider for our rehearsal and ceremony in detail. She got along great with our wedding party. She was very warm and approachable. We felt she was the perfect fit for us and several of our guests went out of their way to say how impressed they were with her. Although the wedding weather turned a little sour in the middle of our ceremony, Joanna was quick on her feet and kept the mood light and good-hearted. Everyone shared a few good laughs. We would definitely recommend her. Booking through the website was very straightforward and easy to do. The charges were clearly laid out and responses were quick. September, 2018.
Ann & Steve
Joanna Sheppard did an exceptional job officiating our wedding. We had so many compliments about her and people were asking us how we found her. I used an event planner and she wants to add Joanna to her list of referrals. I also contacted Beecher Place to let them know how thrilled we were with the success of the event and suggested that they add her to their list of referrals as well!
Randi & Ryan
Joanna Sheppard was amazing and contributed to making it the best day! Always fast at getting back to me via email when I had questions. I have already put All Seasons Weddings and Joanna Sheppard out there to our friends to use for their wedding next year. July, 2018.
Erica & Carolyn
Joanna was absolutely fantastic and exceeded our expectations. She was professional, kind, thorough, and wonderful to work with. She ran a great rehearsal and made everyone feel comfortable, and on the wedding day created an atmosphere that made the wedding ceremony enjoyable and inclusive for everyone. Thanks Joanna for all that you do, we really appreciate you. Erica & Carolyn August 2018
Hillary & Joshua
Joanna Sheppard was incredible! All of our guests raved about our ceremony, they all enjoyed it. Dr. Sheppard was very helpful in selecting a script for our ceremony and running our rehearsal. She helped organize everyone and was very professional. We would highly recommend her to our friends and family.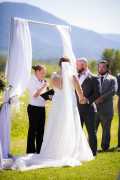 David & Olivia
Joanna was great! We'd definitely recommend her. She was easy to work with and gave good suggestions. She's also fun and made everything flow smoothly. Thanks again! [June, 2018]
Bryson & Kelly
Joanna Sheppard was the perfect officiant for us, she was organized, professional, and made sure every detail was covered. From our initial phone conversation to the end of our ceremony Joanna kept things light and fun while making sure the ceremony was a true reflection of who we are as a couple. We would not have wanted to work with anyone else for our big day! [April, 2018]
Kurtis & Meghan
Joanna Sheppard was everything we cold have asked for! She was the perfect balance of fun and energetic while still being professional. She was able to capture exactly what we wanted in our ceremony and helped to make it one to remember. Our wedding guests raved about how much they loved her too. We will not hesitate in the future to recommend All Seasons Weddings and Joanna Sheppard to family and friends. Thanks! [April, 2018]
Alexis & Tobias
Jo Sheppard was awesome! Everything we had been hoping for! We were so happy to have Jo as our officiant. She was accommodating and helped make our day that much more special!
Michelle & Trevor
Joanna Sheppard was great to work with. She was full of energy and our family and friends had nothing but good things to say about her.
Katrina & Shane
Joanna Sheppard was absolutely amazing. We just loved her, our guests and families did as well.
Stephanie & Emma
Joanna Sheppard went above and beyond everything we had imagined! She is an amazing officiant and we would recommend her to everyone we know.
Katya & Christopher
Joanna Sheppard was wonderful, she made our ceremony very personal and professional at the same time. She made us cry and laugh at the same time along with some of our guests. I would definitely recommend her to anyone looking to have a once in a lifetime experience. Couldn't have asked for a better officiant.
Eugene & Michael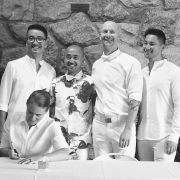 Julie & Ryan
Joanna Sheppard was the perfect officiant for us. Easy going, professional and fun.
Sam & Matt
Joanna is the creme de la creme of officiants. We couldn't have chosen anyone better. She was well versed in the execution of the ceremony. Even with a few hiccups along the way, she knew exactly how to deal with everything. The ceremony script brought tears to everyone. It was beautiful and elegant, just the way we wanted it. We highly recommend Joanna to those who are searching for the perfect officiant. Joanna is also hilarious and just a joy to be around! You really won't find anyone better. Many thanks and all of our love.
Lisa & Sam
Joanna Sheppard definitely exceeded our expectations. She was easy to work with and incorporated everything we asked her to. She was funny and we were so happy she was part of our special day.
Baharak & Corvil
Joanna Sheppard has exceeded our expectations. We are glad to have found her and we couldn't have asked for anyone better to officiate our wedding. Thanks again.