Doug Woods
Request Doug Woods
Secteurs desservis
Winchester, Chesterville, Morrisburg, Metcalfe, Russell, Kemptville, Chrysler, Finch
Commentaires
Nick and Renee
We would like to thank you for the wonderful ceremony. We felt that you brought just the right touch of humor and grace and there were nothing but positive comments from friends and family. Thank you very much for everything! Nick and Renee
Kyle and Lisa
Thank you Doug. We are extremely happy how the ceremony went yesterday. We had lots of compliments of your ceremony and Lisa and I are glad we chose you for our big day. The rest of our night went off without a hitch. Thank you so much for bring part of our big day. Thanks Kyle and Lisa May 2016
Ash & Joe
Thank you so much for the amazing ceremony that you put on for Joe and I on Saturday! You went over and beyond what we ever could imagine! Both Joe and I cannot stop talking about how we both felt so at ease during the ceremony and it was definitely because of you. Just when we thought we were going to be overwhelmed with tears, you would lighten it up with a joke, which was exactly what we needed! All of the guests could not stop raving about you and how fantastic you were as well. They were all asking your name and mentioning that they had never been part of a ceremony that was as fun, light and comical as ours! It's for all of this that Joe and I want to thank you from the bottom of our hearts for all that you did...you definitely made our ceremony one that we will never ever forget :) THANK YOU!
Laura & Marc
Thanks Doug, It was great to have you present in our special day. You did an amazing job and we have received great feedback from our group. The group and us thought you were funny and knew exactly when to step in with some humor! We loved every moment of it.
Melissa and Kile
Thank you very much! Your ceremony went above and beyond what we wanted it was amazing! We had many guests compliment on a great officiant. Melissa and Kile July 19th 2014
Dina & Terry
Doug Woods was wonderful with a great sense of humour. He knew how to work the crowd. Very professional yet accommodating and can work off the cuff. He was prompt and efficient, considerate and thorough.
Doug woods was excellent! He was social with all the guests, very reassuring to the wedding party and humorous through out the service! We would highly recommend him to any one!! The staff were also very helpful. They answered all of our questions quite promptly, even on weekends. When we met with any of the staff all were friendly and welcoming. We would like to thank everyone at the Ottawa Wedding Chapel and at All Seasons for their tireless efforts on making our wedding so amazing!! Everything was beautiful and went so smoothly for both the dinner and the wedding! We didn't have any worries all we had to do was enjoy ourselves! Thank you so much!
Shannon and Ryan
Hi Doug, Thank you so much for all that you did to make our day such a special day. We are so thankful that we had someone who loves us marry us, it was so personal and a day that we will never forget. Everyone keeps telling us that it was the wedding of the year, so much love filled the room and you were a huge part of that! Shannon and Ryan
Joanne and Steven
Just wanted to say a huge thank you for marrying us on Saturday. Your sense of humour and ease are what got a very nervous bride through! You are fantastic at what you do. Thanks again.
Julie and Dervin
Hi Doug, We had such a wonderful day! So many happy memories! Loved the ceremony, suited us to a tee! We love to laugh and you certainly made our ceremony funny and loving all at the same time. We received so many compliments after the ceremony, they loved your approach and everyone had such a great time! Thank you so much for being part of our ceremony and we will cherish those memories always.
Sarah and Brendan
I want to say a bit THANK YOU for stepping in on such short notice.. You made our ceremony very special, and everyone enjoyed you and the humour you injected into the whole thing. You were absolutely wonderful, and we really appreciated it! Sarah and Brendan
Mallory & Rob
Doug Woods was above and beyond what we had hoped for. Anyone who knows us as a couple knows we are not very good at being serious, Doug picked up on that right away and the ceremony was full of humor as is our relationship. We are very happy with our choice and will recommend All Seasons Weddings and Doug whenever we can.
Stephanie and Marc
Doug was absolutely amazing. He was fun when necessary, serious when necessary and all around genuine. He really knows his audience and even had the entire wedding laughing at one point. We had so many compliments on what a great job he did. Doug was a huge part in making our day run smoothly and I would recommend him to everyone I know who is getting married. What a pleasure. Thanks very much! Stephanie and Marc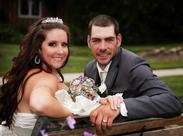 Lucie & Jodi
Doug Woods made our wedding ceremony fun. He was very personable and his little jokes were funny yet still classy. He was very approachable, and always had a smile on his face! I will definetly pass on his name and your companie's name. Thank you for a wonderful day that we will never ever forget.
Megan and Robert
You were amazing!!!!! Thank you for making the ceremony amazing!! Everyone loved you and they said you made the ceremony great and it was certainly not boring!! You far reached our expectations and more.
Alanna & Kevin
Doug Woods went beyond our expectations. His sense of humour was perfect for the ceremony and he was extremely patient when the wedding was delayed.