Dot Beaucage-Kennedy
Request Dot Beaucage-Kennedy
Secteurs desservis
Bear Island, Bonfield, Cache Bay, Callander, Dokis, Garden River, North Bay, Powassan, Serpent River, Sturgeon Falls, West Nipissing
Commentaires
Jamie & Melanie
First meeting and talking with Dot, we knew right away Dot would be a perfect fit for our personalities. We cannot thank Dot enough, she was incredibly friendly, very talkative with us and overall a ray of sunshine. She was the perfect officiant for my husband and I. Thanks again. October 2021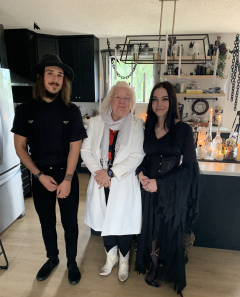 David & Cassandra
Dot Beaucage-Kennedy was extremely nice, and made us feel so comfortable :) we would recommend her any day to anyone. September 2021
Marc & Mary
Dot Beaucage-Kennedy exceeded our expectations. She was amazing, connected with everybody. Extremely grateful for her presence she made everyone feel at ease. Loved by all. Marc & Mary September 2021
Cole & Alexandre Aimée
Dot Beaucage-Kennedy was absolutely amazing!! We couldn't have asked for a better officiant! She truly made our day magical beyond imagination! Cole & Alexandre Aimée June 2021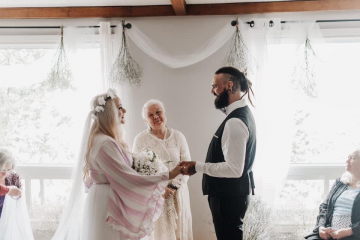 Patrick & Dielle
Dot Beaucage-Kennedy was amazing! I don't know what to say besides the fact that she was perfect....warm, professional, funny, friendly, the whole nine yards. Partick & Dielle June 2021
Peter & Mary
Dot Beaucage-Kennedy was wonderful! Easy to work with and was very supportive and helpful in planning our ceremony. Peter & Mary June 2020
Jim & Lisa
Dot Beaucage-Kennedy was perfect, she made our day better than we could of ever hoped for. Thank you Dot ! Jim & Lisa August 2019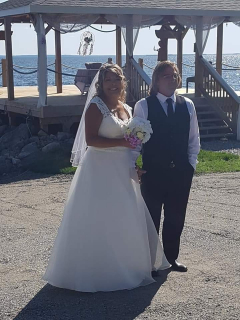 Laura & Michael
Dot Beaucage-Kennedy was the officiant for our ceremony and made our day very special and very personal. It truly reflected who we are as a couple. Our guests were quickly very comfortable with Dot's warmth, friendly and informative approach to conducting a mix of traditional wedding and First Nation ceremonies. Booking through and communicating with All Seasons was done with ease and effiency. We were truly blessed with a beautiful day.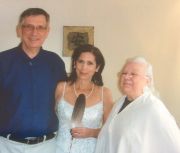 Michael & Treena
Dot Beaucage-Kennedy went above and beyond our expectations. We had an amazing ceremony and made a new friend. It was just what we were hoping for. I would highly recommend her to others. I would insist that my friends use this service, so professional and courteous. In fact we have already recommended All Seasons and officiant to another couple. Thank you so much for the perfect wedding ceremony for us.
George & Jackie
Dot Beaucage-Kennedy is awesome. She went over and beyond.