Don Whitty
Request Don Whitty
Secteurs desservis
Toronto, Toronto (Downtown), Mississauga, Vaughan, Thornhill, Richmond Hill, Stouffeville, Yorkville, Rosedale, The Annex, Forest Hill, Lawrence Park, Lytton Park, Deer Park, Moore Park, Casa Loma, Garden District, St. Lawrence, Corktown,Wychwood Park, East York, Etobicoke, North York, Old Toronto, Scarborough, York, St. James Town, Regent Park, Moss Park, Alexandra Park, Parkdale, Kensington Market, Chinatown, Leslieville, Cabbagetown, Riverdale, Chinatown, Greektown, Little Italy, Portugal Village, Little India, Crescent Town, Thorncliffe Park, Weston, Oakwood–Vaughan, Willowdale, Newtonbrook, Downsview, Toronto Harbour, Don River, Distillery District
Commentaires
Steve & Teresa
Teresa and I just wanted to thank you Don (Whitty) for all of your help before and during the ceremony. The ceremony was perfect and both families commented on how heartfelt and lovely it was. I thought it matched our personalities perfectly and that was because of your guidance and suggestions.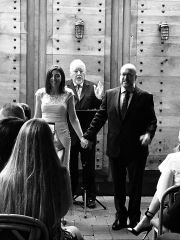 Alexandra & Jeff
Hi Don, Jeff and I just wanted to send you a quick thank you for the amazing job you did with our ceremony! We couldn't be happier with the way it turned out. Thank you for accommodating our needs, taking the time to meet with us and discuss our questions, and most importantly thank you for having us send you our vows! Jeff did such an amazing job on his vows - it would've been such a shame if we didn't have a copy that he could read! You saved the day! We hope you have a wonderful rest of the summer! Thanks again! Sincerely, Alexandra & Jeff
Rachel and Evan
Hi Don, Evan and I want to extend a big heartfelt thank you for helping to make our wedding the best day ever! Our ceremony was absolutely beautiful, and we really appreciate all your work to make our vows just the way we wanted, and your touching tribute to Evan's mother. All the best, and here's some photos of our day! :) Cheers,
Katilin & Adil
Don Whitty was absolutely wonderful! He was very impressive, kind and an absolute pleasure to deal with. Many thanks for making our day so special Don!
Meghan and Greg
Don, thank you so much for yesterday. You were perfect. We couldn't have asked for a better ceremony.
Ted and Carolyn
Hi Don, Carolyn and I just wanted to say thank you for doing such a great job at our wedding. Everything was just perfect and we were so glad to have you as our officiant, so thank you so much for all that you did. It really couldnt have been more perfect. Thank you again so much Don!!!!!!!!! Our wedding was the best day of our lives and thank you for being a part of that. All the best,
Lenko and Renita
Dear Mr. Whitty, We would like to thank you very much for performing the ceremony at our wedding yesterday. Please excuse us for the chaotic beginning; that was our first wedding! We are grateful for your service and we will recommend it to our friends in due time. All of the guests really liked the ceremony and some even said that it was the best one that they had heard.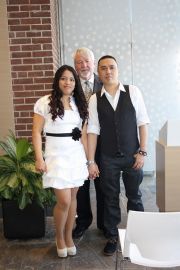 Sharon and Andy
Don(Whitty),thank you so much for the lovely job you did performing our wedding ceremony.Though we provided the wording, you read it as easily as if the words had been your own. You spoke with just the right balance of gravity and humour. Your calm demeanour helped to keep us grounded on such a tremendous occasion. Your efforts will continue to be appreciated along with the memories you helped to create. We wish you nothing but the best in your future endeavours.