Rev Dianne Magor, BA, M.Ed
Request Dianne Magor
Secteurs desservis
Nanaimo, Cedar, Duncan, Ladysmith, Chemainus, Lantzville, Nanoose, Coombs, Parksville
Commentaires
Tammy & Peter
Dianne Magor was absolutely amazing! We were so happy with her! Love her! Tammy & Peter August 2021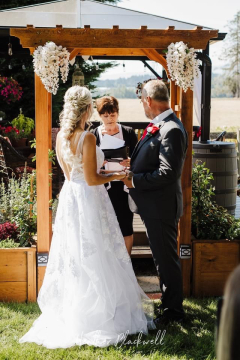 Daniel and Sarah Aug 2021
Dianne was so present and flexible with us while we planned our wedding. She is so lovely. And we also have to say Thank you to the All Seasons Wedding staff for being so flexible as we navigated Covid 19. We changed things up 3 times and you all took it with ease. And we even had to change officiants that many times due to a collegue leaving the company and location changes. So helpful!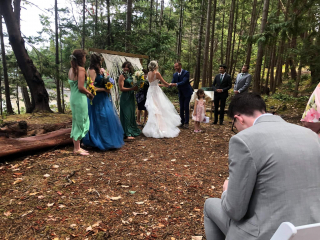 Mohamad & Nooralhuda
Dianne Magor is the best, she was awesome and super friendly. She is awesome, would definitely refer her to friends and family. Dianne came on time and we felt really blessed and comfortable with her warm hearted words and advises for our marriage. We love Dianne. Mohamad & Nooralhuda July 2021
Bradley & Tarryn
Dianne Magor was a lovely officiant and a delight to work with. She worked closely with us to prepare the perfect ceremony for us. She was very easy to get in contact with, quick to respond, and had amazing attention to detail. She really took the time to get to know us.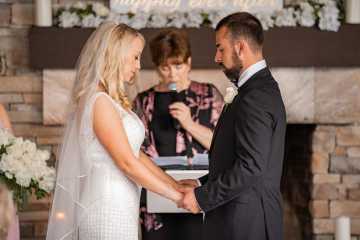 Isabelle & Vern
Dianne Magor was a great representative of your company and services. It's evident with all her follow up and genuine sweet attitude how much she loves this job. Her caring attitude added to our perfect celebration.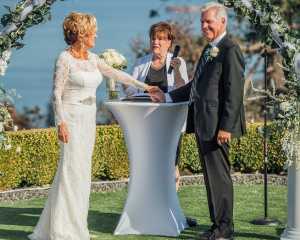 Cheri-Ann & Ben
Absolutely amazing lady, helping us to achieve our vision for the ceremony and made it so special. Truly so thankful to have had Dianne Magor part of our ceremony. :-) Dianne is a Diamond!!! Her soft caring personality made us feel so comfortable and she really made our day extra special!!