Chris Landry
Request Chris Landry
Secteurs desservis
Owen Sound, Bothwell's Corners, Woodford, Meaford, Thornbury, Clarksburg, Heathcote, Blue Mountains, Revenna, Rocklyn, Walter's Falls, Bognor, Rockford, Squire, Kilsyth, Keady, Chatsworth, Massie, Desboro, Scone, Chesley, Mooresburg, Holland Centre, Berkeley, Kimberley, Feversham, Singhampton, Maxwell, Badjeros, Dundalk, Proton Station, Flesherton, Ceylon, Eugenia, Irish Lake, Markdale, Dornoch, Mooresburg, Elmwood, Hanover, Allan Park, Durham, Varney, Holstein, Dromore, Hopeville, Swinton Park, Priceville, Walters Falls
Commentaires
David & Alex
When we chose Chris Landry as our officiant we definitely got more than we bargained for...in the BEST possible way. His charm and charisma enhanced our service to unbelievable lengths. And when asked to wear a mask mid-ceremony to get some creepy pictures, he didn't just agree, he jumped at the opportunity. Chris' humour and wit had our guests, as well as ourselves, in stitches (as you can see in one of our photos included here). Everyone was talking about what a perfect officiant Chris was for our wedding. Everyone loved it. We cannot thank Chris enough for the wonderful service and loving atmosphere he created. To anyone looking for a fun and enjoyable ceremony, Chris is your man! Oct. 2019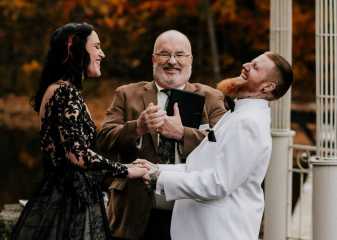 Sarah & Blair
Chris Landry went above and beyond our expectations and made our wedding experience a great one! Thank you very much Chris for being a part of our special day & being the one to marry us! We couldn't have picked a better officiant for us & are so grateful for your humorous & delightful service! All the best! Sarah & Blair October 2019
Julie & Gbenga
Hi Chris, Sorry for taking so long to write this message. We wanted to thank you for being our officiant at our wedding. You helped us make both of our family feel included and your humour and experience helped us going through this incredible moment. It was magical to us and we will never forget. We wish you all the best.
Stephanie & Forest
Hi Chris, It was such a pleasure to get to know you and have you preform our ceremony. It was amazing! We have had many people comment about how great you were. I hope that you have had a great week! And thank you again for everything.
Wayne & Leanne
Chris Landry was our officiant , we had the pleasure of of seeing him in action at two previous weddings! We were so happy to know he was available for our wedding! Thank you Chris for preforming a beautiful Ceremony for us. Wayne & Leanne September 2019
Andrew & Sandra
Chris Landry was pleasant, friendly, humorous, responsive and professional. Thank you for everything . Andrew & Sandra August 2019
Ashley & Noel,
Good Morning Chris, First of all, Noel and myself would like to thank you so much for officiating our wedding. Ever since that very special day we have had non stop comments on how much our guests liked you and your style of service. A majority of comments were " I liked your officiant, he was so funny!" Secondly, while Noel and I never got the chance to formally meet you before our big day, we couldn't have asked for a better officiant than you ! You were so easy going, joyful and knew exactly when to poke a little fun to make everyone laugh. Our service was truly memorable and really took a lot of stress off Noel and I. As previously mentioned, even though we had not met prior to our big day, somehow it felt as though we had. Nothing was awkward and everything seemed to flow perfectly. I know i personally was stressing that the service wouldn't be good and had second thoughts that i should've had a rehearsal with yourself present. However, with yourself, along with our closest friends and family, all my worries disappeared in an instance. Noel and I have attended a few weddings together and have never once come across an officiant like you. We find that when most people reflect on past weddings they always say how they dread the ceremony because its "boring". However, that was not the case with you, you stand out from all the rest ! Your personality, tone of voice and expression is truly amazing. Once again, we thank you so very much for the wonderful, memorable ceremony you provided for us . If any of our friends are planning on getting married we will recommend you for their special day! We wish you all the best on future weddings and wish you and your wife a lifetime of happiness and love.
Kyle and Jessica
I have a tear in my eye now while writing this response. Your services went well beyond our expectations and will be fondly remembered for the rest of our lives. We also had a few people at our ceremony that will be getting married soon asking for your name. You made our most memorable day all the more memorable. We can't thank you enough for making what can be a difficult experience extremely easy. We will remember you forever. Thanks so much.
Emily and Ken
Hi Chris , Thank you so much for the lovely ceremony. We had a beautiful day and couldn't have done it without you. The kids loved their special surprise and we really appreciated how you made them feel extra important. Thanks again.
Bea and Josh
Hi Chris! Thank you so much for officiating our wedding. We've received so many great compliments from the amazing and heartwarming ceremony you gave us! We couldn't have asked for a better officiant . It was everything we imagined our wedding to be plus more :) . You are truly talented !!! Thank you again!
Veronika and Mark
Thank you so much Chris (Landry)! The ceremony was amazing and I want to thank you for taking the time to put me at ease. I really appreciate it! All our guests loved the ceremony and your sense of humour will always be remembered! Both Mark and I are thrilled you were a part of our big day! Thank you!
Bill & Sue
Hi Chris. Sue and I just wanted to say thank you again for making our wedding day both memorable and enjoyable! Its truly a day we will not forget and we're extremely happy that you were able to share it with us. Everyone commented that the service you performed was not only relevant but humorous (and short) as well! Thanks for all you did for us, Chris. We really appreciated it! Best regards.
Krystal and Joel
Chris Landry was amazing. His humor and heart are above par. We really clicked with his personality and everyone at the ceremony loved him. He added a few special features to the ceremony he personalized for us and made it a suprise for us as well. Excellent officient. Highly recommend him.
Chris & Jenn
Chris Landry did a fantastic job. He was very helpful and super calm which made everything that much more easy. I heard of you as a referral from my sister in law and o have already told others to contact you. Thank you! We are extremely happy with the outcome and will recommend.
Amy & Dustin
Chris Landry was amazing. He went above and beyond for a bride who really didn't have much experience with weddings, but wanted to learn every little detail. He provided with me with readings, gave me an outline of how the ceremony would go, and handled by A-type personality like a champ. Our guests thought he was super funny, and he kept the ceremony short, light, and most of all sweet. Thank you so much Chris! You guys saved the day. I accidentally gave my original officiant the wrong time so was stuck without one a few months before the ceremony! You helped me find a new one and messaged him right away, and I was back with one the next day. This is the safest, easiest way to find an officiant. You can compare, see who will do what kind of ceremonies, and everyone has been vetted. Love it.
Jane & Alex
Chris Landry is wonderful; he is punctual, professional, and funny. Chris listened to my (the bride's) concerns and attended to them. He answered every email and every request for a Skype chat. I trusted him with my wedding and I would recommend others do the same, as it was fabulous.
Adrien & Thi Ngoc
Dear Chris. We didn't have a clue what we were doing throughout the process, but we are here, happy, and its definitely in part because of your support, and attitude. Thanks for the advice along this journey. Forever grateful.
Lorie & Steve
We just wanted to say thank you for being part of our day. You did a wonderful job of the service & we had a great day. Thank you.
Melanie & Adam
Merci beaucoup !! Christophe Tout était parfait !! Nous avons eu une journée de mariage incroyable!
Stephanie & Andrew
Chris, we can't say thank you enough for being a big part of our day. Everything you said and how you made us feel was perfect, and so comfortable. It was of course the most memorable part of our wedding day and we have you to thank. You were so wonderful and more people than we can count came up to us and asked us where we found you and how beautiful the ceremony was! So thank you again and again and and again.