Rev Chris Grabiec, STB; MDiv; MA
Request Chris Grabiec
Secteurs desservis
Hamilton, Burlington, Dundas, Ancaster, Stoney Creek, Flamborough, Glanbrook, Binbrook, Grimsby
Commentaires
Flavio & Serena
Chris Grabiec made it easy and gave us peace of mind about the ceremony. He understood the style Of ceremony we wanted and was really great. Very much appreciated Chris' approach. Heartfelt ceremony and exactly what we wanted. Big thank you Chris! November 2022
Josephine & Alaric
Chris [Grabiec] was amazing! He did a wonderful job and the ceremony was beautiful! Everyone loved him!!! So happy to have him officiate the wedding! July 2022
Lauren & Lawrence
Chris [Grabiec] was absolutely lovely! All of our guests loved him and he really spoke from the heart. He really tailored our ceremony to our situation and blended right in like he was part of the family! Highly recommend him. July 2022
Jijoy & Emily
Chris Grabiec was great! He was very sincere and heartfelt during the ceremony and had everyone in tears. My family and I were really happy with Chris as our officiant. May 2022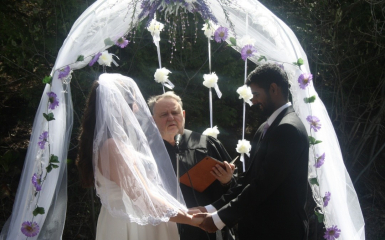 Katherine & James
Thank you from the bottom of our hearts for your amazing words at our wedding. It was perfect! My father couldn't stop raving about you :) and you made everything so easy for us… especially when I couldn't get my words out. You will definitely be recommended! May 2022
Laura and Ben
Chris - I just wanted to send you a quick thank you for making our wedding so special Saturday. We appreciate you making the drive and overseeing our ceremony, it was absolutely perfect. After 19 years together, you were right – the morning after did feel a little different :) Sept 2021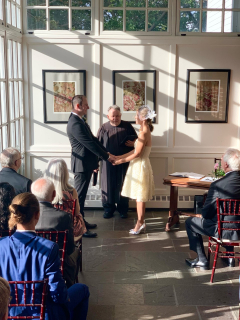 Diego & Mary
Chris Grabiec was amazing!! Same day service, he was available last minute to perform our ceremony thank you so much!!!! Diego & Mary March 2020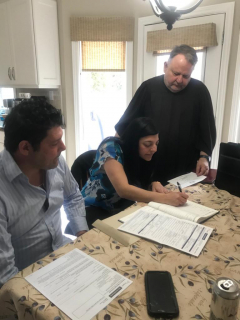 The VanderMonts
Hey Rev Chris, sorry it took so long to reach back to you, but we've had a heck of a time getting all the dust settled from our wedding. Ricki Lynn and I would like to thank you for doing an outstanding job, and for smoothing over a very unsmooth wedding. I had many people come up to me afterwards to remark on the terrific, heartfelt, yet appropriate and appropriately lengthed ceremony. We're so thankful for the work you did and for your help and guidance through that process. Thanks again so much!
Peter & Krista
Chris Grabiec was very personable and helped to create a ceremony that was perfect just for us. Our first meeting was the easiest part in planning our wedding. Our guests were complimentary about how relevant, fresh and lovely the ceremony was. We were so happy with our choice in officiant. Thank you Chris! Peter & Krista September 2019
Scott & Nancy
Chris Grabiec was absolutely amazing. He made us feel comfortable from our very first chat with him. Chris took the time to understand what we were looking for from our ceremony. We would highly recommend him!! Scott & Nancy August 2019
Nancy & Scott
We heard so many amazing compliments about you from our guests. Apparently, you kept them quite entertained while they were waiting for the ceremony to start. Our wedding day was absolutely perfect and we were both so happy you were a part of it. :) Thank you very much Chris. August, 2019.
Gene & Merissa
Chris Grabiec was wonderful! He had a very kind voice and we felt like we had known him forever. He knew what he was doing and just how to calm our nerves a bit. We weren't sure where to turn when all we wanted was a small ceremony with family. We didn't want to just get married at city hall. Something stress free but nicer. Our short and sweet ceremony was the perfect length and the perfect words. Everyone loved it and everyone had said Chris made them feel like we all had known him. We would definitely recommend all seasons weddings. Gene & Merissa May 2019
Isha
We received raaaave reviews for our entire day, and especially the ceremony! You really resonated with our crowd, and Jordan and I are truly thankful for your involvement. We legitimately feel we couldn't have EVER found a better Officiant, it was just the perfect fit!
Oscar & Ma
We were very happy for the service and the officiant - Chris Grabiec helped us a lot during the ceremony especially when I was crying
Pam and David
Chris was the perfect fit. From the moment he walked in he had everyone at ease engaging with our guests. All our nervousness went out the window. We particularly enjoyed the way he involved our guests. Everyone of our guests made comments on how well he handled our ceremony with just the right amount of humor. Truly professional, taking time to hear our wishes and helping us with all aspects of our wedding. I would highly recommend Chris to anyone. Thank you Chris for making our special day that more special!! Pam and David 10/22/2016
Amy & Shane
Chris Grabiec was a key part of our wedding day. I was obvious that he's a gifted natural speaker and nothing felt forced or unrelatable. We are so thankful we chose him as our officiant.
Adrian & Gaby
Thank you so much for being apart of our very special day. We had several guests compliment your ceremony. People said it flowed very well, and many positive messages as well. For us it actually did feel different waking up in the morning waking up and being married! You were right! So thanks again,
Garnet & Susan
We absolutely made the best decision in choosing Chris Grabiec. The ceremony was beautiful and the words spoken by Chris touched our hearts along with everyone that was in attendance, he made the day extra special it was definitely more than we could have hoped for. Extremely grateful for the words spoken.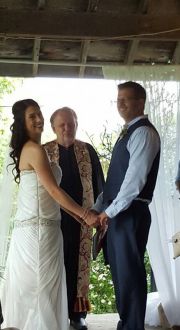 Jennifer & Walter
Chris Grabiec was amazing! Very friendly, joked with us and the guests and made us feel at ease and relaxed, both when we met him and throughout the ceremony. All of our guests thought he was wonderful! He really helped make our special day even more special!
Chantelle & Jason
Chris Grabiec was great! He was friendly, personable and quickly put any nervousness to rest. He even came up with a sweet idea of how to include our daughter in the ceremony by having her sign our marriage certificate. We would recommend Chris (and All Seasons) to anyone!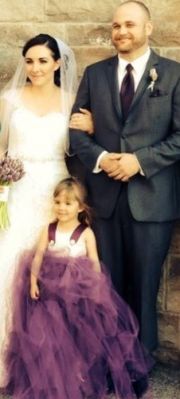 Angela & Nicky
Chris Grabiec was absolutely brilliant! He took the time to get to know us when we came in from England to get married and performed a beautiful ceremony tailored to us. Thanks for making our day the best day ever.
Tabitha & Kyle
Chris Grabiec gave us a beautiful and unique service. He listened carefully at our meetings to what we asked for and delivered just that. It was amazing. Thank you, Chris!!
Jillian & Aidan
Chris Grabiec made things so laid back & relaxed (just like us!) that I felt extremely comfortable the entire time, no shaking involved. The service represented us and our relationship with our families and friends so much, and everything (timing, etc.) went as smoothly as possible. I got many compliments on Chris as an Officiant and would not hesitate to recommend him in the future!
Christine & Clayton
Chris Grabiec performed a beautiful service. It was personal, full of warmth, and spiced up with just a bit of humour. Our wedding guests loved the ceremony, as did we. We couldn't have asked for anything better. He is a real gem.
Robin & Joe
Chris… you did an amazing job ….I was so moved that it will be a fond memory forever. I am the luckiest woman on the earth to be blessed with both Joe and Emma. Having you unite us was just the cherry on top. I heard nothing but compliments from everyone about you. I cannot tell you how much fun we had. Many thanks and much love from our home to yours.
Robin & Joe
Chris Grabiec was smart, witty and spoke with love and integrity - everything we wanted. He provided and exceeded over and beyond. The staff answered questions quickly and gave me peace of mind from the get go. Many Thanks to Chris... he made our special day a little more special and memorable. Plus, we heard comments from family who thoroughly enjoyed him speaking... Many thanks.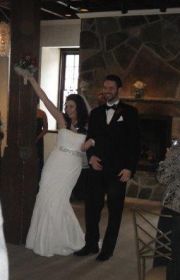 Cameron & Natalie
Chris Grabiec did a good job helping us through our wedding day jitters. He made us feel more relaxed leading up to our wedding day. He took the time to listen to what we were looking for, and got to know us a bit beforehand. His message on our wedding day received many compliments; he kept it short, but very meaningful.
Lindsay & Marc
Chris Grabiec was friendly and open. When meeting him we spent a lot of time talking with him and going through exactly what we wanted. Everybody in the office responded back to my emails quickly and were helpful. My best friend had referred me to you as well so I will be telling everybody about you guys! Chris was amazing. From the moment we met him we felt that he was a part of our lives. His service was amazing and said everything we need. Everybody loved his words and he made us not feel nervous.
Kerri & Garrett
Chris Grabiec did such a great job! He was a pleasure to work with while planning our wedding and gave us a ceremony to remember. Chris was funny and sweet at the same time. We had many compliments on our ceremony. Thank you Chris!!!
Clancy & Tyler
Chris Grabiec was great! He was personable and funny! Chris made Tyler and I feel at ease. He told us he would take care of us and he definitely did. Our guests liked him and he made a lasting impression. Right from the start I was happy with booking through All Seasons. I keep asking friends who are planning weddings if they need an officiant :) Thank you so much for lending us Chris for the day!!!
Paul and Flo
Hi Chris Grabiec , we would like to THANK YOU so much for the superb ceremony… Guests absolutely thought you were the best!!! Despite the rain, you were terrific with your choice of words and making us feel so comfortable… I told you I was a cry baby, but Paul was no better (lol!).
Maria & Glen
Chris Grabiec truly made our ceremony feel special. Our guests commented on how beautifully the ceremony was performed! Thank you Chris, you really made our day!
Trish and Brad
Well, you were right... worrying about our wedding ceremony was at the bottom of our list. You delivered and outstanding service... many guests commented to us on how different it was, and that they really enjoyed your personal touch at the beginning talking to the crowd! Thanks again Chris (Grabiec), it was perfect!
Colin and Michelle
To Chris Grabiec. We kept your words in mind, from our first meeting, about us marrying each other not you marrying us and that resonated with us and continues to stick in our heads. I've heard MANY great complements about our ceremony. We would both like to thank you from the bottom of our hearts for the amazing ceremony, as it really was exactly what we had imagined. Also, thanks for your patience in delaying the ceremony for 15 minutes to accommodate family that had traveled in from across the country who were stuck in traffic - it really meant a lot to us to have them there.Thank you, again!
Muriel and George
Just a note to offer our sincere thanks to Chris Grabiec for officiating at our wedding. You conducted our ceremony exactly as we discussed during our previous meeting, with all our wishes and special requests included. . Several of our guests commented that the service was relaxed yet meaningful. In a time when so many people have no real religious conviction, you were able to impart our own faith into a wedding service in such a truly significant way.