Chris-Ann Lake, BA (Summit Pacific)
Request Chris-Ann Lake
Secteurs desservis
Victoria, Saanich, Saanichton, Sidney, Langford, Metchosin, Sooke, Mill Bay, Cobble Hill, Shawnigan Lake, Esquimalt
Commentaires
Riley & Jillian
Chris-Ann Lake was great, she exceeded our expectations! Thank you for being our officiant. Riley & Jillian February 2020
Mitchel & Christine
Chris-Ann Lake exceeded our expectations, she was kind, friendly, and professional. She was not bothered by all my e-mails asking her questions and she handled my distracted family with ease. Mitchel & Christine October 2019
Buddy & Paula
Chris-Ann Lake was perfect for us. She was a good energy and the perfect personality for our small ceremony. Our day could of not been more perfect. Chris-Ann was the BEST!!! Buddy & Paula August 2019
David & Chantele
Chris-Ann Lake was outstanding as a wedding officiant! She went above and beyond what she needed to do, and made our day even more special than it already was. We got married at the top of a hike, and Chris-Ann was happy to hike up and officiate us in the middle of the woods! She even scouted out the location a few weeks prior so that she wouldn't get lost when hike day came. I couldn't recommend her enough as an officiant. If you want someone who is going to go above and beyond the call of duty, Chris-Ann is your lady!! David & Chantele August 2019
Mark & Katie
Chris-Ann Lake was wonderful. She was so helpful and kind at both the rehearsal and the ceremony itself. We are very happy with how the ceremony went. Thank you Chris-Ann! Mark & Katie August 2019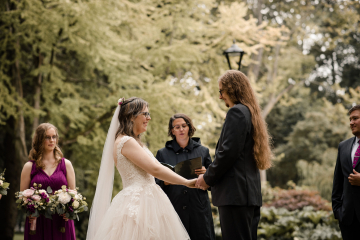 Marc & Kat
Chris-Ann Lake was an absolute dream to work with. She took the time to listen authentically to our story and our desires for the day and was genuinely invested and excited to help us create a very special ceremony that was unique to us. Her suggestions were helpful, her sense of humour kept things relaxing and joyful and she was calmly reassuring as my partner's anxieties fluttered up. Chris-Ann brought the perfect vibe and I was very glad she encouraged us to do a rehearsal. We're eternally grateful and would highly recommend her services. Marc & Kat July 2019
Jesse & Jessica
Chris-Ann Lake exceeded our expectations. We were looking for someone fun and off beat, she was funny and lively and a dream to work with. We asked for the ceremony to be short and sweet and the vows she did for us were beautiful! Thank you Chris-Ann. Jesse & Jessica July 2019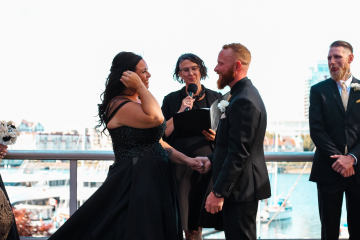 Stu & Joce
From our first meeting performing our ceremony our ceremony Chris Ann was absolutely fantastic to work with. She made us both feel very comfortable and made our ceremony memorable for all by customizing to our needs. She is very talented and organized. I would recommend her to anyone I know in a second! THANK YOU for sharing your talent with us on our special day! Stu & Joce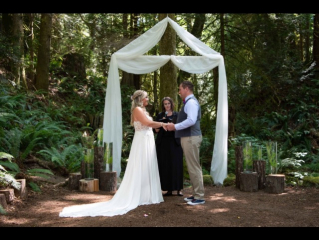 Craig & Kim
Chris-Ann Lake was great! She was super relaxed, which was just what we wanted. She was easy to work with, and catered to our wants for the ceremony. Her vibe really helped make our day what we wanted. LOVED THE EXPERIENCE! November, 2018
Genevieve & William
Chris-Ann Lake went beyond our expectations. So friendly & patient. Absolutely would refer Chris-Ann to anyone that could use her services.
Linda & Chris
Everyone at the wedding loved Chris-Ann Lake. I am still being asked where I found her. She was beyond amazing
Jasmine & Matthew
Chris-Ann Lake went above and beyond to make our day special.