Charles Hain
Request Charles Hain
Secteurs desservis
Don Mills, Etobicoke, Forest Hill, Mississauga, North York, Ontario Place, Richmond Hill, Scarborough, Thornhill, Toronto-Downtown, Willowdale
Commentaires
Nabeel & Emily
We couldn't be happier with our decision to hire Charles Hain to officiate our wedding. From our first meeting with him, we knew he was the right person to marry us. He is super knowledgeable and organized, and gave us a thorough run down of the ceremony in advance. He's very flexible, and allowed us to customize his already beautiful ceremony script however we wanted. During our wedding day, he was a great support, helping ensure everything proceeded smoothly and provided guidance to us and our wedding party. He has a great energy and set the right tone during the ceremony. We received many compliments, and our friends have mentioned they are interested in hiring him for their own weddings. Thanks so much Charles! September 2022
Kirk & Lorna
Charles Hain exceeded our expectations, and was an absolutely fabulous addition to our wedding day. He has a wonderful personality and it certainly shined throughout our vows. He is friendly, professional and has a contagious smile. We had so many compliments on our service from our guests. Thank you Charles!! Highly recommend!! ~ Sept. 2022
Steven & Sasha
Charles Hain was absolutely phenomenal! Our guests though we had known him for years. He had the perfect combo of being professional and funny at the same time. Sasha and I could not be happier with him. September 2022
Rishi & Shivangi
Charles Hain was ABOVE AND BEYOND our expectations. he was kind and professional. organized and succinct. He was everything we wanted in an officiant and more! August 2022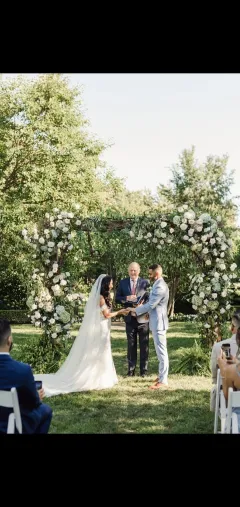 Danuta & David
Charles [Hain] was fantastic -- funny and easy going. Thank you and we wish you all the best. July 2022
Jacqui & Peter
Charles Hain was so wonderful, caring and thoughtful. He went above and beyond in all of our coordination, and he even met with us for a coffee to get to know each other better! He took the time to meet and connect with our friends and family at the rehearsal and at the wedding. He spoke beautifully at our ceremony and made it truly special. We are so pleased that Charles officiated our marriage! Charles really is the best!! June 2022
Rishi & Shivangi
Charles Hain made our day a memorable and flawless experience. He was professional, very attentive to detail, well-spoken, and funny!! He controlled the ceremony to a tee. I would highly recommend him!! Aug 2022
Brian & Roberto
Charles [Hain] was absolutely terrific. He was asked to step in as our officiant with one day's notice after our other official unfortunately came down with Covid. He contacted us right away and assured us everything would be great. He was extremely personable and calming. We received a number of compliments on our wedding ceremony. We would highly recommend him. Thank you Charles. May 2022
Hilary & Mark
We had a wonderful experience working with Charles Hain on our wedding. From the first meeting, he was someone we clicked with and we had a lot of fun chatting with him throughout the process. We were looking for an officiant who could balance humour/entertainment with importance/gravity of the marriage ceremony. Charles did that flawlessly! We also appreciated his help writing the ceremony. We began with some fairly vague ideas of what we wanted to do, and he was instrumental in helping us figure out what how we wanted to personalize. We absolutely love how it all turned out! Many of our guests came to us afterward to compliment the ceremony and Charles' delivery. Charles, thank you again for working with us and making our ceremony perfect! Oct 2021
Shannyn & Sarjoon
Charles Hain was exceptional. Very friendly demeanor but quite capable of commanding a room. As a professor, I understand the skill involved and Charles made it look effortless. The ceremony was smooth, his speech was well prepared and all of the guests felt captivated by the show. Thank you Charles for the amazing ceremony. September 2021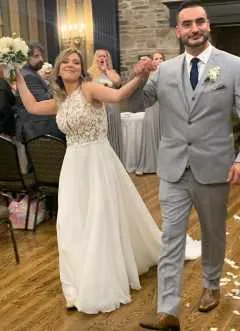 Jeff & Nancy
Charles Hain was fantastic! We couldn't have asked for anyone better as he put us at ease and it made it that much more memorable. He was extremely friendly, down to earth and guided us like a true professional. He even directed our photographer on the best angles for the ceremony photos. Jeff & Nancy May 2021
John & Julie
Charles Hain was wonderful. He was a sea of calm during a very unusual (Covid) ceremony. He made the day special for us and did a fantastic job bringing our children into the ceremony to make it special for them also. We could not recommend him more. Thank you Charles! John & Julie December 2020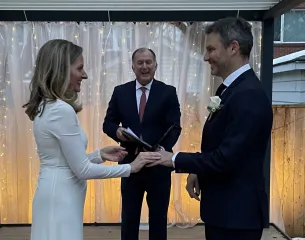 Russell & Samantha
Charles Hain was an absolute delight to work with! We received so many compliments about him & how much fun he was. From the beginning, we wanted to customize and add a bit of fun into our ceremony, and from the beginning Charles was fully on-board and willing to have fun with it. We had a few last-minute changes (due to COVID) and Charles was communicative and supportive throughout everything. We were so grateful that Charles was part of our day! Russell and Samantha October 2020
Ashley and Andrew
Charles Hain was everything we wanted in an officiant and so much more! Leading up to our big day, he was easy to communicate with and coordinate with, did an excellent job helping to direct us for our wedding rehearsal, gave us lots of great advice, and was immensely helpful in sending us reminders. On our wedding day, Charles arrived early, made sure everyone knew what to do, had our personal wedding vows readily printed out for us, and officiated our wedding flawlessly. Not only did everyone get to experience very kind, calm, and easygoing demeanour, they also got to laugh heartily many times during our ceremony, as he has a great sense of humour. Charles did such a wonderful job at our wedding that my cousin, who was in attendance, will be having Charles officiate his wedding this summer. We would highly recommend Charles to anyone wanting the perfect officiant for their special day! Ashley & Andrew September 2019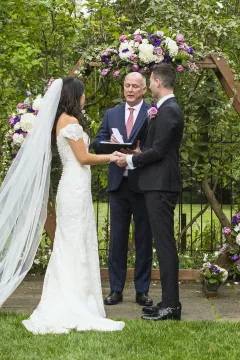 Laura & Stefan
Charles Hain is a very friendly, courteous and professional officiant with a delightful sense of humour. Early in the planning process, Charles met with us over coffee so that we could get acquainted and chat about the type of ceremony we envisioned. He familiarized us with the flow of the ceremony and answered any questions we had. He later helped draft a meaningful and inspirational ceremony, inviting us to make any additions or changes that would make it more personal. As the wedding day approached, Charles met with our group for the rehearsal, thereby helping everyone feel more comfortable and relaxed. On the day of our wedding, Charles was prompt and addressed any last minute reminders and details before the ceremony started. He was very reassuring and made everyone feel at ease, especially during emotional moments. Charles is a clear confident speaker with a light hearted demeanour. We received many compliments from our guests. Would highly recommend him to anyone looking for a motivating and personable officiant. Thank you Charles! Laura and Stefan July 2019. Any communication with the office staff at All Seasons was professional, reassuring and cordial. Always eager to please! Regards, Laura & Stefan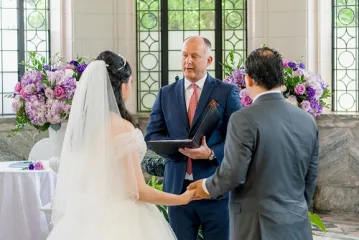 David & Dympna
Charles Hain was exactly what we were looking for in an officiant. He was professional, courteous, and had a calming demeanor on our very special (and nerve wracking) day. From our first meeting, to the rehearsal, to our wedding day, Charles went above and beyond. Thank you so much Charles. David & Dympna July 2019
Dianne & Kristine
We have made the right choice for choosing Charles to officiate our wedding. He was very friendly and professional at the same time (He also speaks and dress very well!).He made our wedding very intimate like how we wanted it to be. We could not have asked for anyone better! Dianne & Kristine July 2019
Fraser & Pierre
Charles Hain was wonderful! He was so reassuring, kind, and all around awesome to work with. We'd recommend him to anyone in a second! Fraser & Pierre June 2019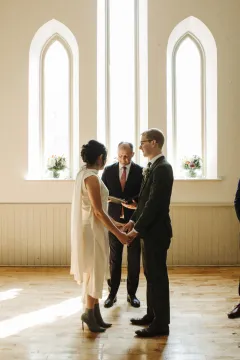 Pawel & Stephanie
We were so happy with the ceremony that Charles Hain performed for us. We met a couple of times before hand and he was extremely helpful with any questions that we had and made the whole process easy for us. Charles has a fun personality and we knew would be a great fit for us! Pawel & Stephanie June 2019
Ryan & Chelsea
Charles Hain was fantastic!! Light hearted and meaningful, our ceremony was perfect. We are so happy to have had Charles as part of our day! Everything leading up was seamless and Charles answered all of our questions and made us feel completely at ease. Ryan & Chelsea June 2019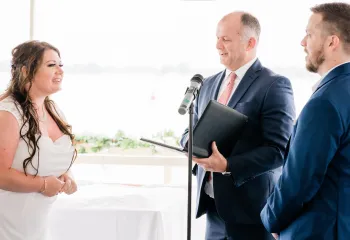 Brent & Erin
Charles Hain went up and above our expectations as our wedding officiant. He did an incredible job with the ceremony and we couldn't recommend him more highly. We also loved how he took care of all the extra details without even asking (I.e. setting up the signing table, ensuring the groomsmen removed sunglasses / gum before the ceremony, picked up marriage license from my father). This made everything run so smoothly and put us at ease. Thank you Charles! Brent & Erin May 2019
Sophia & George
Charles exceeded our expectations! He led our rehearsal, organizing our large bridal party and it was a tremendous help for the ceremony. We received various positive comments from family and friends who loved how lighthearted and charismatic Charles was. He made the ceremony very enjoyable and memorable. Planning the ceremony was very easy, we were offered many options and customization. A BIG thank you to Charles for everything! March, 2019.
Samantha & Tariq
Charles Hain was a wonderful officiant. He made everything much easier, and an absolute joy throughout the planning process! October, 2018.
Samantha & Brandon
Charles Hain was fantastic! We are so happy to have met him and to have had him marry us. We would do it all over again with him if we could!!! September, 2018.
Elizabeth & Alexandre
Charles Hain was great! He is very personable, and has a very calm demeanor. We were very happy with him, and couldn't have asked for any more/better! July, 2018.
Nick & Deirdre
We wanted a simple, meaningful ceremony in our home. Our search for an officiant led us to Charles who provided just the right amount of sentimentality, levity and relaxed approach to make our wedding about as perfect as you can get. Thank you so much Charles. Nick & Deirdre March 2019
Alfredo and Richard
Charles Hain was the officiant at a wedding I attended recently. The bride and groom are a fun crazy couple so we knew the wedding would be high spirited, laid back and fun. We did not expect the same from the officiant! Charles was wonderful. His service was perfect. His words were touching and inspirational. But the best part was that he fit the already established unconventional 'mood' of the wedding perfectly. He laughed with the couple when they broke out in crazy banter due to high strung nerves which he also contributed to with his great sense of humour. Charles' service was one of the best I've ever been privileged to attend. Thank you Charles!!! June 2018
Joyce & Rick
Charles Hain was friendly, pleasant and very easy going. Rick and I liked him from the moment we met him so felt very comfortable with him performing our ceremony. Charles was punctual and prompt in replying to my emails. During our ceremony, he spoke with a smile on his face and very clear, even without the microphone. It was truly a pleasure getting to know Charles. Please pass on my review to him. Thank you.
Kimberley & Gurpreet
Charles Hain was fantastic. Helped us along. Made the day memorable I would recommend him in seconds
Leanna & Mike
Charles Hain was fantastic. He was wonderful with my family and friends and made my husband and I feel comfortable throughout the entire process. The ceremony was beautiful and guests raved about his delivery.
Christine & Maxwell
Charles Hain was such a wonderful officiant. He is so friendly and warm. I knew when I first met him that he was going to be great. He did a great job at our ceremony especially during emotional moments. We would highly recommend Charles for your upcoming event.
Meaghan & Rob
We were so pleased with Charles Hain as our officiant. He has a kind demeanor, made us feel comfortable and was an excellent speaker. Many of our friends and family complimented Charles and said the ceremony seemed effortless and engaging. So pleased!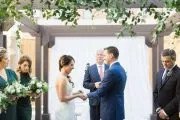 Melissa & Jessica
Charles Hain was wonderful. He was friendly, warm, and welcoming. He made the process very easy, and we loved the ceremony he put together. In fact, we loved his words so much we chose to keep the vows he had written, instead of writing our own; they were beautiful and said everything we wanted to say.
Carolyn & Patrick
Charles Hain was fantastic and helped make sure everything was running smoothly for our ceremony. We received comments from many of our guests about how much they loved the ceremony. We also appreciated our pre-wedding meeting where we were able to talk through the day. We would definitely consider referring All Seasons Weddings to others. Thank-you!
Lindsey & John
Charles (Hain) was an amazing officiant! He drafted a beautiful ceremony and accommodated our various changes, even at the last minute! My husband was really nervous and he went above and beyond to help! We would definitely recommend Charles! Lindsey & John Dec 3rd, 2016
Alessandra & Gabriel
Charles Hains exceeded expectations and we were delighted to have him!!! Couldn't have wished for anyone better. Absolutely - Charles went out of his way to adapt the ceremony to meet our needs and also dealt with a fairly rambunctious crowd really well! I would specifically go out of my way to refer others to Charles Hain, he was the perfect fit exuding a very positive attitude and the just the right kind of humor.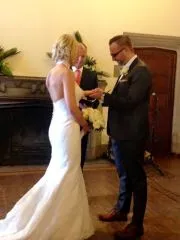 Dina & Michael
Charles Hain was absolutely wonderful. He was professional, courteous and friendly. We were very pleased with the ceremony.
Sean & Patrycja
Charles Hain went above and beyond in order to help make our day special. He was very charming and personable. At no point did we feel rushed by Charles, it was an absolute pleasure having him as our officiant and I would highly recommend him.
Allison & David
Charles Hain went above and beyond our expectations. He met up with us for the rehearsal and on a few different occasions for coffee. He was friendly, very funny and understood what "type" of ceremony that we were trying to achieve. He spoke beautifully in a tone and pace that all could understand and hear. We'd recommend Charles to anyone out there looking for an officiant. Charles is an incredibly nice, professional man. He was courteous when discussing the days events with our family members and bridal party at the rehearsal. We were incredibly impressed and received a lot of positive feedback from our guests for how the ceremony flowed naturally and had that "family-like" feeling.
Kim & Richie
Charles Hain was great, made us feel relaxed and was very helpful with suggestions for the flow of the ceremony.