Brenda Nurse
Request Brenda Nurse
Secteurs desservis
Sebringville, Stratford, Mitchell, Shakespeare, Tavistock, Listowel, Seaforth, Rostock, Milverton, Monkton, Bornholm, Harrington
Commentaires
Shane & Raquel
Brenda Nurse was fantastic, not only did she give us a great service she also helped me find a limo to take us for photos ,we ran into issues with the limo we had rented. Thanks again for everything! Shane & Raquel August 2019
Jay & Liza
Brenda Nurse created a perfect ceremony for our blended family wedding! Many of our guests told us it was the nicest wedding they have been to. We could have not done that without Brenda! Jay & Liza. July 2019.
Daniel & April
Brenda Nurse was great! She was very professional and did a fantastic job with our ceremony.Thank you Brenda! Daniel & April July 2019
Kirsten & Drew
Brenda Nurse was easy to reach over email and she sent us a draft of the ceremony. We decided to change a bit of it so we were happy that we had that option. Brenda arrived early and spoke with our groomsmen as well as our DJ and had everyone organized. It was a perfect day.
Lana & Joe
Brenda Nurse not only performed a wonderful ceremony but was incredibly patient and helpful. She exceeded all of our expectations and the day, regardless of all that happened, was so romantic and absolutely perfect. Thank you too to her sister, Barbara and Gerald. Thank you again.
Craig & Kim
Brenda Nurse did a wonderful job. She made us feel very comfortable leading up to and during the ceremony.
Lindsay & Sean
Brenda Nurse was awesome! Our wedding ceremony was exactly what we envisioned it would be! Thank you Brenda! Very happy with the services from All Seasons Wedding! Thank you kindly!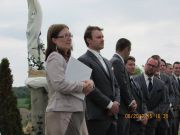 Anastasia & Tony
Brenda Nurse was absolutely wonderful. She was very kind and helpful, and also very professional. She made our day perfect.
Cheryl & Andrew
It was a very tiny, informal wedding with 2 small children in the house that could alter timing, etc. Brenda Nurse was so patient and assured us there were no concerns if there were interruptions or delays. I would have to say she exceeded our expectations and made it very special and memorable. We would not hesitate to refer All Seasons!
Julia & Matt
Brenda Nurse was awesome and did a fabulous job for us!
Jennifer & Shawn
Our officiant Brenda Nurse was wonderful! Ceremony went exactly as we had planned!