Barbara Andrew, B.ScN, B.A.
Request Barbara Andrew
Secteurs desservis
Guelph, St Jacobs, Aberfoyle, Rockwood, Fergus, Elora, Grand Valley, Cambridge, Arkell, Bellwood, Elmira, Kitchener, Waterloo.
Commentaires
George & Pat
Officiant Barbara Andrew was very helpful in making our reunion -- after 58 years-- a warm and intimate affair. We would recommend her. George & Pat, August 2020
Oscar & Patty
Barbara Andrew was a delight and met all our expectations. It was an honour for her to be in our home and provide the ceremony to a perfect fit. Oscar & Patty February 2020
Nick & Elyse
Barbara Andrew was so lovely! She was a joy to work with and gave a caring and personal touch to our ceremony :) Nick & Elyse October 2019
Hartmut & Dagmar
Barbara Andrew was very genuine,accommodating, and professional. We are very touched by the gentle and kind approach that you took during our ceremony. It helped to relax us and to make the whole ceremony very meaningful! The passages that you recommended and that we ultimately selected were very special for us. They enabled us to create our own personal script. Thank you." Hartmut & Dagmar July 2019
Colin & Karen
Barbara Andrew was excellent. She was professional and personable. The ceremony was perfect and Barbara was able to perform the ceremony to a tee with such short notice.
Cathy & Matt
Barbara was amazing. Was in contact from the time we agreed to have her officiate our wedding, right to our wedding date. She did a wonderful job at our ceremony. I would definitely recommend her and All Seasons to anyone getting married.
Samantha & Jonathan
Barbara Andrew was excellent. She was very flexible with us when it can to what we wanted our ceremony be to and even complemented our vows. I would recommend her to everyone
Jessica & Jeremie
Barb Andrew was so warm and kind to us right from the beginning. She was so open to our spiritual ceremony and offered us so much guidance to make the ceremony perfect for us. We can't thank her enough for making our day so special.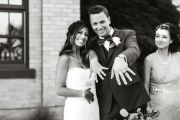 Deb and Brad
Hi Barbara: Thank you so much for performing such a wonderful wedding ceremony. I was so nervous and you made it flow so seamlessly. Thanks. We had remarks from different people that it was a very nice ceremony. I just wanted to say thank you again. Take care, Deb and Brad 07/18/2015
Jessica and Pierre
Hello Barbara! I just wanted to take a minute to say thank you from Pierre and I for being a part of our big day!! My apologies that I didn't get a chance to really say much of anything to you on Sat. but please know that we really appreciate you officiating for us. The ceremony was exactly what we hoped for. Thanks again!! Jessica and Pierre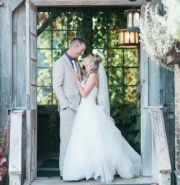 Elizabeth & Scott
Barbara Andrew was professional and friendly from start to finish. We enjoyed having her involved in our wedding. She got to know us and incorporated a lovely reading very true to our relationship into the ceremony. The office was very helpful and friendly! Thank you very much for making the process so much easier.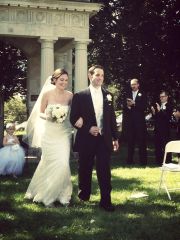 Jonathan & Jennifer
Barb Andrew was amazing at helping us put together a ceremony that fit our personalities, and guided us through the process. She performed a lovely ceremony, and took the time to get to know us.
Kevin & Tammy
Barbara Andrew was great. She did an amazing job in helping us to put together the perfect ceremony that was every bit Kevin and I. All our guests complimented how wonderful a job she did and she made us feel very comfortable. We are so happy that we used your service and had the privilege of Barbara marrying us! Thank you so much.
Megan & Amy
Barbara Andrew was delightful to work with. She absolutely made our ceremony a memorable one.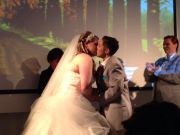 Caroline & Liddell
Barb Andrew is a wonderful and caring human being and we felt that she gave us the best wedding ceremony possible – in fact it was absolutely perfect! Thank you so much for adding to our perfect day!
Jennifer and Douglas
"We couldn't be any happier with Barb Andrew who met with us more than once and even had some great advice on how to cope with pre wedding stress! We'll be recommending her to all our engaged friends and are sure our guests will too as they are still talking about how great she was!" Jennifer and Douglas
Russ and Christie
Barbara Andrew, thank you so much for performing our wedding ceremony. Christie and I felt comfortable with you from our first meeting. You really helped to calm our nerves and to come up with a wedding ceremony that was memorable. So many people said it brought them to tears and they loved how it was written. You did a wonderful job. I would recommend you to anyone looking for the finishing touch on their big day!!