Dr. Drew Fockler, B.A; M.Ed ; Ed.D (Western)
Request Drew Fockler
Secteurs desservis
Burnaby, Coquitlam, Delta, Langley, New Westminster, Richmond, Surrey, Vancouver
Commentaires
Nicole and Andrea
Drew Fockler was a wonderful officiant for our wedding, he was easy to communicate with and very flexible in terms of working with us to achieve a perfect day. His laid back demeanour and good sense of humour went a long ways in making our ceremony flow smoothly, 10/10 would recommend to a friend! Nicole & Andrea January 2020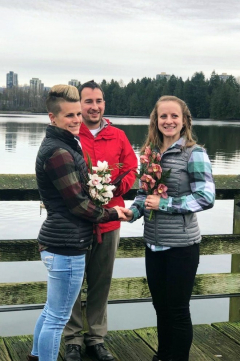 Amber and Jason
We couldn't be happier having had Drew as our officiant. He was a complete professional and at the same time made both myself and my blushing bride to be felt completely at ease. Drew made the entire process straight forward and easy. We laughed. We cried. And all at the appropriate times and for the right reasons. We'd highly recommend Drew to any couple.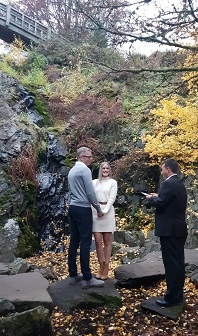 Kate and Chad
"Drew is amazing! I was super nervous about our big day but he made me feel so comfortable and at ease. He is a magical human being and was very professional, organized and easy to work with. We had a smaller intimate wedding and Drew got us through the whole ceremony without incident. I would highly recommend Drew, no regrets!"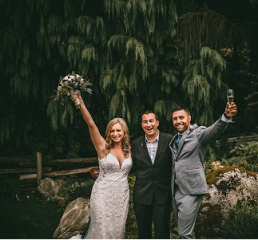 Britt & Kurt
Andrew (Fockler) was amazing!! He was so down to earth and calm through everything... I couldn't imagine being married by anyone else. He listened to what we wanted and helped us create the perfect service catered to our needs. He was super helpful through the entire process and especially on our wedding day. Thank you for everything Andrew! Britt & Kurt
Sarah & Adam
Andrew Fockler was wonderful, he exceeded my expectations. I'd recommend him to anyone and everyone! Andrew was very helpful throughout the whole process, very informative and attentive to what we wanted.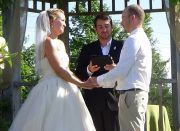 Josh and Laura
Hey Drew!!! Josh and I would like to thank you so much for being apart of our special day. You were absolutely fantastic! From the pre wedding meetings, rehearsal, and the actual day....we couldn't have done it without you. You took everything we wanted in a wedding ceremony and made it the BEST DAY EVER!!!! We had so many compliments on your presentation and on everything you did from family and friends!!!! I hope every future couple picks you as their Officiant!!!!
Ernie & George
Drew Focklerwas awesome. Extremely professional but not rigid. He had our guests laughing and helped make us feel at ease. Many of our guests commented on how wonderful he was especially when our intro went too long and he "entertained the troops" perfectly. Highly recommend him. Thank you so much.
Sara & Cameron
Andrew Fockler was gracious and kind. Also very accommodating considering we do not live anywhere near where we had our wedding an everything had to be done long distance. I think he matched our personalities well and would do a great job at the most serious to the most upbeat of weddings. Very fun and still completely professional.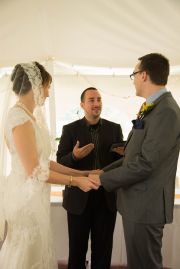 Jennifer & Justin
Drew Fockler was helpful leading up to the wedding and performed the most perfect wedding ceremony!! I would recommend him to anyone getting married!
Marie & Cory
Drew Fockler customized our ceremony to reflect some personal touches. He was great in making sure our wedding party was comfortable and clear on all the things they were responsible for. Thank you Drew for making our day so special!!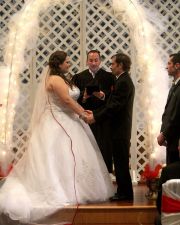 Cassandra and Sam
We just had our wedding this last weekend and I wanted to let you know what a fantastic job Drew did officiating the ceremony. From the moment we met Drew, we knew that he was a perfect match for us. he has a great personality with just the right amount of humor for our special day. Drew was extremely organized and professional and was great at explaining the entire process to Sam and I so that we would know what to expect on the big day. He did a great job of checking in with me before the ceremony and did a stellar job letting the guests know that I would be "fashionably late". Overall, we are so happy that Drew was our officiant that day, we couldn't have asked for a better day
Melissa & Shaun
Thank you! Thank you! Thank you! Our wedding day was a dream come true!! Many dreams came true on Sunday, actually, so many I cannot even put words together to describe. Andrew Fockler was absolutely the BEST officiant I've ever come into contact with. So gracious. So caring. So accommodating. I will forever recommend All Seasons Weddings to family and friends. Such a treasure. Thank you!
Justin and Jen
Justin and I want to extend a huge THANK YOU for marrying us on Saturday!! The ceremony was absolutely perfect- thanks to you! You did a wonderful job and I am so thankful! Thank you for your moral support during the ceremony- and the Kleenex (I was obviously not prepared lol). I am so glad my mom recommended you for the job! Hope you enjoyed the rest of your weekend at the fair :) hope to see you again! Justin and Jen
Scott & Michael
Our experience with Drew Fockler as our wedding officiant was exceptional. When our original officiant had to bow out for medical reasons, Drew was in touch with us in a timely manner and quickly set up a time for us to meet in person. On the day of the wedding, Drew arrived early to the event to make sure that everything was in place for the ceremony. Drew brought a great sense of humour that helped to alleviate any stress or anxiety that we or our witnesses were experiencing. Drew conducted the ceremony with absolute ease and was one of the important pieces of the puzzle to make our wedding day a truly special one. We highly endorse Drew as a thoughtful and competent officiant and would be more than happy to act as a reference for him for any couples seeking his services in the future. Best, Scott & Michael