Al Micus, BA, MEd
Request Al Micus
Secteurs desservis
Manotick, North Gower, Barrhaven, Kanata, Edwards, Greely, Metcalfe, Osgoode, Ottawa, Kenmore
Commentaires
Maxime & Melanie
Al Micus did everything we asked and did an amazing job! Very friendly and great to work with. Thank you Al ! September 2022
Jennifer & Paul
Al Micus was an amazing officiant. Very prompt in responding to questions and informative through all steps of the process. We could not have asked for a better person to deliver this ceremony - which was performed with perfection! June 2022
Jessica & Mac
Al Micus was so wonderful and did such an amazing job. He's so friendly and set such a relaxed vibe through out the ceremony. He delivered a ceremony exact how we wanted. He was on time, responded to our emails quickly and answered all of our silly questions. We can't thank Al enough for helping make our special day even more special. September 2021
Jessica & Ryan
Al Micus was excellent. He had a great sense of humour. He made everything run so smoothly. We cannot thank him enough for making our ceremony absolutely perfect. Jessica & Ryan July 2021
Doug & Danika
Al Micus was amazing and very down to earth. Our wedding guest thought he was funny and I enjoyed the ceremony! Al did a great job and gave us the best day possible . Doug & Danika September 2020
Amy & Robert
AL MICUS WAS AMAZING! So friendly and helpful. Went completely out of his way to make sure our day was perfect. Such a kind and thoughtful man. Would recommend him in a heartbeat!!!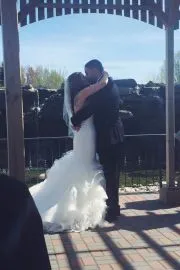 Peter & Winnie
Al Micus was terrific. He was very helpful in providing options on the ceromony script and walking us through the proceedings in advance. Also, his presence at the ceromony was very professional with just the right amount of levity.
Jennifer & Curtis
Thank you so much for everything. Al Micus was warm, friendly and professional. We had many comments on how nice our ceremony and officiant were. We would definitely recommend both Al Micus and All seasons weddings to anyone.
Stephanie & Erik
Mr Micus was always friendly and flexible. He was also really helpful for our ceremony planning. He provided us with a wide variety of wording choices for different kinds of weddings and we were able to mix and match to make a great program that fits our style perfectly. On the day of the wedding, his nicely printed out program with all our readings minimized our stress. We will definitely recommend Mr Micus to people who are looking for an elegant yet relaxed atmosphere for their wedding ceremony.
Marla & Christopher
Al Micus did an amazing job! I was happy when we were able to have him marry us 3 years ago and even more grateful to have him do our son's baptism last weekend. We have already referred the service and Al. Thank you
Meaghan & Gavin
Al Micus was fabulous! I am so happy that we went with him. He truly made our baby's baptism special. This is the second time I have used Ontario Baptisms and I will happily spread the word of how great you guys are. Can't thank Al and Ontario Baptisms enough. So happy he was able to be a part of our special day. He said some very nice things in the baptism. Very special day to remember to both my husband and I.
Laura & Corey
Al Micus was fantastic and provided exactly what we were hoping for - a relaxed and casual wedding ceremony with a bit of humour. He was a pleasure to deal with through all the planning, and I would not hesitate to recommend him to anyone looking for an officiant in the future. We were very impressed with him.
Karen & Paul
We wanted to send a message to let you know that we were so pleased with having Al Micus as the officiant for our wedding. We appreciated his professionalism and he helped to make the ceremony one that was totally our own. He was a pleasure to work with and we highly recommend his services to anyone wanting a relaxed and personal ceremony.