Wendy Oke, BA (York); MDiv (Beloved Community)
Wendy is a Minister with Clergy Support Church. She was recently voted by her peers as the 'Most Popular Wedding Officiant in Muskoka'. Prior to becoming a minister she has also been an educator, counsellor, writer, and her weekly column, 'Wise Woman Ways', demonstrates and expresses her openness to all traditions. Wendy believes weddings are creative expressions of Spirit and she loves to help create personalized wedding ceremonies with each couple. For a wonderful caring wedding ceremony at a location of your choosing ask for Wendy and she will be there for you both.
Request Wendy Oke
Areas Served
Huntsville, Bracebridge, Gravenhurst, Dwight, Dorset, Baysville, Port Carling, Port Sandfield, Rosseau, Port Sydney, Lake of Bays, Glen Orchard, Utterson, Bala, Windermere, Uffington, Raymond, Emsdale, Sprucedale, Novar, Kearney
Reviews
Amanda & Jared
Wendy [Oke] and All seasons weddings were so kind and caring. They were very accommodating for our location and Wendy was so helpful in calming the nerves of both of us just minutes before the ceremony. Would highly recommend All Seasons Weddings as well as specifically Wendy Oke! ❤️💍 June 2022
Kenneth & Danielle
We really liked Wendy Oke from the moment she arrived! Her personality was a perfect fit for Ken and I. She exceeded our expectations! May 2022
Claire & Ellexis
Wendy Oke is amazing! She effortlessly made the legal side of marriage easy for us to navigate and she also made it fun and lighthearted. It was important to us that a family member participated in our wedding ceremony. Wendy gave us the space and freedom to create our unique and personal wedding ceremony and she was able to guide us with her experience and professionalism. Wendy brought so much love and positive energy to our day. I remember looking towards my family and friends during the ceremony, and Wendy's warm and loving smile was amongst them and it was so genuine. We want to especially thank Wendy for her support, resiliency and efforts in advocating for women and playing a part in making it possible for us, two women, to tie the knot! The support from Wendy and All Seasons towards our love and marriage made our day complete...legally and emotionally. Thank you for making our special day official and for giving us the freedom to make the ceremony uniquely our own. It really meant a lot to us and our families to have our friend play a major role in our ceremony. Thank you for going on this adventure with us, for guiding us and for making sure we laughed and kept breathing. We also want to express our gratitude for your role in advocating for women's rights and ultimately playing a part in making it possible for us, two women, to get legally married today. Thank you!!!" (Photo by: Lenny + Hume) Oct 2021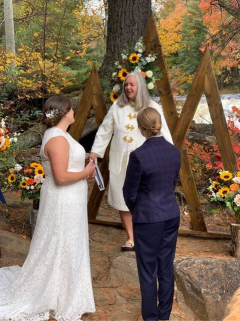 Donald and Taylor Aug 2021
Wendy Oke is one of the most beautiful people we have ever met ❤. She was kind loving and an absolute delight. We could not have asked for a more perfect person to officiate the ceremony or join our family in celebration ❤ thank you Wendy
Michael & Tessa
Wendy Oke was so wonderful and made us feel like we had known her for a lifetime. She was on-time and extremely professional, it was a pleasure having her as our officiant for our little Muskoka dock wedding! Michael & Tessa September 2020
Simon & Anja
Wendy Oke was lovely, kind and very easy to get along with. She was so thoughtful, we even could exchange our vows in German as we're both from Germany. Wendy created a cheerful atmosphere at the right moments. We were extremely happy with Wendy, she was the perfect officiant for our intimate cottage wedding! Simon & Anja August 2019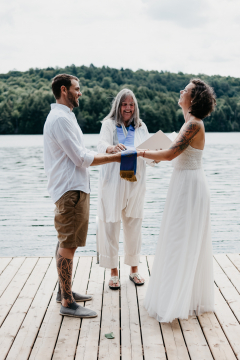 Sera and Tyler
Hi Wendy, Everything was perfect. Thank you for everything, and thank you for being a part of our special day. xo, Sera and Tyler
Patti & Wilf
Wendy was lovely, engaged and so happy to be there. She had a connection to our venue and I think she enjoyed the renewal as well. We loved her kindness and her lovely speaking voice as she helped me who was emotional make it through. Thanks again. Patti and Wilf August 2018
Joanna & Jonathan
Wendy Oke was so accommodating. We were able to make the decisions and she worked with us!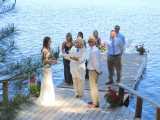 Alissa & Brendan
Wendy Oke was friendly, professional, pleasant and kind! Exactly what we were looking for! Would highly recommend Wendy to our friends and family!
Sarah & Dwayne
Wendy Oke was wonderful. The guests loved her. The ceremony was perfect and everything we had hoped for. Everything ran smoothly and the process of choosing an officiant right through to the end was easy and effortless.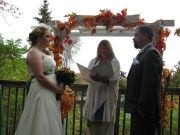 Emilie & Clayton
Wendy Oke was absolutely wonderful through the entire process, from our meeting with her to the day itself! She made our ceremony so special by just being herself, which was the entire reason we had requested her in the first place! We received so many wonderful compliments from our guests about how Wendy conducted the ceremony, and we would highly recommend her to anybody looking for a simple, special and intimate ceremony.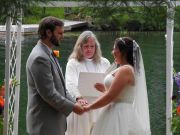 Kelly & Alanna
Wendy Oke was absolutely wonderful!!!!! She has a great sense of humour and you can tell she loves people and loves what she does. We couldn't have found someone more perfect to conduct our ceremony, glad we chose her to be part of our day. We had to change our wedding day after we had already booked with you and wendy and it was taken care of with no problems. Thanks.
Kaila & Kyle
We really enjoyed having Wendy Oke officiate our ceremony. She was thoughtful, open-minded and helpful as we went through the process.
Jessica & Nicholas
Wendy Oke tailored our ceremony to exactly what we had in mind. She was open to our ideas, made wonderful suggestions, and acted as a guide in the writing of it. She made our ceremony what it was and we couldn't have been more happy with it! THANKS!
Leah and Steve
Wendy, thank you so much for being part of our day. After 19 years together, it was lots of fun "tying the knot". Your style suited ours perfectly. You found the perfect balance between the traditions that made it feel like a wedding, and the unique elements that made it our own. You helped create a truly personal and meaningful ceremony for us, and you delivered it with just the right amount of gracious humour. You were so intuitive and relaxed. We feel as though you became part of our family that day. – Leah and Steve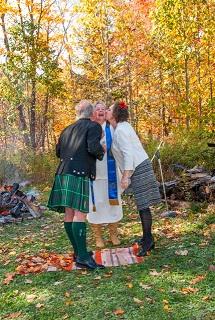 Laura and Chris
Through Wendy Oke and All Season's Weddings, my partner and I were able to put together a ceremony that reflected and honoured our personal spiritual values, as well as respect the religious views of our family.We are not religious, but consider our faith to be earth based, so we wanted our wedding to reflect our connection to the elements and nature. We also wanted a ceremony that made our Christian family members feel comfortable and welcome. Her calm demeanour and clear focus helped us when we had to make last minute changes to our ceremony location due to poor weather. Wendy's strong and clear voice carried well in the heavy rain and her wonderful energy made everyone feel welcome.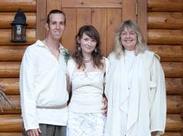 Alison & Matthew
Rev Wendy Oke exceeded our expectations. She was very helpful and from the first time we met we were instantly confident in her. She understood that some of our guests were a little bit wary of us not getting married in a church and she had a solution that pleased everyone, and for that we were greatly appreciative.