Wendy Caron, BSW (McMaster)
Wendy is one of our more popular officiants in Burlington. She knows all marriage ceremonies are special, whether they are second marriages, same gender marriages, or first time weddings. Your ceremony should reflect your personalities and your values. As such, you will find Wendy to be approachable, friendly and competent. Someone who responds to your ideas for your day. She grew up in the Thornbury area, and still calls it home on weekends. Wendy is comfortable performing ceremonies that are spiritual or not, casual or more formal in nature.
Request Wendy Caron
Areas Served
Collingwood, Thornbury, Meaford, Burlington, Oakville, Hamilton, Ancaster
Reviews
Sue and Toni
Wendy Caron was WONDERFUL! As a same sex couple (her bio is why we selected her) she made us and our family feel extremely comfortable. She has such a genuine warmth to her and throughout the whole process, we felt we were in good hands. I'd recommend her in a heartbeat!! Sue and Toni November 2019
Jade & Jesse
Wendy Caron was fantastic from start to finish. The moment we met her we knew that she would be a perfect fit - she was kind, knowledgeable and very accommodating to our requests. Thank you Wendy! Jade & Jesse July 2019
Mike & Christina
Oh my goodness, we loved having David Allman as our officiant for our special day. He was lively, mingled with our guests, kept our ceremony on time and we loved how our ceremony was exactly what we wanted. He worked with us to create the perfect layout of our ceremony, and when the time came, executed it perfectly. David brought our wishes to reality when our ceremony ended up being lighthearted, tender, and downright funny. We loved our Day! Thank you David! Mike & Christina June 2019
Christopher & Shannon
Wendy Caron was truly amazing. From the beginning she was extremely accommodating, professional, and exceeded all of our expectations. We couldn't have asked for a better officiant for our special day! Thank you so much Wendy! Christopher & Shannon August 2018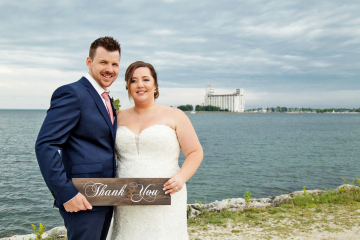 Joshua & Melanie
Wendy Caron was amazing! She truly wanted us to have the best day of our lives and made our ceremony so wonderful! She customized it to really Make us feel comfortable and truly reflect how we are as a couple!! Thank you Wendy for everything you have done for us!! We will for sure be recommending all seasons and Wendy to others!!! Joshua & Melanie June 2019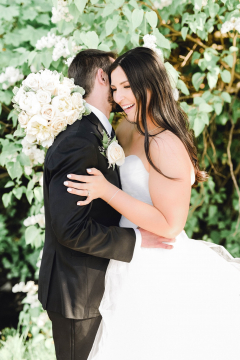 Daniel & Keenan
Wendy Caron is the best! She made our wedding day extra special. She'll make sure your wedding ceremony is exactly what you want it to be. Daniel & Keenan April 2019
Matthew & Allie
Wendy Caron was so unbelievably lovely and easy to work with. We were thrilled when we met her and she made us feel completely at ease. She guided us through the ceremony perfectly and really, really made the part of the day for which we were both nervous, a total breeze. She was an absolute dream to work with and we cannot thank her enough. October, 2018
Kandice & Lionel
Wendy Caron made the process so smooth and was always willing to answer our (many) questions. She made us feel comfortable before and on the day of. Everyone loved her and she did such an amazing job! June, 2018
Jennifer & Joey
Wendy Caron was such a pleasure to work with. She listened to how we wanted to include our daughter in the ceremony and came up with multiple ways we could do so. She was so kind and thoughtful. May, 2018
Laura & Andrew
Wendy Caron was amazing! Professional throughout the whole experience and put our minds at ease that she had it under control. She was very personable, friendly and easy to work with from the rehearsal through to the actual wedding day. She helped guide us through the ceremony leading up to our wedding and allowed us to customize any parts of the ceremony we wanted. Would highly recommend her to anyone!! [September, 2018]
Nancy & Susan
Wendy Caron is such a wonderful officiant. Very genuine, warm and our guests remarked how well she brought the ceremony together. She made our special day memorable. I would highly recommend her to anyone looking for a wedding officiant. Thank you for everything Wendy! Nancy & Susan July 27th, 2018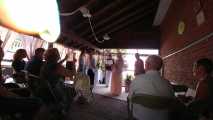 Don & Derick
Wendy (Caron) was an absolutely wonderful officiant at our vow renewal in early October 2017. She was kind, funny, very warm and someone you could spend all day talking to. She made the day special and very memorable. She immediately makes you feel at ease, which is something that's very important on a special yet sometimes stressful day. Very highly recommended.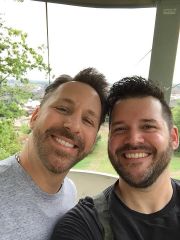 Andrea & Trevor
Wendy Caron was absolutely fabulous! She helped us so much before our wedding day and made us feel so relaxed and special on the day (even though there was a torrential downpour :-) ). She was so friendly and kind to our family and guests. Everyone asked about her after the ceremony because they were so impressed. Each and every staff we spoke to was extremely friendly and helpful which definitely made us feel that everything was under control and calmed our nerves. Absolutely. In fact, we were already referring you to everyone on the actual wedding day because they were so impressed by Wendy.Thank you for making our day so special :-)
CJ & Jeremy
Wendy Caron exceeded our expectations. She was so well prepared and executed the ceremony perfectly. We could not have asked for more from an officiant. Thank you Wendy for the ceremony of my dreams! I found your website informative and user-friendly. It made the daunting task of finding the right officiant an easy and pleasant one. Wendy was awesome!
Christina & Scott
Wendy Caron was exceptional! She was so accommodating, kind and understanding of our needs. Wendy was very professional and humorous. What I appreciated most, was that Wendy never made us feel like what we wanted from our 'ceremony' was less than. Truly wonderful to have her as part of our special day!
Carla & Kenwrick
Our officiant, Wendy Caron, was fantastic! She was very flexible, allowing us to write most of the ceremony from scratch, but she also added some wonderful suggestions for our ceremony script. Wendy provided such a warm and welcoming quality to our wedding.
Leona & Mike
Wendy Caron made the whole experience from planning to saying our vows on the day feel like a breeze! Thank you, thank you, thank you Wendy for your warmth, care and humour! We couldn't have pulled off such a perfect ceremony without your help!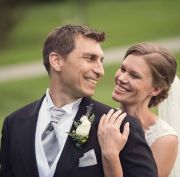 Beth & Jason
Wendy Caron far exceeded our expectations. She was so warm, friendly and easy to work with. We felt so lucky to have her officiate our wedding! Using All Seasons Weddings to book our officiant was by far the easiest part of planning our wedding. The process was so efficient and everyone we dealt with was friendly and quick to respond.
Jessica & Michael
Wendy Caron was fantastic and we received so many compliments on our ceremony! She was extremely friendly and helpful through all of our email and phone conversations and made my now husband and I feel so comfortable during our wedding ceremony! Any communication I had with your office staff was very professional! No complaints whatsoever! We would recommend All Seasons Weddings and Wendy to anyone looking for a wedding officiant! It was such a great experience!!
Amanda & Gary
Wendy Caron was the perfect choice for our wedding. She was organized, easy going and very professional. I have a few friends getting married next year, I will definitely be recommending All Seasons' services!
Andrea & Amanda
We couldn't have asked for a better person than Wendy Caron to marry us. We truly loved having Wendy there. She was amazing and we love her. All my questions were answered and everything ran smoothly. We love Wendy Caron. Thank you so much. Xoxoxo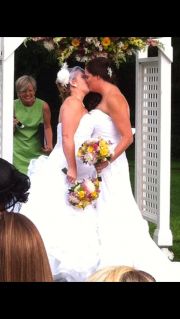 Katherine & Julie
Wendy Caron didn't just meet our expectations, she went above and beyond!!! We are so pleased to have found Wendy through All Seasons. It was a perfect match! We have received numerous compliments on what a wonderful ceremony Wendy performed! She has made an impact on our lives and we feel like we have gained a new friend! Thank you Wendy!
Heather & Dan
Wendy Caron was GREAT to work with and the process was entirely painless. After just one call - she titally understood what we were after and helped us by sending a nice sample script for us to modify. We were able to inject humour into our vows that made it totally enjoyable for everyone. Many people commented that it was the best set of wedding vows they had ever heard. Thanks to you else we might not have found her. And most of all thanks to Wendy for helping make our day so full of laughter.
Inger & Carey
Wendy Caron more than exceeded our expectations! She was kind and thorough and made our day extra special!!