Tim Rieck
Tim lives in Waterloo and is a caring and experienced Minister. Tim's credentials include an M.Div.in Theology, an M.A. in Spirituality and Psychotherapy and is a Registered Psychotherapist with the College of Psychotherapists of Ontario and a certified member of the Canadian Counseling and Psychotherapy Association.He has built a career on helping people and likes to help couples plan their perfect day. He has a great voice and he is very adept at putting your guests at ease and creating a welcoming atmosphere at wedding ceremonies.
Request Tim Rieck
Reviews
Lindsay and Billy
Hi Tim(Rieck). Thank you very much for the wonderful ceremony. Everyone said how great it was and they were all very happy that is wasn't long, so were we LOL. We really appreciate it! P.S. I only cried one more time ha :)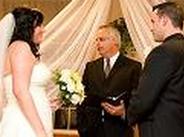 Belinda and Mike
Dear Tim, Thank you for performing our wedding ceremony. It was beautiful and very special. We felt that we had known you much longer than just a few visits. Many of our guest commented on what a great job you did, you really brought the room together and made it feel very personal. Thank you so much for the wonderful memories!!
Ryan and Laura
I just wanted to take this opportunity to thank you very much for presiding over our Wedding on Sunday (and for ensuring that we had a beautiful and sunny day)! Laura and I really appreciated your style and approach and we both had a great time during our Ceremony. It was short and sweet - which is exactly what we wanted - and we really appreciate everything that you did to make it all come together! Our Families really enjoyed the Wedding and I thought that you should know that many of our guests remarked on how much they enjoyed the Ceremony! My Dad in particular said that he enjoyed conversing with you beforehand. Tim - thank you so much!
Krystal & Michael
Tim Rieck was fantastic!!! He was very easy going and calm during our planning session, and made suggestions that helped make the simple, short ceremony we wanted special. He helped us build a ceremony that really fit us, even though we weren't really sure what we wanted going into the meeting. He was a great choice! The emails from the reservations staff were full of information and helpful links. Honestly, who going into a wedding has any clue about any of that stuff? Tons of friends and family were giving us advice and saying, "What we didn't know when we were getting married was........." and we could say every time, "Yes, we know, the wedding company providing our officiant told us." Just great. Stress free and information packed. Great service.
Lindsey & Leonardo
Tim Rieck was fantastic, very personable and easy to deal with. A lot of our guests commented on how much they enjoyed our ceremony.
Monica and Sherif
I hope all is well with you. First off, my husband and I would like to thank you for the great job you did during our wedding ceremony; we were so happy to have you a part of our special day and were even happier with the way everything played out. You were great and will definitely be recommended by us to others. Kind regards, Monica and Sherif
Kevin & Karen
Hi Tim, Karen and I wanted to reach out and thank you for your services. The rehearsal on Friday put us all at ease and knowing our places let us focus on enjoying the ceremony itself. We thought the ceremony itself was quite eloquent without being long winded - exactly what we were going for. Judging by all the comments we got from our guests they thought the exact same thing. People were really engaged from start to finish and they loved the ceremony. It really felt like a perfect day. Thanks again,
Joseph & Candice
Tim Rieck was awesome from start to finish. Always prompt in answering emails and questions! He was the most efficient officiant we could have asked for. He was a great help organizing us during our rehearsal, and was always quick with a laugh to put our minds at ease. Our friends and family loved the ceremony Tim put together for us. We highly recommend him and the staff at All Seasons Weddings to every one we meet. Thank you for everything. Joseph & Candice June 2019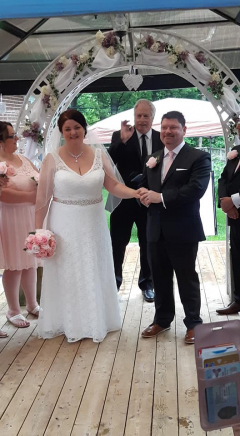 Daniel & Ginny
Tim Rieck was very helpful and co-operative. It was a pleasure to deal with him. Thank you Tim ! Daniel & Ginny July 2019