Thomas Moore
Thomas lived in Newmarket for well over 20 years; but he has recently moved to Alliston, Ontario, where he has given up his day job to devote himself full-time to being a Wedding Officiant. Thomas' most enjoyable leisure time is spent entertaining at senior's homes reading and reciting poetry to a very appreciative and attentive audience. He would love to help you write your own unique service or modify a traditional one. It's your Special Wedding Day! And Thomas will help make it the memorable experience you expect it to be. His understanding and love of people will bring out the best in you. Thomas' rich announcer's voice and public speaking skills will guide you through a wonderful and meaningful experience you will cherish for the rest of your life.
Request Thomas Moore
Areas Served
Alliston, Tottenham, Beeton, New Tecumseth; Bond Head, West Gwilliambury, Newmarket
Reviews
RJ & Juliana
We were thrilled to have Thomas Moore as our officiant. Everything from the planning phase to the actual ceremony went smoothly and better than we anticipated! Thomas gave us confidence and ease throughout the entire process. We were very nervous at the ceremony but Thomas was able to grasp our attention and help us stay in the moment. He helped us customize our ceremony to fit our mixed backgrounds and beliefs. Even weeks after our ceremony, our family and friends are still complimenting Thomas. The ceremony was full of tears, laughter and joy... we will never forget it! Thank you to All Seasons Weddings, and especially to Thomas Moore. We will definitely be referring you to our friends and family!
Sylvia & Ben
Our officiant, Thomas Moore was beyond our expectations. He was professional, organized, charming and full of humour! He knew his stuff!! Thomas was able to improvise on the spot due to some last minute changes seamlessly. We have received countless feedback from our guests on how fantastic Thomas was, quote "the most enjoyable/funnest wedding ceremony ever"!! Our guests thought we had been long-time friends. Overall, it would just not have been as awesome without Thomas Moore! Thank you from the bottom of our hearts.
Helen & Richard
Thomas Moore was fantastic and we are so grateful to have had him perform our ceremony. He was so professional, not only on the day of the wedding, but throughout the planning process as well. Thank you so much Thomas for such a wonderful ceremony!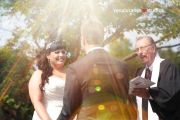 Ciragh & Jerome
Thomas Moore was prepared, open with communication and open to guiding us through the vows and process as well as allowing us to offer insight to our unique service. Thomas was a pleasure and even kept things in motion when there was a comedic glitch at the start. He was very kind and a perfect officiant for anyone's special day.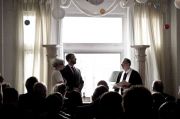 Jessica & Kevin
Just a quick note to thank you SO much for officiating at our ceremony yesterday afternoon. We've attended loads of weddings and we've never heard guests comment on the officiant before. At our wedding, however, tons of guests approached us to tell us how great you were and to ask us how we were lucky enough to find you! They loved your enthusiasm, humour, and the fact that, although it was an outdoor wedding, your voice carried and everyone could hear you perfectly, even at the back. The ceremony was meaningful, but short enough that it kept our guest's attention. Thank you so much for officiating our wedding. We had an absolutely amazing afternoon and evening, and your fantastic ceremony set the tone for the fantastic party that followed. Thanks again and all the best.
Michelle & Charlie
Hi Thomas, Charlie and I wanted to thank you so much for the lovely job you did officiating our ceremony on Saturday! It was perfect. We had so many people specifically mentioning how fantastic you were. Everyone loved your sense of humor and warmth, and they could see how much you had worked with us to really personalize the ceremony, and match it to our personalities! Thank you
Brenda & Amin
Thomas Moore far exceeded our expectations... he hit it out of the park!! Thomas made our wedding ceremony incredibly memorable to us and to all of our guests. He had us thinking, he made us mindful and had us all smiling and laughing - it could not have been more meaningful. Thomas helped us put together a wedding ceremony that was simple, meaningful and very touching. Our guests raved all evening about Thomas and his wonderful disposition and "radio announcer voice. We felt so comfortable during our wedding ceremony and we owe that to you Thomas as you have a very special way with people and putting them at ease. Thank you so very much for making our wedding ceremony unforgettable!
Dayna & Ross
Ross and I had an absolutely wonderful experience working with Thomas Moore. From beginning to end he provided us with amazing service and we could not be happier. We had many compliments on the service at our wedding and would highly recommend Thomas to anyone! Thank You.
Genea & Silvio
Hello Thomas, I can't thank you enough for making our ceremony exactly what we have pictured and most wanted. Your extra touches and dedication made our day the most perfect it could have been. You are most welcome for the extra envelope, it was only a small gesture of our appreciation considering how excited we were to have you marry us from the moment we met you. I appreciate you saying my full name during the ceremony, it meant a lot. Also thank you again for finding a way to fit in all the ceremonies/rituals that we wanted. Everyone was very pleased with the way it turned out. Again thank you so much and we will definitely refer you to everyone we know that could use your services.
Shane & Laura
Dear Mr. Moore, Shane and I would like to take this opportunity to thank you for the lovely ceremony you performed. You made our day extra special. Your combination of faith, wisdom and of course wit made it all so wonderful. We had great feedback and we truly want to thank you for being a special part of our most important day. All the best to you and your family. Hope you had a great anniversary!!!!! One thing we will always share!!!
Christine & Glynn
He exceeded our expectations. A lovely gentleman who genuinely cared about our special day. He gave us excellent advice and guidance. Excellent customer service. My questions were answered quickly and clearly. We had a lovely wedding service conducted by Thomas Moore. He made us all feel very comfortable and relaxed. He has a terrific sense of humor, yet our ceremony was performed with elegance and the respect it deserved. Thank you, Thomas!
Daniel & Terry
Thomas Moore was interested in us from the beginning. We were very comfortable with him. We talked about the script and our vows and preferences. We knew leaving our meeting place that we had chosen the perfect person to be our officiant. The wedding was at nigh. It was a quiet wedding with only family. Thomas met up with us a half hour before. As we got started he was very friendly with our family and a jokester with us. He was very comfortable and professional without small gathering. It went off very smoothly with encouragement and humour. He although was using humour to get through some emotional moments of the night, it never got cheesy or corny. We were extremely happy and grateful with his work that evening. Our families are both still raving about him. My dad is a somewhat hard person to please, and I worried about the officiant the most. It just so happened that my dad said he wished Thomas had done their wedding. There is all the compliment you need. Thomas Moore, thank you so very much for being our officiant. We were very happy to have found you.
David & Tiffany
Thomas Moore was outstanding. He was easy to work with and really went above and beyond in meeting with us, keeping us organized, stress-free and ensuring that the ceremony went according to plan! Thomas was a pleasure to work with. He was very professional, but also provided a personal touch to our wedding that the guests loved. We would highly recommend him to any couple looking for an officiant!
Jesse and Brenay
Good morning Thomas (Moore) We just want thank you so much for a beautiful wedding ceremony that you had done for us. Both Brenay and I were thrilled to have had such an amazing officiant like your self to marry us. For anyone that is to be wed by you, they will not be disappointed. Thank you again Thomas!