Suzanne Montigny
I am proud to be a Northerner! I grew up in Timmins and now live in Schumacher, ON and service the surrounding outlying areas. I am fluent in both English and French, am a past member of the Canadian Armed Forces, a Graduate of Northern College, and a former board member of the Metis Nation of Ontario. Couples who entrust me with one of the most special days of their lives can rest assured that they will receive a ceremony (traditional or non-traditional) that truly captures the very essence of their unique and special relationship, their love and their personal beliefs. As I always tell my couples: ''It's YOUR Day, So do it YOUR Way''
Request Suzanne Montigny
Areas Served
Timmins, Iroquois Falls, Porcupine, Cochrane, Kapuskasing, Gogama, Foleyet, Hearst
Reviews
Steven & Pamela
Suzanne Montigny is the most incredible human being we have ever met. Her kind sweet heart alone made our wedding amazing. She went out of her way to help us to pick out the perfect vows to match up with our Indigenous Wedding Ceremony. Suzanne Montigny spoke so well and at no point did we feel stressed. We would definitely recommend All Seasons and especially Suzanne Montigny because of her amazing personality. It felt like we knew her all our life and made us feel so comfortable. Suzanne made everything perfect!!! Thank you ! Steven & Pamela September 2019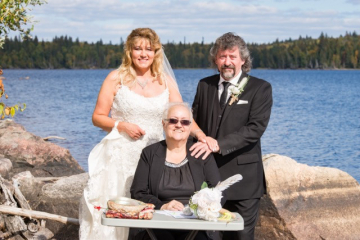 Matthew & Michelle
Suzanne Montigny was amazing. She made us feel like we were part of the family, so warm and amicable!. Suzanne customized our ceremony to exactly what we had in mind, she really made us feel at ease and we feel like we had a member of the family be there with us for our big day! We have nothing but the highest regard for her! Matthew & Michelle June 2019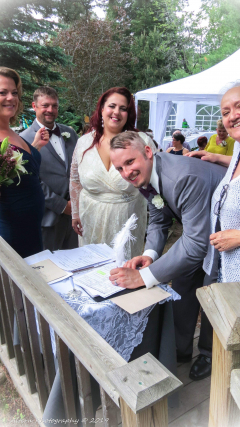 Monique and Luc
Moi et mon mari avons célébré notre première anniversaire de mariage le 30 Septembre cette année! C'est grâce à la merveilleuse Suzanne Jette Montigny que notre mariage fut une réussite, Suzanne a fait en sorte que toutes la préparation de nos échanges des vœux soi parfait! Elle a été présente du début à la fin! C'est une personne très présente dans tout ce qu'elle fait! Nous avons très apprécié le travail et recherche que Suzanne a démontré tout au long, son dévouement à dépasser nos attentes et nous a permis d'avoir une cérémonie qui restera gravée à jamais dans nos cœurs! Merciiii a All Seasons Wedding s pour le merveilleux travail et dévouement que Suzanne Jette Montigny a démontré lors de notre mariage, nous lui sommes très reconnaissantes ! September 30th, 2017
Mike and Sheila
The ceremony you performed for us was Awesome. Your reading and the way that you performed it was perfect, I would not have changed a single thing about it. Your integration of the salt ceremony was seamless, and it blended very well with our ceremony. You did a fantastic job and I will recommend you to anyone who is looking for an officiant! This was one of the greatest days of my life, and choosing you to do conduct our ceremony only added joy to the day. Thank you very much!
Rejean & Daniel
Sue (Montigny) was our officiant and she performed a wonderful ceremony - it was all we asked. THANKS again for everything you did for our wedding: The ceremony, the card, the gift, etc. - in short, you went "overboard". It is appreciated !!!/ Suzanne était notre célébrante et elle nous a donné la plus belle des cérémonies. Nous étions bien heureux. Réjean & Daniel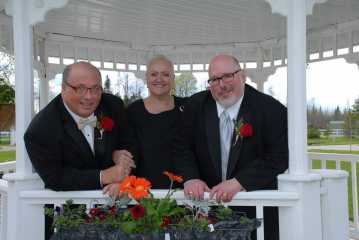 Caronn & Stephen
Thank you again for the amazing ceremony, it was beautiful and exactly what we wanted. No one but you could have pulled it off the way that you did.
Alisa & Randy
Wanted to thank you again for making the trip to Foleyet and officiating our wedding. It meant so much! Best day of our lives I can say without a doubt.