Stan Yeo
Stan is an experienced warm friendly wedding officiant. He recently moved to Trenton. You will find Stan is easy to talk to, has a gentle sense of humour and he will accomplish every task to the utmost. He will do everything possible to make your day just that "your day." He has a great eye for detail has earned him honourable mention in photography contests, and his flower gardens are groomed to perfection. For a wedding truly reflective of both of you, Stan's your guy. Stan wishes you every happiness, and knows his ceremony will help you begin your life of wedded bliss, as he has been blessed for 40 years.
Request Stan Yeo
Areas Served
Trenton, Quinte West, Brighton, Belleville, Colborne, Shannonville, Cobourg, Port Hope, Newcastle, Napanaee and Tweed
Reviews
Kirk & Martina
Rev. Stan Yeo is a very pleasant person. He stayed in touch with us on a regular bases. On the day of the ceremony he was on time, very organized and very professional, yet has a very funny sense of humor. Thank you Stan! Kirk & Martina October 2020
Jason & Kalyn
Thank you again Stan (Yeo) for everything. Not only for the actual ceremony but since we started planning our day. The wedding ceremony was wonderful! Everyone we've talked to had nothing but positive things to say. Thank you for your sense of humour to keep things light and your subtle nudges to keep us on track, it was a pleasure working with you throughout. Thank you again for all your help and professionalism! Jason & Kalyn Aug 25th, 2018
Scott & Olga
Stan Yeo was relaxed, open, funny, and accommodating. He guided us through the steps with the experience and assurance that gave us confidence he would be able to handle anything with grace. Our outdoors wedding was perfect!!!! Thank you Stan!!!
Amy & Hotze
Stan Yeo did an amazing job! All of our family and friends had so many wonderful things to say. The ceremony was everything we had hoped for! Many tears and many laughs.
Lashanda & Daniel
Dear Stan, We would like to Thank-You on making our Special Day a Dream come True. You went above and beyond and Exceeding our Expectations. Thank you!
Gracia & Jeff
Stan Yeo was great! He was sweet and very cheerful and he definitely knew how to make us more comfortable and less anxious before the ceremony.
Stacey & James
Stan Yeo was fantastic! He made sure that everything the way we wanted it. He was very accommodating and so helpful. He really helped make our day amazing :)
Brandi & Alan
Good Evening Stan, We have spent the last two days running around with wedding wrap-up errands and have been reflecting on the big event itself. It was a total success! We didn't have the chance to say thank you to you in person, as we were hustled off for pictures in the Castle side of the school. You were and are, the perfect Officiant for us! You have made us feel comfortable and happy from the first meeting onwards, right to when we walked back down the aisle as a married couple. To put it plainly, you were excellent on the big day! You made us feel like we were just talking with you, while at the same time you kept everyone there engaged, entertained and happy. We are truly grateful to have been married by you. Our ceremony was exactly what we were hoping for and more. Thank you for everything! Brandi & Alan
Erin & Perry
Stan Yeo was very professional and very kind. He went out of his way to make our day very special and tailored our wedding to our needs.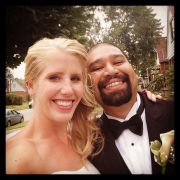 Jennifer & Craig
Stan Yeo exceeded our expectations. Many people commented on how personal his service was. He was able to keep a light mood, imparting humour and wisdom during the ceremony. Stan was always available and easy to communicate with through all stages of the planning process. He recommended some service styles, provided excellent suggestions, and allowed us to customize our service to meet our needs exactly. Thank you Stan for such an amazing job.
Zerena & Dale
Hello Stan, Dale and I would like to thank you so much for the wonderful wedding ceremony you have performed. We thoroughly enjoyed it. Even though I was in a daze I still remember some of it. lol My friends and families were also quiet impressed . So cheers and blessings and hope our path meets again. I will definitely recommend you.
Kristy and Ryan
We so appreciated everything you did for us on our special day!! Everything went perfectly and you were a great addition to our celebration :) Thank you again so much!
Mary and Dan
Thank you for a beautiful ceremony. Everyone in attendance remarked how perfect it was for us and the setting. Thank you for helping me remember my vows, I swear I knew them before I got up there! You helped make the day perfect! All the best, Mary and Dan