Sharon Norris
Sharon is a resident of Nepean in Ottawa, and her goal each day is to provide someone with a chuckle or to take a moment to just sit down and listen. Sharon creates a comfortable atmosphere, so couples can truly enjoy one of the biggest days of their life with only happy memories. Sharon loves to spend time with her family watching old movies, cooking, or on an outdoor walk with her dog Ella. She also enjoys her painting courses - a passion taken up a few years ago. Sharon has a B.A. Honours from Carleton University, B.A. Education from the University of Ottawa and a LLB from University of New Brunswick.
Request Sharon Norris
Areas Served
Ottawa, Ottawa West, Ottawa Centre, Ottawa East, Ottawa South, Nepean, Manotick
Reviews
Andrea & Thomas
Sharon Norris went way above and beyond our expectations for our special day. Sharon made sure to meet with us prior to our Wedding Day in order to get to know us as a couple to make the ceremony as individualized as possible. She made us feel comfortable with the 'layout' of the ceremony prior to, so that there were no surprises day of. Sharon's friendly, warm and extremely thoughtful personality is just what you'd hope for, in your Wedding Officiant. She made our ceremony flawless and I could not recommend her any more!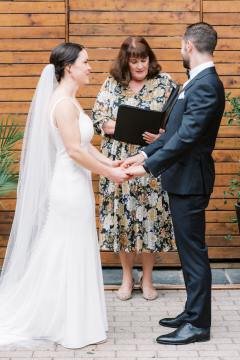 Alex & Anh
Sharon Norris was an excellent officiant! We absolutely loved working with her. She thoroughly and clearly explained the whole process and was very responsive throughout everything. Friendly, personable, funny, and patient! We felt at comfort and ease with her and would highly recommend her to anyone! Thank you so much, Sharon! October 2021
Josh & Lauren
Sharon was excellent and explained the whole process to Josh and I. She was funny, knowledgeable, and very helpful throughout the planning process. Sharon made us laugh and feel so comfortable. We would recommend her to anyone. August 2021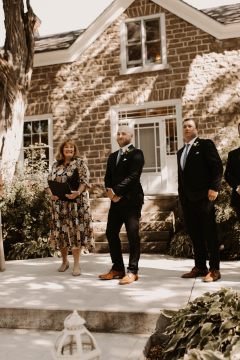 Claude & Veronique
Sharon Norris was wonderful. She was very personable and friendly, we would recommend her to other for sure! July 2020