Rose-Anne Partridge
Your wedding vows your way is Rose-Anne's goal for your special day. She is fluent in French and English, and conversational in both Spanish and Finnish. As a Canadian best-selling author and speaker, Rose-Anne is very experienced in front of audiences of any size. Growing up in Toronto and a graduate from the U of T with a B.A. Specialist in French, Rose-Anne loves playing golf, hiking, and exploring nature. She has also lived, worked, and travelled extensively where she was exposed to many cultures, languages, beliefs and religions.
Request Rose-Anne Partridge
Areas Served
Bracebridge, Gravenhurst, Huntsville
Reviews
Katie and Jill
Thank you so much for yesterday! It was a perfect ceremony! So much love and tears! We couldn't be happier. Katie and Jill
Katie & Jillian
Rose-Anne Partridge was awesome! She was so helpful, she responded to emails and any questions I had Very quickly. She made us feel as relaxed and calm as possible in the moments when we needed it most! We were very happy with her and would definitely be recommending her to others!
Meagan & Jeffrey
Rose-Anne Partridge was incredibly kind and patient. Our service was running behind and she came to see that everything was alright, before resuming her position as officiant.
Brian and Heather
Hi Rose-Anne, Heather and i want to thank you for making it such a special day for us. The ceremony was beautiful, not that Heather remembers much of if it, her emotions had consumed her completely.We appreciate the fact that you took the time to listen and understand what we wanted and how it made the day more memorable. Brian and Heather
Danielle & Krandon
Rose-Anne Partridge was awesome! Super friendly and well spoken. She definitely made our day the best it could possibly be.
Seb & Marc
Rose-Anne Partridgewas wonderful and crafted a beautiful ceremony with and for us. Thank you Rose-Anne!
Sydney & Lonnie
Rose Anne Partridge was amazing. Professional, kind, organized, pleasure to work with.
Ghislain & Alicia
Rose-Anne was wonderful to work with, she was very professional and spoke very well.
Hayley & Christopher
Rose-Anne Partridge exceeded all of our expectations, and did a truly beautiful job. August 25th, 2018
Christopher & Malissa
Rose-Anne was great! She was very helpful, professional and easy to work with. She made our wedding day very special and we would highly recommend her. Christopher & Malissa June 2019
Jonathan & Kayla
From the planning meeting to our special day, Rose-Anne's adventurous spirit and professionalism did not go unnoticed. Rose-Anne was very helpful and personalized our ceremony as we requested to fit our nautical theme. My hubby and I planned a rather ambitious and unconventional wedding on the shores of Georgian Bay. She braved the boat ride out to our intimate location and was able to deliver a heartfelt ceremony in front of 100+ family and friends. We are very blessed that Rose-Anne officiated our wedding! Thank you Rose-Anne! Jonathan & Kayla July 2019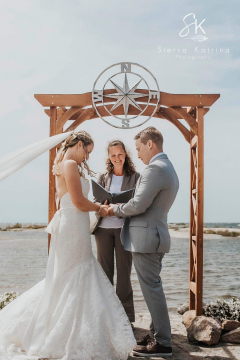 Jeremy & Kate
Rose-Anne Partridge was so helpful while planning the ceremony. She has a calm and kind demeanor and absolutely helped to make our wedding ceremony memorable. Jeremy & Kate July 2019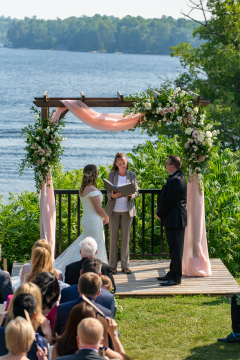 Nathan & Samantha
Rose-Anne Partridge to was wonderful! She is very well spoken and professional. Very understanding and considerate. We couldn't have been happier to have her marry us! Thank you! Nathan & Samantha August 2019
Kevin & Marilou
Rose-Anne Partridge was so great, friendly, professional and helpful during the whole process. She was prompt with her replies to any questions we had and adjusted the ceremony to our liking. Thank you for making the day special. Kevin & Marilou August 2019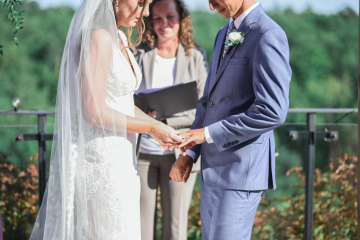 Jamie & Robin
Rose-Anne Partridge is a very nice person! She is easy to converse with, excellent planning powers, delivered a perfect ceremony and had no problems doing the ceremony on a pontoon boat! Thank you Rose-Anne for everything. Jamie & Robin August 2019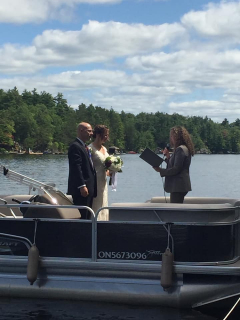 Wesley & Kirstin
Rose-Anne Partridge far surpassed our expectations! She was the perfect fit for our relaxed and low key ceremony, it was as if she fit right in with the family! She was impeccably organized before and during the ceremony, she did a wonderful job with her part as well as prompting my husband and I when we weren't quite sure what we were doing! If you are looking for a genuinely wonderful person to spearhead your day, Rose Anne is the best choice for you! Wesley & Kirstin August 2019