Robin Woollard
Robin is a great people person who has been conducting weddings since 2010. His philosophy is that it is your day and that it should be a fun, joyous and memorable experience for all involved. Robin is an outgoing, genial person with a keen sense of both fun and humour! He enjoys meeting people and has a caring nature. His voice and presence bring a flavour of both meaning and solemnity to the occasion. Talk with him and see if he is the one who will meet or exceed your expectations!
Request Robin Woollard
Areas Served
Meadowvale, Agerton, Milton, Drumquin, Omagh, Milton, Glenorchy, Glen Williams, Huttonville, Boyne, Kelso, Campbellville, Palermo, Bronte, Zimmermann, Lowville, Kilbride, Tansley, Mt. Nemo, Cedar Springs, Dundas, Flamboro, Center, Clapperson's Corners, Waterdown, Dundas, Aldershot, Burlington, Beach, Hamilton Beach, Hamilton, Cherry Beach, Stoney Creek, Halton Hills, Cambridge, Guelph, Waterloo, Kitchener
Reviews
Shane & Ami
Robin Woollard was very friendly, honorable, honest and funny. He did a great job and made the atmosphere very welcoming, warming and heartfelt. Thank you ! Shane & Ami March 2020
Shane & Ami
Robin Woollard was very friendly, honorable, honest and funny. He did a great job and made the atmosphere very welcoming, warming and heartfelt. Thank you ! Shane & Ami March 2020
Krista & Dave
Hi Robin, Krista and I wanted to thank you for the wonderful ceremony you performed for us. It was lovely and we both really enjoyed it. We also received many kind words from our guests who thought it was great. Thank you again for a memorable service. All the best to you and your wife. We will surely put in a kind word for you if any of our friends are due to be married. Sincerely, Krista & Dave
Jennifer and Paul
Thank you so much Robin - the wedding was absolutely perfect - like a fairytale dream come true :) Thank you for executing a wonderful ceremony - it was very special and we are so happy you were able to make it all official for us :) All the best, Jennifer and Paul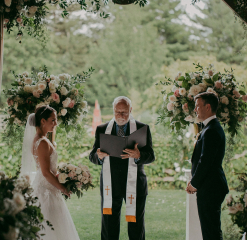 Kathleena and Shane
We just wanted to thank you so much for doing our ceremony. You were a smash hit with out families and our friends who thought the ceremony was amazing! They also loved your sense of humour. It definitely helped break the wedding tension since it is such a big day and can be so nerve wracking at points. Thank you so much again! Kathleena and Shane
Jenn and Mike
We cannot express the happiness you have brought us. Thank you for officiating our wedding, you helped us create a beautiful ceremony that we will always remember. We sincerely thank you for celebrating our joy and for being part of our official day! Jenn and Mike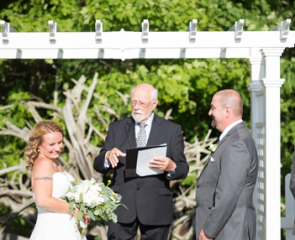 Paul & Jennifer
Robin Woollard was excellent. He was both poised and casual which allowed our rather intimate and formal wedding to be lightened up a little bit. He was quite funny too. He was excellent and we had many family/friends afterwards commenting on how lovely our officiant was. Well done and thank you for everything. We're so glad we chose you. Paul & Jennifer August 2019
Tara & Andy
Robin Woollard was beyond exceptional as an officiant. We cannot sing his praises enough. He was extremely helpful throughout the planning process with suggestions and even advised on how the paperwork needs to be processed moving forward. His wonderful sense of humour was spot on with ours. His suggestion for the "forging of the rings" was a huge hit (nothing like some pyrotechnics to keep things entertaining). He was very good at gauging the type of people my husband and I are, and in turn was able to cater the ceremony to fit with our personalities, which also matched that of our guests. Robin is a wonderful person, and is truly gifted as an officiant - regardless of the type of ceremony needed (religious or not). We would do it all over again as long as Robin was the one to seal the deal. Thank you so much, Robin. You are a wonderful officiant and we are truly grateful for making our day perfect. Tara & Andy July 2019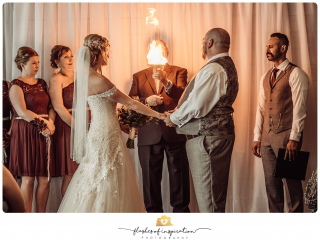 Sergio & Mariela
Robin Woollard made our ceremony very special, he went that extra mile to ensure he integrated our children and family in the ceremony. Robin also did research to add elements of our culture into the ceremony. Everyone was so touched, and for us the ceremony was a magical moment that we will not forget. Sergio & Mariela August 2019
Adrian & Sharon
Robin Woollard was amazing he went above our expectation. It wasn't a cookie cutter ceremony, thank you for everything Robin the day was perfect! Adrian & Sharon July 2019
Shawn & Kristi
We just wanted to take a minute to express our thanks to Mr. Robin Woollard. He was kind and very professional. He gave us all a few laughs and we felt very comfortable having him officiate our wedding! He accommodated our location and plans very well & we are thrilled with the way the day turned out. We would highly recommend him. Thank you Robin! Shawn & Kristi July 2019
Brian & Karen
Robin Woollard was amazing. He read us so well and got to understand us and who we are as a couple. We wanted humour in our ceremony and Robin delivered that perfectly. He kept everyone smiling and laughing through the ceremony and balanced it perfectly the importance of our marriage. Everyone enjoyed him and asked how we found him. We highly recommend Robin to everyone because we believe he is able to make any wedding ceremony memorable and enjoyable! Cheers to you Robin! Brian & Karen July 2019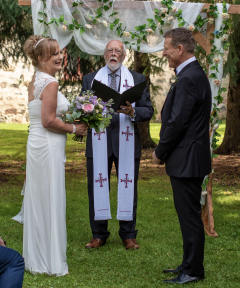 Sharon and Adrian
Hello Robin (Woollard), Thank you so much for your well wishes. I'm sure you hear this all the time but that was hands-down best wedding I have ever been a part and Robin you were a huge part of making it memorable. My guests can't stop talking about how phenomenal you made the ceremony. You brought out every emotion in all who attended - laughter, tears a spiritual connection and complete joy. We could not have been matched with a more appropriate officiant. Huge Thank you Robin for making our wedding day Epic💕 Sharon and Adrian. July 2019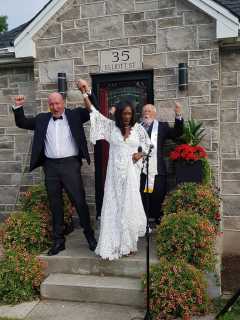 Sean & Shannon
Robin Woollard was amazing! His words were very powerful and he kept it short and sweet as we asked. He told a couple of jokes which kept the ceremony light hearted but was very professional as well. I will and have recommended him to my friends. Sean & Shannon July 2019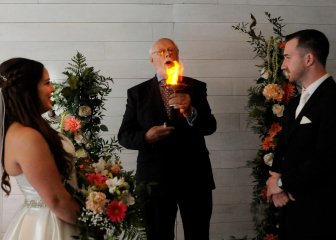 Lauren & David
Hi Robin, Thank you so much for doing our ceremony! We had many compliments on what a great job you did and we were so glad to be able to get it in before the rain started! We really appreciated that you added a light-hearted touch to our ceremony with your sense of humour but also conveyed the importance of the commitment we were making to each other. Thank you again for being a part of our day, Lauren & David
Rachel and Kyle
Hello from Jamaica! Kyle and I want to thank you again for the wonderful ceremony on Sunday, it really was a perfect day! We also wanted to pass on this photo for you from the ceremony from our photographer of Emily Jean Photography. I am glad you and Kyle convinced me of the re-forging ring ceremony. All the best, Rachel and Kyle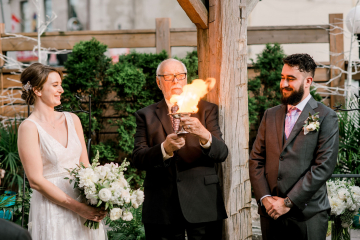 Andrew and Blaire
Robin! You were absolutely amazing. Our guests kept raving about how great you were, they loved your humour. Many guests commented on the Winnie the pooh skit! They thought it was very sweet, and they loved (so did we) how committed you were into the characters. Andrew and I had such a perfect day, and we're so glad we had you there to officiate for us ! Thank you so so so much. Much love, Mr and Mrs. Baklarz
Ann and Dan
Hi Robin: Wow! What a crazy wedding :) at least we knew it was going to be chaotic! You did an amazing job, we appreciated your ability to carry on through the madness-9 kids with 5 under 5. We did not give you an easy task :) Everyone commented on your wonderful job. It was perfect from start to finish.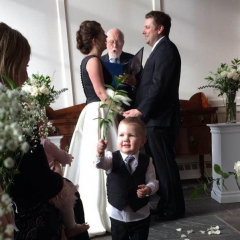 Megan and Gavin
Thank you so much for doing the best job of entertaining our guests & keeping the ceremony so fun & yet so meaningful! We have had so many compliments on our wedding ceremony, you were amazing! Thank you for that one-of-a-kind most memorable service! Megan and Gavin.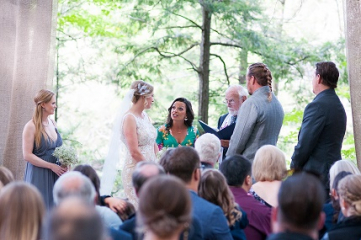 Andrew and Katie
Hi Robin, Thank you for your participation in the wedding on Monday! The guests (and ourselves) really liked the ceremony and appreciated your humour throughout. It was great! We're happy that you were able to be there and helped make the day so great for us.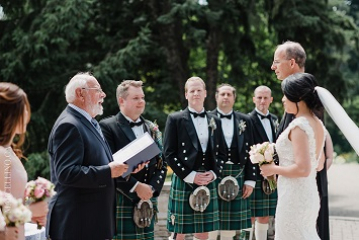 Kayla & Kyle
Robin Woollard did an amazing job with our wedding ceremony! His sense of humour really eased the nerves of my new husband and I. We have gotten so many compliments from our guests that we had one of the best wedding ceremonies they had ever seen...and even a few ask for his name for their upcoming nuptials. We cannot thank Robin enough for making our wedding day so memorable and special!! Kayla & Kyle Nov 2018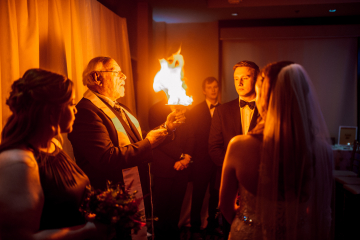 Art and Amanda
Let me start by saying thanks, from the both of us, for everything! I'm not even sure how many people have made comments about how awesome/funny/entertaining & goodlooking (I made the last one up) you were. I'll hold off on posting to your bio until we get pictures back from the photographer, but rest assured it will happen. The Piglet voice was, in my opinion, the star of the show. Thanks again, A&A
Jess and Greg
Thanks Robin! The ceremony was absolutely perfect and you received a lot of compliments! Wonderful working with you. Jess and Greg
Carley & Conan Wilson
Thank you again for such a lovely day, everyone loved our ceremony and thought you were just perfect! As did we, thank again.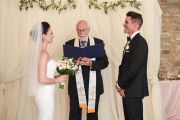 Kayla & Joseph
Most of the ceremonies that I have seen in my 70 odd years are somewhat dry and boring and pretty well all the same. Your ceremony had character, depth and was fun for all the guests as well as the bride and groom. I'm sure Kayla and Joey will never forget you, and the fantastic job you did for them Robin (Woollard). It was like you were part of their family. It was just, as Tina Turner sings in her song, "Simply The Best." Jeff McCargar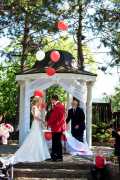 Carolyn and Jonathan
Hi Robin, I just wanted to send a big thank you for yesterday! Countless people came up to Jon and I throughout the night asking where we found you and telling us how incredible you were. We couldn't agree more! Thank you for making our day so special and for contributing to the best day of our lives! All the best,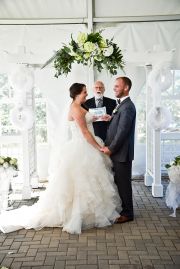 Dominica & Philippe
Dear Robin (Woollard), Thank you so much for making our wedding a memorable event! You provided the perfect balance of fun, laughs, formality, class, and romance. Our guests were in awe of our ceremony and were asking where we found you. The ceremony was perfect, and we wanted to let you know that we really appreciate everything you helped us with, from advice on how to make our ceremony unique, to picking out a reading, and answering all of our last minute questions at the rehearsal. We couldn't have asked for a better officiant. Dominica & Philippe Oct 27th, 2017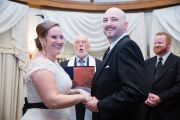 Suzy and Rob
Hi Robin! Thank you so much!! The ceremony was beautiful and we loved it! Our guests also loved it and said you were great. The fact that you married my sister and brother in law made it extra special for us and we look forward to a long and happy life together as husband and wife. Thank you again!!
Yana and Stephen
Dear Robin: We just wanted to send you a quick note to express our appreciation to you for creating such a warm and funny memorable wedding ceremony for us. It was the perfect balance of meaning and lighthearted, and it suited us exactly. Thank you so much for being a part of this most happy occasion in our lives.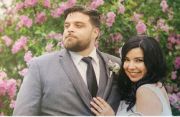 Carolyn and Terry
We really appreciated our wedding officient Robin Woollard and were very glad we chose him! He gave the ceremony elegance along with touches of subtle humour so that the day felt intimate and warm for everyone present. He asked for our preferences so that it was done perfectly to our style. Both his presence and lovely Shakespearean accent gave the wedding an air of timelessness. Thank you so much Robin for helping to make our special day wonderful!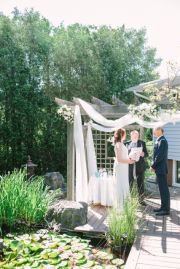 My husband and I from different faiths and wanted an officiant that was non-denominational and humorous. From the first phone conversation Robin made us feel very comfortable with him. When we met with him to go over the ceremony he had great suggestions on little ways to incorporate my Catholic faith and my husbands Jewish faith as well he had humor throughout. For the visual ceremony he recommended the champagne toss, which involved my father in law tossing a bottle of champagne (since we were on a beach it was non-alcoholic) to my husband and then he was to open it with the cork going over the guests. And which ever guest caught it was the next to get married. We loved this idea, however it did not go as planned....the cork popped off when my husband was taking off the wire protector, and went out into the lake...and a seagull caught it! Robin Woollard was great, when this happened he was just finishing explaining what this symbolized. He took it in stride and said...well I guess the Seagull is next to get married! Needless to say everyone was laughing and it was a hilarious fun moment in our wedding. We had so many guests comment on how great and different a ceremony it was, not the usual boring one, but hilarious. Which is exactly what we wanted! I would highly recommend Robin Woollard, he will make your wedding special and wonderful!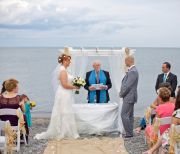 Luisa & Bruce
Hello Robin, You were amazing, the ceremony was absolutely perfect. Thank you for helping make our day so very special, we all enjoyed the afternoon together. I've attached a picture. Cheers Luisa & Bruce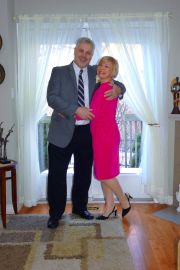 Sarah and Branden
Thank you Robin Woollard for such a beautiful day! We had so many of our guests complement the wedding ceremony and how much they loved it. It added a great unique touch to our special day. Including humour into our ceremony made the experience relaxing which helped calm both our nerves! We will definitely recommend Robin to anyone looking for a great Officiant! Sarah and Branden August 2017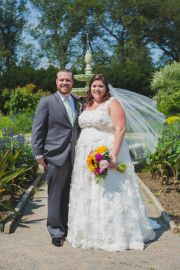 Nicole & Brian
Robin (Woollard) is an excellent officiant! His approach to planning our day was perfect even though we only planed days in advance of the date. Robin even adapted to last minute wedding plan changes on the fly. All of his recommendations, including wording for the ceremony were perfect and he did a professional and emotional yet at times humorous ceremony that exceeded our expectations. Thank you Robin for making our day more special than we had thought it could be!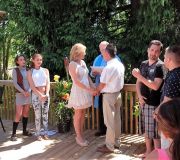 Jennifer & Grant
We had an almighty rainfall during our vows in our outdoor, un-tented, backyard wedding. Robin (Woollard) was fantastic. He went with the flow and handled the craziness better than could be expected. We still hear about how memorable our wedding day was. Thanks Robin, for an amazing job and an amazing ceremony. Jennifer & Grant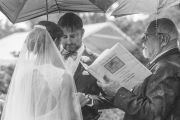 Didem and Ilya
Dear Robin, It truly meant a lot to Ilya and I that you officiated our wedding. You took the time to get to know us and as a result, our ceremony was perfect. We will always remember the kind words you said and how comfortable you made us feel on a day when we were already so excited and anxious. It was a fantastic day with an even more special ceremony. We can't thank you enough. You will always have a special place in our hearts. Kind Regards,
Elizabeth and Bruce
Thank you Robin. The day and weather we're perfect. Everyone enjoyed themselves but even more so, you started our ceremony and life as husband and wife. So many came to me with accolades of how wonderful a service it was and how you were amazing. And, yes you are! Thanks so much. The balloons were an added touch that many Wil remember. ..along with the wine and candle lighting. Thanks again for starting of our very memorable day and chapter in our lives.
Theresa & Roberto
Robin, Thank you so much for being a part of our special day! Everyone said that the ceremony was absolutely beautiful, and were complimenting you throughout the night. I can't imagine having chosen a different minister - you were definitely meant to marry us! Wishing you all the best, and thanking you again from the bottom of our hearts!
Victoria and Ash
Thank you so much Robin! !! You were the best part of our wedding ceremony by far! We were surprised no one dressed in our theme. It was still an amazing day!
Angela & Richard
You were amazing and made our day perfect!! I would recommend you to the world!!!!
Kelly & Adam
Robin Woollard exceeded our expectations! He was both professional and funny making our ceremony the absolute best it could be. We received many compliments on how beautiful our ceremony was and how well spoken Robin was. Thanks again!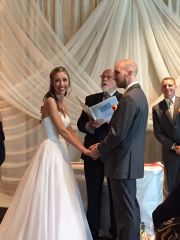 Christina and Peter
Robin you were absolutely wonderful!! Our guests raved about you, and we're all so excited by the service you provided! Thank you for being such an important part of.our most special day! As soon as we get photos we will absurdly be sure to share! Many blessings,
Anita and Joe
We want to thank you (Robin Woollard) for performing our ceremony. It was exactly what we wanted and more. Throughout the reception, many of the guests commented how much they enjoyed the ceremony and the humour you incorporated. Needless to say, Joe and I have highly recommended you and will continue to do so. Thank you again for being part of our day and our memories. With warmest regards, Anita and Joe
Monika & Jordan
Robin Woollard was always available to talk about the ceremony details, and did such an incredible job - everyone mentioned how great our officiant was, and asked where we got him, how we met him, etc. Everyone (including my now-husband and myself) just loved him! I will strongly recommend Robin and All Seasons to friends and family in the future, just amazing.
Nicola & Rob
Thank you so much for arranging Robin Woollard to be our officiant. He had exactly the personality we were looking for. His laid back, humorous (yet also sincere when needed) approach was perfect!
Shannon & Jeremy
Robin Woollard exceeded our expectations. We received tons of great feedback from our guests about Robin throughout the night - everyone loved him! The office staff were very friendly and helpful.I can't say enough how great Robin was throughout the entire process - from the initial meeting to the kind email he sent us the day after the ceremony. Thank you!!
Sonja and James
Thanks for your kind words and picture. Your wedding really was a blast - just like the kiss in the photo! All best wishes for the future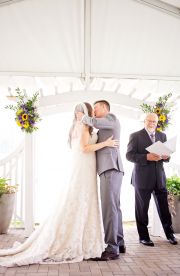 Nadine & Michael
Robin Woollard exceeded our expectations. His ceremony was witty and enjoyed by all. From our first meeting where he provided us with a multitude of choices to the day of our wedding when he helped to soothe my nerves, Robin was professional, kind and caring. I would not hesitate to recommend him (and have been soon so already to some of my engaged friends!). Robin helped us create the wedding of our dreams. It was the perfect day!!!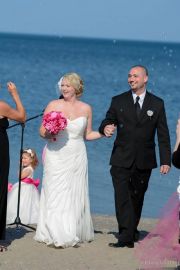 Maria & Tim
Hi Mr. Woollard! Tim and I would like to thank you from the bottom of our hearts for playing such an important roll on our special day. It meant the world to us that such an amazing man like your self married us. We honestly couldn't have picked a better man! You made our day so special, All of our guests were complementing you and how you did such an amazing job, made everyone feel at ease.and were very funny!!! Thank you so much once again, and Tim says thank you for remembering his birthday! We will be sending you a picture as soon as we receive them!! Lots of Love Maria & Tim
Abel and Yien
Thank you for everything. Even though there was a delay, and we both felt bad and very anxious, you did a great job keeping us calm. We couldn't have asked for more. We appreciate everything you did!
Sheila & Matthew
Robin Woollard was exceptional! We were so pleased to have him be a part of our wedding!. All of our guests thought he was incredibly genuine and had a great sense of humor!!. He was able to make all of our families and friends feel special and at ease. Amazing ceremony! We would recommend him to anyone!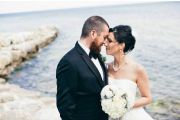 Rika & Tak
Hi Robin, We would like to take this opportunity and thank you very much for your service on the day. Our families were very happy that we had you as our officiant, and they thought the ceremony was beautiful executed. Thank you so much, and enjoy the rest of the summer!
Gord & Jan
We thoroughly enjoyed working with Robin Woollad as his sense of humour and professionalism came shining through! He helped us pull off a fun surprise for our family and friends and we are so grateful.
Kristina & Greg
I just wanted to personally thank you (Robin Woollard) for the wonderful part you played in our wedding day. We could not thank you enough. You were so kind and patient throughout the process. You were always available and quick to respond to my questions and we always maintained that we were on the same page, which really helped with my need for organization. Your jolly personality really made the difference at the ceremony. We had guests coming to us and our family saying how much they liked you and how funny they thought you were. Thank you again, you were a pleasure to work with!
Jodi and Steve
Thank you Robin. You were fantastic! Steve and I really appreciated how you prepared our ceremony and your enthusiasm. All of our guest really enjoyed the service and thought you were great. Again, thank you so very much for being a part of our very special day.
Emanuel & Olivia
Robin Woollard was beyond our expectations - he was professional and made it very easy for us to plan the ceremony - very knowledgeable. He also recommended an option for our ceremony which was a complete success. We would definitely recommend All Seasons Weddings - and it's all because of Robin.
Andreas & Lei
In addition to a wonderful ceremony, Robin Woollard did so much more to help us (music suggestions, helping us with ordering the chairs ect.). Just amazing. Robin was a wonderful officiant - from the first talk (which he did over skype in the early morning, as we were in China and Austria) to the prep meeting with an excellent briefing to the great ceremony, with humour, passion and... patience. Everybody loved his speech.