Roben Goodfellow
"I've been with All Seasons since 2001. Through them (and some time with city hall when the same sex ruling came through in 2003) I've conducted over 400 weddings. I feel fortunate and privileged to be able to help people have the wedding day they want as much as possible, without compromise or regret. I have often helped couples blend faiths into a spiritual language that everyone can access and enjoy. I am extremely proud of Canada and the ability we have here to marry who we chose, based on our genuine love and respect for another human being and our belief that life is sweeter with them. I have been married for almost ten years, and I wouldn't trade a moment - it's an adventure as well as an institution, and I would be honoured if you select me to help welcome you into it."
Request Roben Goodfellow
Areas Served
Toronto downtown
Reviews
Jamie & Allison
Roben Goodfellow greatly exceeded our expectations. In our first meeting she took notes of details in a manner that were unnoticed but were presented during our ceremony as a true reflection of us as a couple, and a family. She had a great sense of humor and care with our special flower girl Daisy (our 1 yr old puppy). We would definitely recommend Roben to anyone. Her true thoughtfulness and care radiated throughout our wedding.Thanks to Roben for making our day so special! Jamie & Allison May 2019
Leslie & Stuart
Roben Goodfellow was absolutely fantastic. From the preparation stages through the wedding day, she was so helpful, supportive and gave me a great deal of confidence that all would go well. Everything did end up going fabulously, many of the guests made specific comments about the skills of the officiant, the projection of her voice and the emotion with which she conducted the ceremony. We are so grateful for Roben's preparation and delivery. Thank you!
Christopher and Robb
From the beginning, Roben was organized and helpful and friendly. She dealt with some of our last minute nerves concerning the text and assisted us in modifying it as necessary, even if it took ten drafts. She welcomed us into her home for our planning meeting, which became a wonderfully informal chat over tea about ourselves and our impending nuptials. Then, on the day, she showed up early, accidentally wearing our colour palette (perfect!) and with a big grin on her face. Roben puts everyone at ease and makes the act of getting married a joyous and happy occasion. We appreciated the extra effort she was willing to give us and her laughter when she realized we were playing music from the Muppets. She will always be a wonderful What Not to us and we are so glad that we chose Roben to unite us.
Roupen & Tara
With less than a week's notice, Roben (Goodfellow) worked with us to create the perfect speech for our wedding. She communicated with us almost daily to make sure things were in order and as we wanted. She spoke wonderfully at the ceremony, and really brought delight to the occasion. She even went above and beyond the call by lying down on a very dirty floor (Allan Gardens Conservatory) to take some more creative photos for us! All in all, we have to say that she was super amazing awesome and we'd recommend her to everyone! Roupen & Tara 02/14/2016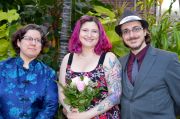 Adam & Brad
Roben Goodfellow was very professional, and gave us advice about many aspects of the wedding, that my partner and I would have never thought of. Roben was great, she was just witty enough to break the tension in the room. We opted for quite a casual and small wedding, and we have gotten so many comments about her service.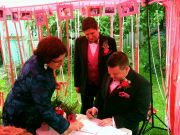 Brett & Zachary
Roben Goodfellow exceeded our expectations. Thoroughly professional, warm and accommodating, she was absolutely perfect. I would highly recommend Roben to anyone looking for a wedding officiant.
Gesa & Phil
Roben Goodfellow was excellent we wanted a simple ceremony and Roben followed our wishes to the letter. We were very happy with her.
Matthew & Jasmine
Roben Goodfellow was wonderful. She gave us guidance when we needed it and was also sensitive to what we wanted in our ceremony. She helped us to realize our day and we couldnt be happier.
Lisa & Glenn
Roben Goodfellow was excellent, the perfect mix of professional, traditional and fun that we were looking for, she really helped make our day special.
Nalya & David
Roben Goodfellow was AMAZING!! The ceremony was everything we could have ever hoped for and that was because of her wonderfully light, fun, welcoming nature that instantly put us at ease. It absolutely reflected who we are and our relashionship. (We have gotten endless compliments on the ceremony she conducted.) It was awesome! I am so happy we found her! Your company made this process very very easy. We would absolutely refer you to others.