Richard Varty
Richard, who is an Appointed Minister, lives in Barrie and is no stranger to the commitment and passion necessary to help create your perfect same-sex or spiritual wedding ceremony. It's your special day and you should enjoy it any way you wish. Richard is an avid hobbyist; enjoying theatre, teaching improvisation to the young and young at heart, as well as a board game aficionado at the local café. Every day invites new adventures that Richard greets with a calm, friendly, and skillful manner. Richard is a diligent and amicable person, who will ensure your day is as momentous and exquisite as you wish.
Request Richard Varty
Areas Served
Barrie, Baxter, Bradford, Innisfil, Orillia, Thornton, Egbert
Reviews
Nicole & Sheanna
Richard Varty was very kind, he listen to what we wanted and made the day great! Thank you so much for all your help! Nicole & Sheanna October 2020
Reese & Briana
Richard Varty was an excellent officiant. He worked with us to create the ceremony we wanted and on the day of was a wonderful addition to our group. He was professional, on time, and an excellent speaker. We would recommend him to anyone looking for an officiant for their special day .We had quite a bit of change with our wedding, having the large wedding cancelled due to Covid-19, and switching to a small, 5 person ceremony at a different location. The office was helpful in finding us an officiant for our new venue and coordinating so that the transition was smooth. What was very stressful was made much easier working with all seasons. Reese & Briana May 2020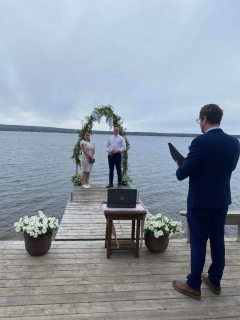 Ashley & Katie
Richard was absolutely great. He was very accommodating of what we wanted for our ceremony, and was helpful in tweaking it in a way that made it special and meaningful to us. He was very easy to get along with and made the whole process feel easy and comfortable. He was able to roll with the ceremony when my wife and I kept screwing up the words and laughing through our vows, and made the whole thing come together beautifully. I would definitely recommend Richard. September, 2018
Olivia & Paul
Richard Varty was the perfect officiant for us. He was punctual and professional. We both felt relaxed as he took care of everything in the ceremony start to finish. Richard has a grace to him that makes the job look easy, and we know it's not easy - it's an important job. He gave us the perfect ceremony, showing the level of importance and significance that our marriage has, but also keeping things light - he's a funny guy! After the wedding, he sent off our paperwork and kept us informed. We'd recommend him to anyone else being married. September, 2018
Kayla & Ryan
Richard Varty was great and so easy to work with. He completely understood our vision for our wedding and delivered the ceremony exactly as we had hoped. July, 2018
Matt & Pam
Richard Varty was GREAT. Highly recommended!! Really enjoyed working with him. July, 2018
Don & Peter
Peter and I would like to thank you for your great service at All Seasons Weddings. You provided outstanding customer service on such a short time frame. Richard Varty was amazing, professional, and did an excellent job performing the ceremony. We could not be happier with the quality of service received from this company. Again, many thanks.
Corinne & Sean
Richard Varty was an amazing officiant and made the process easy! He was easy going and made sure that everything was all set. He also emailed back very quick and efficiently which was a great thing!
Mariah & Bryan
Richard Varty was amazing and was so accommodating to our request to the way we wanted the service to go. With people like Richard we would definitely recommend All Seasons!
Amy & Tim
Richard Varty was friendly, helpful, and professional. He provided us a short and sweet ceremony just as we had asked. He made the process easy for us to follow. We would highly recommend Richard!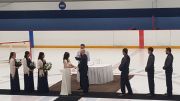 Danielle & Joshua
Richard Varty is kind, attentive, respectful and lighthearted. His energy was exactly what we needed on our special day - and he did everything he could to make sure our ceremony was personal and exactly the way we wanted it.
Robert & Julie
Richard Varty did not just meet our expectations, he exceeded them! He was very organized and helpful. Richard was also very flexable with the ceremony, adding and taking away things as they were needed.
Holly & Brady
Richard Varty did a great job. He was very easy to talk to and performed the ceremony exactly how we discussed. I would definitely recommend him to any of our friends or family who are wanting to get married.
Miranda & Matthew
We would highly recommend Richard Varty to anybody we know getting married in the future. He was very friendly and fun which made him a pleasure to work with!