Peter Fortier
Peter is an award-winning wedding officiant. He says: 'It would be my absolute pleasure to be your wedding officiant for one of the most important milestones you will experience in your life. My 37 years of experience in the Canadian Military has given me the opportunity to grow and experience a wide variety of communities. This has given me the ability to relate to many different cultures. My wife Marie and I have been married for 43 years and have lived in Kanata for over 20 years. I am an active volunteer within my community and an advocate for our youth. During my free time I enjoy swimming, cycling and most of all taking long hikes with Maggie and Rambo, our golden retrievers. I am a caring and compassionate individual who will work closely with you to ensure a positive experience on your special day." Peter is open to any and all types of ceremonies and theme weddings. Take note! Peter is much in demand.
Request Peter Fortier
Areas Served
Munster, Orleans, Kanata, Winchester, Chesterville, Almonte, Carleton Place, Manor Park, Downtown Ottawa, Barhaven, Stittsville, Rockland, Casselman, Nepean, Ottawa Central, Ottawa West, Ottawa East, Ottawa South, Manotick, Metcalfe, Gloucester, Cumberland, Osgoode, Marlborough, North Gower, Huntley, Bells Corners, Blackburn Hamlet, Morgan's Grant, Riverside, Riverside South, Greely, Osgoode.
Reviews
Daniel & Briana
Peter Fortier was was amazing!!! My husband and I were thrilled with how he officiated our wedding. He did an incredible job! He took the time to meet with us, get to know us and create a ceremony that was specific to our wants. He was very well spoken, dressed the part and had the crowd laughing here and there which is what we wanted! :) We immediately clicked when my husband and I first met Peter and appreciate his hard work ethic and care that he put into making our day so special. Thank you so much Peter, you are amazing at what you do and Dan and I are forever grateful!! October 2022
Vladimir & Anna
Peter Fortier was absolutely great. He made our ceremony very elegant and unforgettable. October 2022
Simon & Lynsey
Peter Fortier Peter went above our expectations. He was friendly, funny, and professional. He made me feel at ease when I fumbled my vows and through out the ceremony. I will definitely recommend Peter and All-Seasons to anyone that will be getting married. Thank you so much for everything. September 2022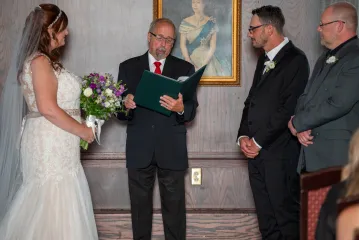 Kelly & Josh
Peter Fortier was so friendly, kind, efficient, prepared, easy to communicate with! At our meeting, he was very friendly and chatted, a great guy! And did a wondering job at our wedding. September 2022
Shawn & Peggy
Peter Fortier was absolutely fabulous! In every meeting and discussion he was excellent. One the day of he was perfect! July 2022
Peggy & Shawn
Peter Fortier made our wedding ceremony absolutely perfect. He listened to all our requests and made great suggestions to help us as well. He came completely prepared and immediately made us at ease. It truly was a pleasure to meet him and work with him. We would 100% recommend him to anyone. Thank you so much Peter for making our day so special for us. July 2022
Taylor & Samantha
We needed an officiant in a pinch! All Seasons was super helpful and sent us Peter Fortier and he was able to assist us with only 5 days notice!!! Our scheduled officiant could not be there, and we did not think to have a backup, so the wonderfully written ceremony provided by All Seasons was perfect for us. As was Peter Fortier. Thank you!! June 2022
Emily & Joshua
Peter Fortier was very well spoken, had some moments of comic relief, and overall was a great experience to work with. September 2021
Whitney & Devon
Peter Fortier was knowledgeable, funny, engaging, and listen to all of our concerns and feedback in regard to our wedding ceremony. We wanted quick and easy and he delivered! I was very nervous and missed a few lines and he calmly helped me out by quietly repeating them so I didn't look silly. We absolutely will and have referred Peter to people looking for an officiant. Thank you Peter for all of your help and helping us finally make it to the big day! Whitney & Devon August 2021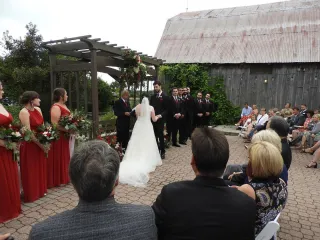 Roger & Libby
Peter Fortier was amazing! His pleasant demeanor and easy going nature made us feel relaxed. He was amazing and I would highly recommend him!! He even included my grandson in a very meaningful way. Roger & Libby April 2021
Broc & Brittany
Peter Fortier was fantastic! Our ceremony was exactly how we imagined it to be. Excellent communication, well spoken and overall great to work with. Broc & Brittany September 2020
Patrick & Leslie
Our Wedding was beautiful and we didn't encounter one snag. It was held at the Mill of Kintail in Almonte Ontario which was a perfect venue. Peter Fortier met us there and was very organized, well spoken and threw in a few laughs too here and there! We would highly recommend him! Patrick & Leslie August 2019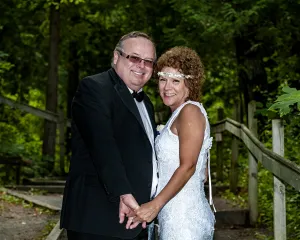 Barkley & Nathalie
Peter Fortier was beyond amazing from beginning to end! Thank you for making the day memorable. Barkley & Nathalie June 2019
Natasha and Ryan
Peter Fortier officiated our wedding on May 25th at the Brookstreet Hotel and he was excellent. Leading up to the wedding, he stayed in contact with us and met with us also thoroughly went over the ceremony to made sure to include everything we wanted. I would highly recommend him if your looking for an officiant in Kanata/Ottawa! Thank you again Peter! Natasha and Ryan May 2019
Shannon & Jeffery
Peter Fortier went above our expectations. We got married in Ontario even though we are living in Alberta and it made it challenging meeting up with everyone for the wedding. He was more than able to make our meetings work around our visits and his email correspondence was always prompt and pleasant. We loved that no matter the situation, that an officiant would be there to cover the day in the event of an emergency and that they would have a copy of the ceremony that we drafted. It was such a great stress relief knowing that. I cannot say enough about our interaction with Peter. His personality and sense of humour matched perfectly with ours and gave our wedding day that extra little touch it needed. Even with the lovely weather (torrential downpour!) he was able to adjust on the fly and make our day amazing. Highly recommend him to anyone.
Kristen & Scott
Everything was fantastic! Peter Fortier did an amazing job. And the office staff was just as helpful.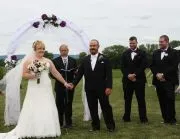 Lauren & Matt
Peter Fortier was very professional and pleasant to work with as we planned our ceremony. Very impressed! He was very personable and informative with ceremony suggestions - the little things that we may have forgotten to consider
Jessica & Christopher
Thank you Peter for a wonderfully delivered ceremony. The fact that we were able to collaborate with you on the text really made our day special.
Shanda & Travis
Peter Fortier was very helpful and made accommodations to fit all our requests. The whole process was painless, which is what every bride needs.
Serge & Ragheda
Peter Fortier was great. He made us feel comfortable and relaxed. Coached us through everything, made us laugh and enjoy this wonderful time.
Dominik & Sylvie
Peter Fortier is a very nice man. He made us laugh and comfortable. All of our expectations about the ceremony was filled with joy and happiness. It what not just a 5 minutes ceremony but 30 minutes of laughter and fun!
Lisa & Michael
Peter Fortier was great! We met up with him for coffee a few weeks before our wedding and his questions were very thoughtful and thorough. He was on time and looked great for the wedding :) My father and I arrived about 10 minutes earlier than anticipated and Peter didn't miss a beat! Also, Peter was great with our 7 year old Niece who was our impromptu ring bearer. Our only complaint would be that he didn't stay for a glass of champagne!! (Just kidding) - Thanks so much Peter!
Rachael & Kyle
Peter Fortier went over and above any expectations. Absolutely fabulous!
Yvonne & Rhys
Peter Fortier is a great officiant! We basically wrote the entire ceremony telling him what to say when. This changed his outline significantly but he was more than happy to do what was requested. He was extremely friendly and easy to work with. We would certainly recommend Peter to others!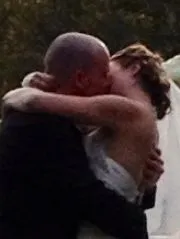 Linda & James
Peter Fortier is an excellent officiant! He used humor to lighten the mood and help us relax and enjoy the ceremony.
Chadrick & Meaghan
Peter Fortier was very helpful and patient with us. Much appreciated. He was wonderful! Peter put a nice touch on our already perfect day!