Naomi Tyrrell
Naomi who lives in Scarborough but also serves downtown Toronto is an wonderful wedding officiant and is comfortable in any wedding ceremony situation. Before coming to All Seasons in 2007 she was a Unitarian lay-Chaplain for six years. She enjoys an international career as a mime, mask, and clown performer and arts/educator. In her private life she also loves to sing and is an avid bird watcher! Naomi's warm personality and love of ceremony make people feel comfortable and relaxed as she shares in these beautiful wedding ceremonies of love and joy.
Request Naomi Tyrrell
Areas Served
East York, Scarborough, Toronto, Etobicoke, Richmond Hill
Reviews
Arsalan & Marjan
Special thanks to Ms. Naomi Tyrrell. She's has a nice personality and demeanor with beautiful smile. She is so friendly and my wife and I were really happy to have her in our wedding ceremony. We just regret that we forgot to ask her to take a picture with us on that day. We were so excited and that's why we lost that chance. I strongly recommend her to friends for prospect weddings. Cheers! Arsalan & Marjan November 2020
Dean & Teresa
Naomi Tyrrell was a great officiant! She fully embraced our Hallowe'en themed wedding, did an excellent job of the ceremony and has a wonderful demeanor and voice! Dean & Teresa October 2020
Sharmin and Tomal
Hello Naomi, Thank you so much for the wonderful wedding. We were really happy to get your service and commitment. Your apartment and park are so beautiful. Kind regards, Sharmin and Tomal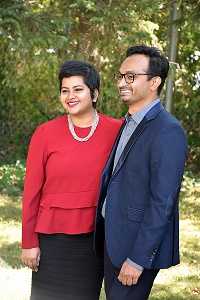 Patrick & Gimena
Naomi Tyrrell was amazing! She was very friendly and approachable. The ceremony she performed was beautiful. I'm very happy with it! She was always open to any comments and suggestions prior to the ceremony. She contacted me and explained how the ceremony would be. She made our special day very meaningful. Patrick & Gimena February 2020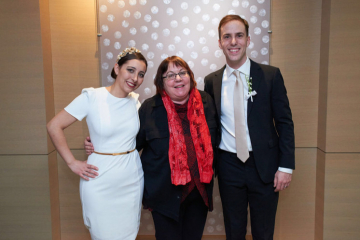 Alexander & Maya
Naomi Tyrrell was amazing! We felt very comfortable with Naomi as she was very kind and supportive from beginning to end. We cannot say enough how Naomi made us feel at ease and comfortable. Thank you for everything our ceremony was beautiful! Alexander & Maya November 2019
Ese & Steve
Hi Naomi, Thank you so much for being our officiant. You are amazing and everyone said nice things about you. Having you marry us was one of the best decisions we made regarding this ceremony!. We will share the photo as soon as we have it. We sincerely appreciate your best wishes for our union. December 2018.
Joey & Frank
Dear Naomi Tyrrell, Thank you for making us official! And thank you for supporting and guiding us so that we could have the wedding we wanted. It was truly special. We so appreciate the openness and generosity with which you approached working with us. Your insight and expertise were invaluable, and I know Morgan felt much more comfortable performing the ceremony after a chance to pick your brain.
Holden & Laura
Naomi Tyrrell was very friendly and extremely professional. Would highly recommend her to anyone looking for an Officiant. She went above and beyond for our Ceremony on our wedding day and was extremely flexible with any changes we wanted to make. The office staff was very helpful in helping us book Naomi for the wedding and making sure we had what we needed.
Jeffrey & Nicholas
Naomi Tyrrell was FABULOUS And the turn around time for replies was very impressive.Naomi was amazing and we are so happy that she was able to be the officiant for our wedding. She was very accommodating and super easy to deal with. An absolute pleasure!
Natalie and Matt
Thank you so much. You did a fantastic job and really managed to pinpoint the feel we were looking for during our ceremony. Everybody was saying how well you ran the ceremony and how nicely you fit into the group! :) We had such a great time. We couldn't have asked for more! Thanks again, Natalie and Matt
Katie and Dave
Hey Naomi, I wanted to reach out and thank you so much for taking part in mine and Dave's special day. We loved having you there and really enjoyed the ceremony, and we're sorry we weren't able to say thanks and goodbye in person. From the moment we met you, we knew you were the perfect person to conduct the ceremony, and I hope you enjoyed yourself as much as we did. Also, I'm not sure if Dave mentioned before the ceremony that the kids were handing over the rings or that we had to change my entrance plan, but you handled those last -minute changes wonderfully either way (And, let's not forget my nervous excitement about the rings and the switch of the ring exchange! haha) We got nothing but compliments about the ceremony, and I'd love to post a review for you. So please let me know how to do that :) In the meantime, here are a few photos of the ceremony. When I get some professional ones, I can include those with the review.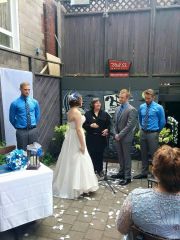 Jenia & BJ
Naomi Tyrrell was fantastic! She was exceptionally helpful in email correspondence and during the planning meeting. We knew exactly what we needed to do and what Naomi required on the day of. We've gotten lots of compliments on our ceremony and Naomi was a huge part of its success.
Katie & David
Naomi Tyrrell exceeded our expectations. She was flexible with timing, and was always very welcoming and supportive. She also helped us with some details we'd forgotten about since we had a DIY wedding. Any couple would be lucky to have her at their wedding. The service was great, easy to use and affordable, and made our day and planning more fun.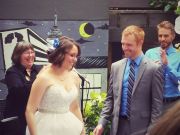 Jennalee & Fraser
Naomi Tyrrell was incredible. Perfect spirit for our quirky, little ceremony.
Jennifer & Gordon
Naomi Tyrrell was all we could ask for and more. She was warm and so present at the ceremony. She has such a great laugh and made us feel so special on our favourite day. She came recommended by friends who also used your services and we will recommend her in turn without hesitation!
Kelly & Mark
Naomi Tyrrell was wonderful!! We wanted a mix of playful and serious for our ceremony and she certainly fit the bill. We couldn't have been happier :)
David & Suelen
We appreciate Naomi Tyrrell's guidance and enlightenment as we planned our Wedding Day. It was a pleasure as we together, created the words that inspired our guests and blessed Us as a couple during our ceremony. More than just words, Naomi's delivery added to the greater meaning of what marriage is all about. She was very good about involving our children with the ceremony. We are very thankful that our friends recommended Naomi Tyrrell and All Seasons Weddings to us !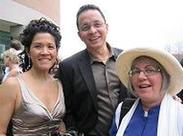 Kathryn & Drew
Naomi Tyrell was amazing. From the moment we met her for coffee to when she announced our marriage to our friends and family, we felt so grateful that she was part of our day. She helped us to incorporate the details we wanted to include in the ceremony and offered perfect solutions to fill in the pieces where we were less decided. The ceremony was exactly what we wanted! You cant miss with Naomi Teryll.