Mimi Lee, B.Sc (Waterloo)
Mimi lives in Markham, coming from Hong Kong to Canada in 1987. Mimi is fluent in Cantonese and English, and communicates well in Mandarin. She is open to all types of wedding ceremonies. Mimi is a single mom and she looks forward to witness the formation and union of new families. She holds a Bachelor of Science degree from the University of Waterloo, as well as two designations in the financial industry. With a background as a financial adviser, Mimi has worked with lots of young couples from a variety of different backgrounds. She also has lots of contacts who can help you to plan your wedding. It will be an honour to serve you on your big day.
Request Mimi Lee
Areas Served
Toronto, GTA, Markham, Richmond Hill, Thornhill, King City, Ajax, Pickering, Whitby, Oshawa
Reviews
Mary & Michael
Mimi Lee was very responsive. We would definitely recommend her. Mary & Michael July 2021
Jimmy & Eva
Mimi Lee was great. She was on time, and very professional. Jimmy & Eva May 2021
Marco & Hansol
Mimi Lee was well prepared, professional, and she helped us with everything we needed. We had a flawless wedding. Marco & Hansol July 2020
Greg & Rachel
Mimi Lee was very helpful and professional. She did a great job with us and helped us have a responsible wedding. Greg & Rachel Dec 2020
Peter & Kai
Mimi Lee was very nice and helpful. Let us know what to expect and what to do. Peter and Kai October 2020
Kin and Lee
Mimi was communicative, helpful and provided us with excellent service. Will definitely refer her to friends and colleagues. Thank you so much Kin and Lee
Carter & Janet
Mimi Lee was very professional and she did a great job delivering our ceremony in both English and Cantonese! Thank you Mimi ! Carter & Janet August 2020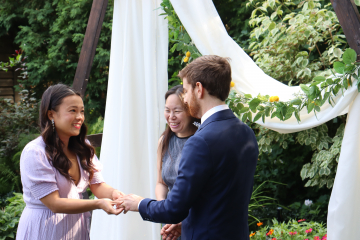 Jonathan & Christina
Mimi Lee was amazing! Super glad she was able to help officiate our wedding on a very last minute notice. Jonathan & Christina March 2020
Edmund & Teresa
Mimi Lee was friendly and it was detail oriented, professional service. Quick responses with detailed information. Great experience!