Meredith Kennedy, B.Ed
Meredith is well known and respected in Newcastle, Lindsay, Peterborough, and surrounding communities as a successful business person, teacher and music director. She has her B.A. from Brock and her B.Ed degree from Nipissing. Meredith is a very experienced wedding officiant and in great demand. In her spare time, Meredith enjoys oil painting and spending time with her three Labrador retrievers. She is very much looking forward to meeting with you and planning your memorable day.
Request Meredith Kennedy
Areas Served
Peterborough, Millbrook, Newcastle, Bowmanville, Orono, Omemee, Bethany, Norwood, Keene, Cobourg, Bridgenorth, Lindsay, Port Hope, Garden Hill, Ennismore, Pontypool, Janetville
Reviews
Dylan & Deanna
Dylan and I want to thank Meredith Kennedy for making our wedding day so special! The ceremony was exactly what we had envisioned and we couldn't be happier with how the whole day went. Thanks again! Dylan & Deanna October 2019
Janessa & Lucas
Meredith Kennedy surpassed our expectations. She was so friendly and personable, she made us feel at ease from the first meeting. She was also so sweet and offered to print my vows for me so I didn't have to figure out how to carry them down the aisle with me. All of our guests enjoyed our ceremony and thought she did a beautiful job. She had my father in law in tears! We absolutely loved her and would certainly recommend her to anyone!
Corinne & Bob
Awesome Lady! I would recommend Meredith to anyone. She is very easy going - great sense of humour and was a perfect fit for our day!
William & Amanda
Meredith Kennedy was absolutely fantastic! When a problem arose on the day of the wedding she was ready with solutions. And as the groom, she managed to keep me calm and at ease as I waited for my bride to come down the aisle. The ceremony itself was beautiful, tailored to our specific needs, and didn't last too long allowing our guests to get on with the drinking and dancing.
Amanda & Ian
Meredith Kennedy was wonderful. Our family really liked her. I have already referred your service to a few friends that are getting married.
Ashley & Jeremy
Meredith Kennedy went beyond our expectations, she accommodated our requests and gave her input to help us create a beautiful ceremony that received a number of compliments. Our wedding day was perfect and Meredith had a huge hand in that happening. Thanks so much to you all for everything!
Brooke & John
Meredith Kennedy not only met our expectations but well exceeded them. She was wonderful and we are so very happy with the service she provided. We can't say enough about what an essential and amazing role Meredith played on our wedding day! We had many guests comment about how wonderful she was and how her style of officiating really captured the energy and feeling of wedding we were hoping to have. Someone said: it was the perfect combination of elegant, relaxed and genuine and it totally reflected who my husband and I are as people. I honestly can't say enough about how awesome that ceremony felt. I felt so present and happy and we both commented about what a calming presence Meredith was. Also when my husband got a little choked up and forgot his lines Meredith saved the day big time and we both so appreciate how she so delicately handled that! In all the pictures from the ceremony Meredith has the most genuine smile and expressions, you can see she loves what she does and is so good at it too! We are so thrilled to have had her be a part of our wedding day. Thank you Meredith and thank you All Seasons!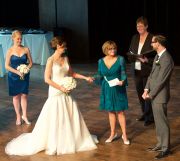 Madeline & Robin
Meredith Kennedy was wonderful! She had a calming presence, a strong and clear voice, and a good cadence. She spoke clearly and added a little humour to the ceremony. I really felt like it was just me, my husband, and her. It was magnificent!!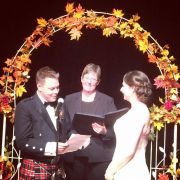 Joie & Ross
Meredith Kennedy was excellent. Thank you!
Alida & Brendan
Meredith Kennedy was amazing! She took care of everything and we had no worries at all. She was funny and charming and she set the perfect tone for our wedding. We'll definitely be recommending her to friends and family.
Laura & James
Meredith Kennedy was great and made us feel less nervous during the ceremony. She was friendly, laidback, exactly what we wanted for our ceremony. Was very impressed.
Amber & Marc
Meredith Kennedy more than met our expectations. She was absolutely wonderful and we are so pleased as to how well matched she was to us and our wedding ceremony. She was so laid back and her presence was very calming. The office was always ready to answer all and any of my questions. They were always very patient. My main contact was Natasha and she was absolutely fantastic! We are more than pleased with your services and would highly recommend you and Meredith.