Melissa Warner
Melissa was previously voted the 'Best Wedding Officiant in Niagara Falls and District' at the prestigious Wedding Industry Experts Awards. She is not only a great wedding officiant but an experienced wedding coordinator that truly understands that your wedding day is one of the most important days of your life. She loves people and weddings and she brings her joy and enthusiasm to each ceremony. Melissa is open minded, very approachable, and is entirely comfortable performing ceremonies, large or small, formal or intimate. No matter what you want in a wedding ceremony, Melissa will work with you to achieve your perfect day. Her goal is to ensure that your wedding ceremony reflects your values, style and your own personal uniqueness. Her friendly and loving personality will make you feel at ease the moment you meet her. If you are looking for someone who will do everything necessary to ensure your ceremony is as special and personal as it should be, then Melissa is the officiant for you.
Request Melissa Warner
Areas Served
Niagara-on-the-Lake, Niagara Falls, St. Catharines, Welland, Lincoln, Pelham, Vineland, Beamsville, Grimsby, West Lincoln, Stevensville, Fenwick, Port Dalhousie, Sherkston, Ridgeway, Fonthill, Jordan, Thorold, St. Davids, Queenston, Queenston Heights, Black Creek, Chippawa, Crystal Beach, Virgil, Allenburg, Western Hill, Stamford, Port Weller, Merriton, Port Robinson, Rockway, Power Glen, Glenridge, Dain City, Ridgeville, Campden, Vineland Station, Welland Port, Bismarck, Smithville, St. Anns, Snyder, Rockway, Ridgemount, Chantler, Shisler Point, Rose Hill, Cook Mills, Silverdale, Effingham, Stoney Creek, Winona, Vinemount, Tweedside, Grassie, Lorraine, Amiagn Downs, Bethal, Cedar Bay, Elco Beach, Silver Bay, Wavecrest, Feeder
Reviews
Cyndra & Karen
Melissa Warner exceeded our expectations. We felt very comfortable with her, Melissa took the time to take pictures for us after the ceremony. We requested a copy of our ceremony which she promptly sent to us. Cyndra & Karen November 2020
Lucas & Jesse
Melissa Warner was absolutely fantastic, she made us feel so comfortable, we were very impressed with her expertise and enjoyed her bubbly personality. She listened to all our requests, made suggestions, and left us knowing that our ceremony was in good hands. Although her actual participation in that ceremony was not large, due to our guest officiant, she arrived at the venue asking to help in any way she could. We are so lucky to have found her, and would recommend her most highly to any bride and groom - you will not find a better, kinder and caring officiant!! Thank you to your service for making this part of our wedding so simple and happy. Lucas & Jesse August 2019
Jason & Sonia
Melissa Warner exceeded expectations, nothing was going right on our wedding day and she was so understanding and professional she really made the difference that day. We are so blessed she was the officiant at our wedding. Thank you Melissa! Jason & Sonia August 2019
Brock & Cynthia
Melissa Warner was awesome, she took the time to set up a ceremony that was custom to what Cynthia and I wanted. We had a couple of requests and she stuck to them as planned! We also had a few changes the day of the wedding (about ten minutes before the ceremony) and she had no issues, just smiled and helped us woke everything out. We have had many compliments on the job that Melissa performed and would definitely recommend her! August 25th, 2018
Lara & Patrick
Melissa Warner was amazing and extremely professional. August 12th, 2018
Nicola & Sharon
Hi Melissa, We wanted to say a big thank you for making our special day so memorable. Having planned the ceremony over email we were a little apprehensive but couldn't have been more delighted with how you conducted everything. You made us feel very relaxed and at ease during the whole occasion and we both found ourselves thoroughly enjoying the moment. We would have no hesitation in recommending you based on our own experiences so thank you once again for that. With very best wishes Nicola & Sharon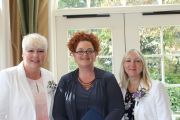 Maureen and Denise
Denise and I would like to thank you for officiating our wedding. You were so great,helpful and professional...our guests were quite impressed and can't stop talking how beautiful the ceremony was. You conducted the ceremony so eloquently and beautifully. We are so grateful that we picked you Melissa (Warner) and that you were available on our wedding day. Again thank you for sharing our special day with us. Maureen and Denise
Melissa & Eric
Melissa Warner is very professional, yet fun, and made sure that everything ran smoothly. We gave our readings and vows to our best man, but he didn't give them to her or to us, so when she asked for us to read our vows, I quietly whispered "Where are my vows?" and she said "don't worry. I have a copy". We had a truly flawless ceremony, and Melissa made sure everything went according to plan. Thank you so much Melissa! Booking our officiant was very easy and painless. I would highly recommend All Seasons Weddings to our friends, especially Melissa. We originally met with her because she had won an award in the past for her exceptional ceremonies, and now we know why. She is an excellent officiant!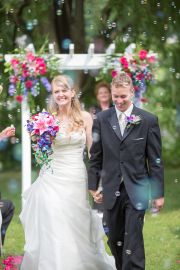 Penny & Doug
Melissa (Warner), Thank you so much for making our Wedding day truly special. It was everything we expected and more. We are now a family officially .... to all of us this Marriage is more than just a piece of paper it is a union of our family. The wedding video turned out amazing... it took our breaths away watching it. To us it is a memory we will forever carry in our hearts. Thank you from the bottom of our hearts. It was truly a pleasure for you to marry us. Our families loved the ceremony and thought you were absolutely perfect.
Robert and Idan
Melissa Warner was personable, flexible and resourceful, and on the day of our wedding, she executed her duties professionally. She had no ego and valued that it was our wedding. We appreciated that Melissa spent time with us ahead of our wedding to discuss the ceremony and encouraged us to tailor the wedding to our interests and values. She gave us ideas that were creative and met our cultural perspective. Melissa contributed meaningfully to the most important day of our lives, and we recommend her without reservation.
Erin & Frank
Melissa Warner was a wonderful officiant! She was super nice and super professional! We met her to go over the details and she came up with all sorts of ideas to make our ceremony special. We couldn't have asked for a better experience for our simple, yet heartfelt ceremony. I would highly recommend Melissa to other couples who want a variety of options to tailor their ceremony any way they want. Thank you, Melissa!!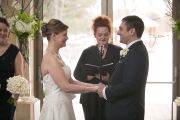 Ally
Melissa! . Just enjoying a pint with my new husband. You were absolutely fantastic! We are thrilled with how everything turned out. It was better than we ever could have imagined! Our guests really loved and appreciated the personal touches you suggested (ring warming and wine box) you were a dream and we are so grateful! (you're welcome to use these quotes). We are in debt to you, as you were instrumental in creating a ceremony so special, it was simply priceless. If there is anything you need ever don't hesitate to ask! We will never forget you and we hope to see you again! And now if you'll excuse me, I'll return to basking in newly-wedded bliss! Lots of love, Ally
Teresa & Kevin
Melissa Warner is professional and able to convey the feeling we were looking for in our ceremony. She was available and attentive to the details . Thank you so much for helping make our day a huge success! :)
Johanna and Vince
Dear Melissa, We would like to thank you for your warmth and professionalism while performing our wedding ceremony. From the first planning meeting, we had complete confidence that you would provide us with the wedding ceremony that we wanted. The fact that you took the time to meet with us is a testament to your integrity and high standards. The ceremony contained just the right combination of emotion and humour. We felt extremely fortunate to have someone so articulate, eloquent and supportive to speak on our behalf. Several guests commented afterwards that it was the best wedding ceremony they had ever heard.
Greg & Sean
We wanted to extend our sincere thanks to you for contributing to such an amazing day for us. Your background and expertise made everything perfect. We absolutely loved every minute of the day and have you to thank for it. Everyone keeps saying what an amazing ceremony it was and one of the most beautiful they have been to. We couldn't agree more.
Bridget & Dennis
Melissa Warner was everything we hoped for and more! From our first meeting, she did a wonderful job of asking the right questions to get a sense of what we wanted and giving advice to make our wedding ceremony run smoothly. Melissa did such a good job of "reading" us and the kind of wedding we wanted that the outline / script of the ceremony she provided needed very little adjustments, allowing us to focus on other pressing aspects of wedding planning. We received so many compliments about the beautiful ceremony and I have to say it was definitely my favourite part of the day :) Thank you Melissa for being such a beautiful part of our lives. We will never forget you!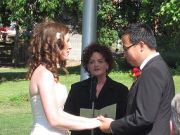 Suzie and Jr.
As waffly decision maker, especially during my wedding, getting Melissa as my officiant was an absolute certainty the moment I spoke to her. I am honoured to have had her help me prepare, and participate in my ceremony. She was so warm, open, and supremely kind, going above and beyond expectations as she was always available for advice, and exceedingly patient as we planed through the details of the ceremony. My guests continue to talk about my ceremony as one that was one of the most beautiful and intimate they've witnessed, and we could not have asked for a better offiiciant than Melissa, who's warmth and spirit led the most important day of our lives. Thank you so much!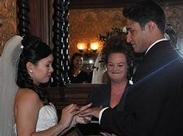 Betul & Mark
Hi Melissa, Thanks again for a job well done officiating our marriage ceremony! You did such a wonderful job. We felt calm and at ease with the nuptials. We were both completely 'present' and each and every word resonated with us; it was truly very meaningful. Thank you for putting it together the way that you did; it was YOUR suggestions about the order of things that helped make it flow so well! We're glad that we were able to 'keep it together'. It was pretty emotional.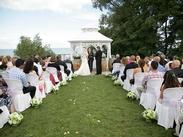 Kim & Chris
Melissa Warner was wonderful and we had lots of compliments on her performance of our ceremony. She was friendly, punctual and we loved her suggestion of the sand ceremony, it was something unique. We'll see Melissa in 10 years for our vow renewal! Thank you again.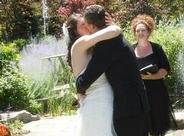 Robyn & Rick
Melissa Warner far exceeded my expectations! She was so helpful with everything. She was always just a phone call or email away to offer advice and she provided us with lots of suggestions for readings and content for our ceremony. For our ceremony, Melissa was wonderful. We have had so many of our wedding guests comment on how great she was. She was extremely friendly and helpful. She is one of the kindest people I've ever met! I was blown away during our in-person meeting with her tremendous organization. She had everything taken care of. I would absolutely recommend Melissa, and All Seasons to anyone I know. Thank you for making my wedding ceremony everything I hoped it would be.
Corrinna and Cheryl
We were not sure where we wanted our ceremony to take place and we asked Melissa Warner for suggestions on the area she found perfect spot. She drove us there to show us the location and we quickly agreed. Melissa stood through our ceremony not once but twice due to weather and made it feel special for us with her upbeat personality and professionalism. Not only did Melissa marry us and give us a wonderful memory but she has become a dear friend.Thank you so much All Seasons Weddings and Melissa Warner for making our dreams come true!!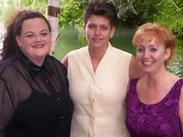 Sarah and Scott
Melissa Warner. It has been 4 months and people are STILL talking about the wedding. Your personality; your poise; your presence; it was all perfect! You were able to hold everyone's attention while still focusing their attention on us. You were always available when we needed to talk to you and it made us feel so special. You truly helped to make our day memorable and stress-free. Thank you so much from the bottom of our hearts!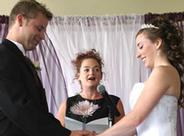 Lisa and Kuo
Choosing the right wedding officiant was very important to us not only because we wanted to find someone who was completely comfortable officiating a same-sex union, but also because we were planning a wedding from 3000 miles away and across an international border, and because we wanted to find someone who could integrate our unique cultural and spiritual beliefs into our ceremony. Melissa Warner was the perfect officiant! She took the time to get to know us personally. We recommend Melissa as an exceptional offician and we couldn't have asked for anyone better!