Margit Horvath
Margit is a graduate of Wilfrid Laurier University with a BA in socio-cultural Anthropology/Archeology and an MA in Religion & Culture. She is a natural healing arts practitioner and an ordained cleric. A warm and caring person, she has the utmost respect for life, nature, and all aspects of individual diversity. She is friendly, multifaceted, and is equally comfortable in all types of settings.
Request Margit Horvath
Areas Served
Hanover, Lake Roselind, Marl Lake, Walkerton, Durham, Varney, Holstein, Clifford, Minto, Neustadt, Ayton, Elmwood
Reviews
Guy & Marina
Margit Horvath was super wonderful.. she made up feel so comfortable and at ease.. she communicated with us and meet all our needs.. such a great lady thank you ! Guy & Marina October 2019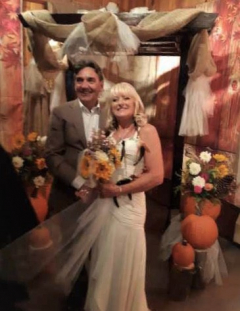 Jim & Betty
Margit Horvath kept in touch with us through out the process and was very friendly and fun to be with . She made the whole experience enjoyable and comfortable . Jim & Betty September 2019
Karie and Nicholas
Margit Horvath was fantastic, very kind and professional, Nick and I felt very comfortable with Margit right from the start.
Anastasia & Dmitri
Margit Horvath became such a wonderful person to us, a person we completely trusted and we were happy to share this significant moment with her. From the outset of our contact, Maggie showed great interest and care for us and our big day. Maggie helped us devise a personalized and truly meaningful wedding service that touched everyone present at the ceremony. Maggie was flexible in accommodating a traditional pre-ceremony ritual that we held, a bilingual ceremony with a translator, and all other special requests that we had. Maggie's long standing experience as a wedding officiant and her background, knowledge and work in social sciences and healing were significant in guiding us through the wedding process. Overall, Maggie made our wedding ceremony all we wanted it to be. We were very fortunate to have Maggie as our wedding officiant and would higly recommend her services to all couples who wish to make their wedding day truly sepcial.