Dr Marc Gabel, MD, M.P.H
Dr. Marc is a physician and Past President of The College of Physicians and Surgeons of Ontario. He is in private medical practice, practicing in Psychotherapy and therefore has a limited amount of time to conduct weddings. Marc is a kind and compassionate individual who believes wedding ceremonies should be meaningful but not overly serious. His ceremonies are based on the concept of always treating each other with kindness. Together, he will work with you to make your wedding day to be all you want it to be, not only for you but for the folks who will be gathered to witness your special day.
Request Marc Gabel
Areas Served
Toronto, Yorkville, Rosedale, The Annex, Forest Hill, Lawrence Park, Lytton Park, Deer Park, Moore Park, Casa Loma, Garden District, St. Lawrence, Corktown, Wychwood Park, East York, Etobicoke, North York, Old Toronto, Scarborough, York, St. James Town, Regent Park, Moss Park, Alexandra Park, Parkdale, Kensington Market, Chinatown, Leslieville, Cabbagetown, Riverdale,China town, Greektown, Little Italy, Portugal Village, Little India, Crescent Town, Thorncliffe Park, Weston, Oakwood–Vaughan, Willowdale, Newtonbrook, Downsview, Toronto Harbour, Don River, Distillery District, Richmond Hill, Mississauga
Reviews
Alex & Robin
We were so happy to have Marc Gabel as our wedding Officiate! He did an amazing job and it was exactly what we were hoping for. He was incredibly thoughtful, grounded, caring, and professional. He listened to our requests and provided us with lots of helpful suggestions along the way. He was a pleasure to work with and we would highly recommend him! Alex & Robin July 2019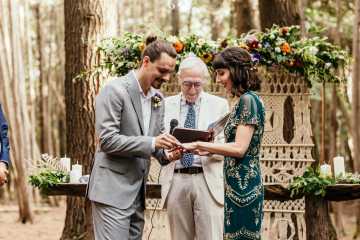 Maria and David
Marc Gabel was a very professional and assuring guide to us as we embarked on a very creative and wildly natural process of making our wedding fully our own. He both accommodated our wish to write our own ceremony- with complete flexibility, while he also offered many insightful ideas and solid feedback on structures that would be simple, natural and honest. Marc ensured our ceremony was clear and engaging to our diverse audience of family and friends. In the end, our ceremony, with many surprises and collaborations, felt seamless and evolved spontaneously. The grace with which he calmed us, reassured us, and had us feeling completely confident was truly remarkable. Thank you Marc!